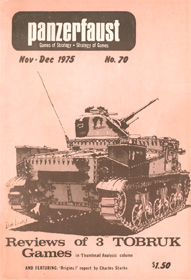 The November-December 1975 issue was the last one under the original Panzerfaust name. This issue featured the news from Origins I, and interviews with Gamma Two (Columbia) Games and Jedko Games.
Contents:
Origins I * Charles Starks
Wargames North of the Border * Jack Greene, Jr. & Larry E. Hoffman
Wargaming Down Under * Jack Greene, Jr.
Caesar, Beware the Orders of Battle * Garry Gygax
Minuteman: Revolutionary or Not * Greg Novak
Thumbnail Analysis * Don Lowry
Miniature Warfare * Don Lowry
Book Review * Don Lowry
G2 Reports * Editor
What Kind of Person Reads PF? * Editor
Mail Call
Available at Wargame Vault.