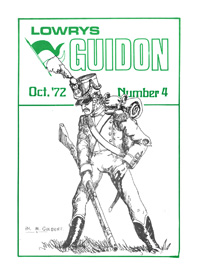 The fourth issue of Lowrys Guidon came out in October 1972, just before the business moved to Maine. This was the final supplement to the 1972 Discount Catalog, with the 1973 Catalog coming out a few months later.
Contents:
Editorial
What To Do With All Those Wargame Counters * R. Medrow
Micromania * Kevin Slimak
Crossing the 'T' * Phil Willows
More Hardtack Additions * Don Lowry
And five-plus pages of thoroughly out of date listings for board games from Panzerfaust Publications, and Conflict Game Company; N-gauge miniatures, and miniatures from Scruby and Model Power.
Available at Wargame Vault.