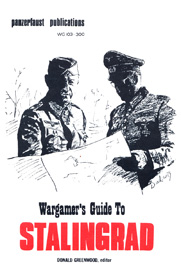 The third booklet in Guidon Game's Wargamer's Guidebook Series was an expanded reprint of the book that started the idea, Don Greenwood's Stalingrad Strategy Guide. Printed around September 1972, it reprinted articles from The Avalon Hill General, International Wargamer, Panzerfaust, and The Spartan collected by Don Greenwood.
The book was reprinted somewhere around 1977, and this PDF is based on that printing.
Contents:
Stalingrad—Win With Either Side * Lou Zocchi
The Pieces of Stalingrad * George Phillies
Stalingrad Replayed * Avalon Hill Staff
Russian Analysis * Gary Charbonneau
Variants & Redesigns * George Phillies
Stalingrad Over Simplified * Terence Zuber
German Chances in Stalingrad * Carl Knabe
Stalingrad in Detail * George Phillies
An Amazing Stalingrad Tactic * Richard Shagrin
Stalingrad Tournament Style * Steve Tinsley
Rule Clarifications
Weather Table
Available on Wargame Vault.