Fox Den is a small publisher of print and e-books, concentrating on History and SF&F.
We are currently full-up with projects and are not accepting submissions.
Upcoming titles:
No Turning Back by Donald S. Lowry (reprint)
This first volume of a purely chronological account of the last year of The Civil War was originally published in 1991, and has been out of print for over a decade. Fox Den is bringing it (and the other three volumes) back into print in ebook and hardcopy formats.
Panzerfaust and Campaign #71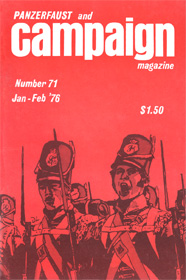 In January-February 1976, the magazine had its first name change, to Panzerfaust and Campaign, the start of a transition that would finish in 1977. The feature article was a travelogue encompassing Origins I and several wargame companies.
Contents:
My Pilgrimage to the Cathedrals of Wargaming * Jack Greene, Jr.
The Campaign and Battle of Brussels * Don Lowry
Rommel: The War for North Africa * H.M. Sarnoff
The Southern Strategy * Chuck Holland
La Bataille de la Moskowa * Charles Starks
Thumbnail Analysis * Don Lowry
Miniature Warfare * Don Lowry
Book Review * Don Lowry
G2 Reports * Editor
Mail Call
Available at Wargame Vault.