Fox Den is a small publisher of print and e-books, concentrating on History and SF&F.
We are currently full-up with projects and are not accepting submissions.
Upcoming titles:
No Turning Back by Donald S. Lowry (reprint)
This first volume of a purely chronological account of the last year of The Civil War was originally published in 1991, and has been out of print for over a decade. Fox Den is bringing it (and the other three volumes) back into print in ebook and hardcopy formats.
Lowrys Hobbies Catalog 1970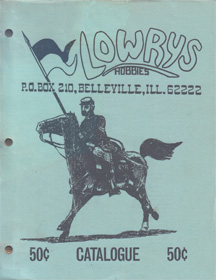 In May 1970, a new small business was launched: a mail-order hobby store geared towards wargaming, especially for miniatures. The business would grow, incorporating other secondary businesses, like Guidon Games (whose first product is featured in this catalog), The Toy Soldier (a physical store that opened in 1973), Panzerfaust Publications (centered on the magazine of the same name, bought in 1972), and Lowry Enterprises, which became the holding company for them all, and was a short-lived wholesale distributor.
This initial catalog is reproduced mostly as a curiosity piece, and to show just what kinds of products were available in the middle of 1970. The bulk of the catalog is for military miniatures of various eras and manufacturers, but also includes paints, brushes, books, replica guns, and of course, games.
Available at Wargame Vault.