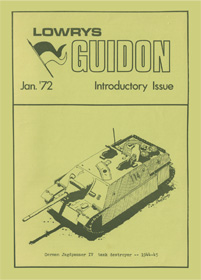 At the start of 1972, Lowrys Hobbies was a successful mail-order store for wargamers. However, the catalog was going out of date faster than it could easily be revised, so a supplement with updates and corrections was provided.
It also contained a short editorial giving news about the business, and two articles. In the normal course of events, it would have started picking up more articles, and expanded until it became an actual magazine.
Instead, Panzerfaust was purchased from Don Greenwood just a few months later. Lowrys Guidon ran for nine issues, and did pick up more content, but was mostly a catalog supplement the entire time.
Contents:
Editorial
How Can War Be a Game? * Gary Gygax (reprinted in An Introduction to Wargaming, and the 1972 catalog)
Modeller's Corner: Grizzly Bear * Editor
And five-plus pages of thoroughly out-of-date listings for Airfix, Tamiya, Monogram, and Nitto model kits; GHQ micro-armor, and 20mm Napoleonics; Old Guard, Cavalier, Bachman, and Bussler miniatures; Fast Rules, Zocchi's Battle of Britain, and Presstype.
Available at Wargame Vault.