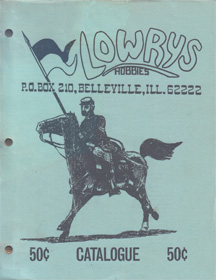 In May 1970, a new small business was launched: a mail-order hobby store geared towards wargaming, especially for miniatures. The business would grow, incorporating other secondary businesses, like Guidon Games (whose first product is featured in this catalog), The Toy Soldier (a physical store that opened in 1973), Panzerfaust Publications (centered on the magazine of the same name, bought in 1972), and Lowry Enterprises, which became the holding company for them all, and was a short-lived wholesale distributor.
This initial catalog is reproduced mostly as a curiosity piece, and to show just what kinds of products were available in the middle of 1970. The bulk of the catalog is for military miniatures of various eras and manufacturers, but also includes paints, brushes, books, replica guns, and of course, games.
Available at Wargame Vault.