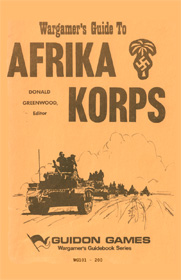 In 1972, Guidon Games published the "Wargamer's Guidebook Series", reprinting the better articles from various magazines on a particular game. All were edited by Don Greenwood, and put together just before (or as) he was hired by Avalon Hill.
The first of these was Wargamer's Guide to Afrika Korps, containing eleven articles about the design and play of Avalon Hill's classic 1964 game on the North African campaign in WWII.
This volume is being republished very close to fifty years after its initial release, and contains an afterword from Don Greenwood himself, with his thoughts on five decades in wargaming, and on Afrika Korps itself.
Contents:
Foreword * Don Greenwood
Play Balance for Afrika Korps * Victor Madeja
Sink Some African Sands * Victor Madeja
Absurdity of Afrika Korps * John Perica
Tactics of Isolation * Carl Knabe II
Afrika Korps Replayed * AH Staff
Tactics & Strategy * David B. Whiskeyman
A New German Approach * Jared Johnson
Rommel Rides Again * Allan Wood
The Tobruch Dilemna * Harley Anton
Shortcomings of Afrika Korps * Chuck Lane
The Afrika Korps Thesis * Tom Hazlett
Available on Wargame Vault.