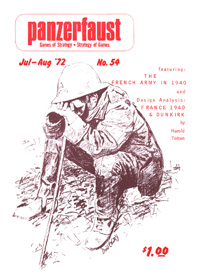 And now the second issue of Panzerfaust under Don Lowry is available for download. This issue features a review of AH's France, 1940, compared with Gary Gygax's Dunkirk, thoughts on North Africa in WWII, and designer's notes on Spirit of '76, a game that was originally a subscriber's bonus with this issue (not included here), as well as articles by designer Vance von Borries, and author Jerry Pournelle.
Contents:
Line of Communications * Editor
The French Army in 1940 * Harold Totten
Design Analysis: France '40 & Dunkirk * Harold Totten
British Openings in Origins * Vance von Borries
Spirit of '76 * Chuck Lane
Wargamer's Guide To the ACW, Part III * Don Lowry
Prelude to Africa Korps * R. W. Garbisch
Simulating the Desert War * J.E. Pournelle
Stalingrad Rules Interpretations * George Phillies
Game Design * Don Lowry
Operation Contact * Alister Wm. Macintyre
Diplomacy: Two Unusual German Openings * Edi Birson
Forgotten Military Vehicles * Tom Wham
Thumbnail Analysis * Editor
Wargamer's Notebook * Editor
Book Review * Editor
Pass In Review * Editor
Reconnaissance In Force * Editor
The Great Debate * Donald Wolff
Mail Call
Also, The Fox Hole continues as  a 'value add' column, with observations and some commentary on just where things were in 1972.
Available at Wargame Vault.