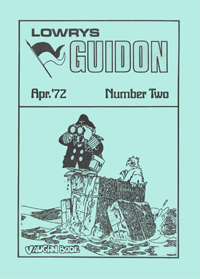 The second issue of Lowrys Guidon came out in April 1972, alongside the 1972 Discount Catalog and shortly after Don Lowry had acquired Panzerfaust from Don Greenwood. It expanded to 20 pages, and had a few more articles than the first issue, but otherwise kept the same format.
Contents:
Editorial
British Line Infantry 1812-15 * Wally Williams, Jr.
Airfix Order of Battle * Don Lowry
Zulu! by Gary Gygax
Rorke's Drift * Jeff Perren
Modeler's Corner: The Meat Wagon * Don Lowry
Letters
And nine-plus pages of thoroughly out-of-date listings for books; conventions; miniatures from K&L; models from AHM, Tamiya, Airfix, and Armtec; Guidon Games products; the new Panzerfaust; and Zocchi's Star Trek Battle Manual.
Available at Wargame Vault.