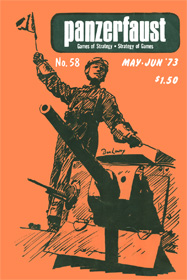 Issue #58 of Panzerfaust (May-June 1973) came out late (which is why it skips two months from the previous issue), but in much better editorial shape, and with sixteen more pages (68, including the covers).
The Fox Hole continues to give current perspectives on the issue (on the last page), including Don Lowry's (non-)involvement with Dungeons & Dragons.
Contents:
Line of Communications * Editor
Prelude to Disaster, The Soviet Army June 1941 * John Lundstrom
Trouble in the Ardennes * Danny S. Parker
Verdun: Design Analysis * Harold Totten
Verdun: Designer's Notes * John Hill
Waterloo, the Combined Arms Armies * John Hemry
DIPLOMACY: "A Whirlwind of Knives" * Edi Birsan
Game Design: The Invasion of Sicily * Harold Totten
Miniature Warfare * Gary Gygax
Thumbnail Analysis * Tom Wham
G2 Reports * Editor
Book Review * Pete Bennett
Reconnaissance in Force * Pete Bennett
Passing in Review * Pete Bennett
Mail Call
Available at Wargame Vault.