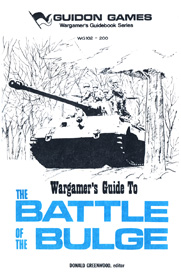 The second booklet in Guidon Game's Wargamer's Guidebook Series came out around April 1972, and reprinted articles from The Avalon Hill General, International Wargamer, and Panzerfaust collected by Don Greenwood.
These are all about the original 1965 Avalon Hill release of the game, though there is also a review of Guidon Games' variant Operation Greif.
Contents:
Introduction * Don Greenwood
Before the Bulge * James F. Dunnigan
Operation Greif * Lawrence Schmidt
On the Way to Antwerp * Bob Hultman
Baron von der Heydte Jumps Again * Craig Alder
Bulge Follow-Up * G. Phillies
Allied Defense in Bulge * Len Lakofka
Bulge Commentary * Chuck Lane
How to Lose at Bulge * Myrun Brudnage
How to Capture Antwerp Without Really Trying * Richard Shagrin
Bulge: Isolation & Supply * Mike Carr
Key to German Victory in Bulge * Joseph Pollock
Exploiting the Initiative in Bulge * Don Lowry
Seizing the Initiative in Bulge * Don Lowry
Available on Wargame Vault.