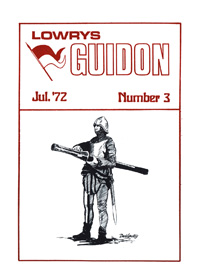 The third issue of Lowrys Guidon came out around late July 1972, after a trip to Maine to secure a larger house for the family and business. It went back down to twelve pages in the same format as the first two issues.
Contents:
Editorial
Modeler's Corner * Don Lowry
Discovering Wargaming * Chuck Lane
Hardtack Additions * Don Lowry
And five-plus pages of thoroughly out of date listings for models from Tamiya and Bachmann, Scruby and Imrie/Risley miniatures, Roskopf minitanks, scenery from Preiser, the Wargamer's Guide to Stalingrad, and second edition Chainmail.
Available at Wargame Vault.