Fox Den's inaugural book is now available!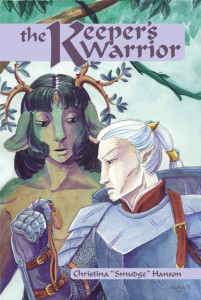 The Long Road is long indeed.
But even the most traveled of rolling stones needs a respite. And that's exactly what Warrior, a half-Elf sell-sword, finds when he stumbles into the seaside village of Echo Cove. It is there that he gains a renewed faith in his Goddess Euseeda, a quiet, deep-trusting friendship with the shrine's Keeper, and a chance to rectify the worst, most devastating blunder that he has ever committed.
Christina "Smudge" Hanson's latest book is a switch for those used to her graphic novels and comic short stories, but is illustrated, interior and exterior by her.
This is actually a collection of three short stories that combine to form one novella, and began life as her NaNoWriMo project last year.
Print (6″x9″ softcover):
ebook: