Fox Den will be publishing a few old Lowrys Hobbies/Panzerfaust Publications products other than the magazine for a while, hopefully around the 15th of each month.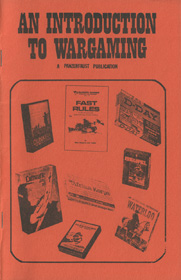 When Don Lowry took over Panzerfaust in 1972, he offered a free booklet to all new and returning subscribers. This booklet was a guide to the essentials of board and miniatures wargaming, with listings of prominent publishers and clubs.
Gary Gygax wrote the lead piece for the booklet (reprinted from Lowrys Guidon #1 published a few months earlier), and (at my guess) the section on miniatures wargaming as well.
The information in here is decades out of date, and is presented purely as a snapshot of wargaming in the early '70s. It is also a rare collector's item for anyone interested in the period.
Available at Wargame Vault.