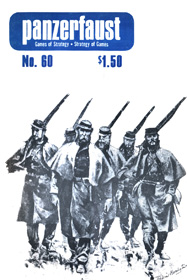 Issue #60 of Panzerfaust was the first of a set of eight issues that did not bear a cover date. However, Don Lowry's personal copy has "Feb-Mar '74" penciled on the cover, implying it went out about five months late. Among the regular articles is a piece by Jack Scruby describing how the miniatures business works.
Contents:
Line of Communications * Editor
A Point Is a Point * Richard Hamblen
More Nuts and Bolts About Game Design * Thomas Nowak
The Cavalry Quandary * Richard Hamblen
SGC Waterloo Rules Clarification * The Simulations Games Committee
Much Ado About Nothing * Jack Scruby
Games For Three * Bill Gale
Game Review: Kasserine Pass * Norris L. Darrall
Game Review: NORAD * Tyrone Bomba
Tactical Analysis in Bulge * Paul D. Mills
The Tonkin War 1950–4 * Guy Hail
The Imperial Roman Legions * Thomas Coveney
Jets and Rockets and Other Fancy Stuff in Luftwaffe * Marvant Duhon
Fantasy Wargaming a'la Tolkien * Gary Gygax
Game Design: The Cohesion Factor * Bill Gale
Diplomacy: How to Play the Youngstown Variant * Rod Walker
Thumbnail Analysis * Editor
G2 Reports * Editor
Passing in Review * Editor
Mail Call
Available at Wargame Vault.