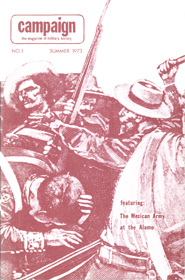 After Don Lowry took over Panzerfaust he found he was receiving far more good history article submissions than he could justify publishing in a gaming magazine. So, Campaign was launched in 1973 as a military history magazine.
It was originally intended  to be bimonthly, publishing alternately to Panzerfaust. However, by the time it was published, this plan had been changed to quarterly, and the first issue had been delayed from April to Summer.
It was also destined to be the only issue of Campaign (in this incarnation), as Don Lowry found that producing two magazines at the same time was more effort than could be sustained (also at this point Lowry Enterprises—the company that held all the various specialized businesses, like Panzerfaust Publishing—was under increasing financial strain), so the magazine was cancelled and subscriptions rolled back into Panzerfaust.
But, Don Lowry also eventually decided to change the name of Panzerfaust, renaming it to Panzerfaust and Campaign in 1976, and then just Campaign about a year and a half later. So, this single issue of a military history magazine is a part of the history of Panzerfaust.
Contents:
Editorial * Don Lowry
Assault at Dawn: The Mexican Army at the Alamo * John B. Lundstrom
The Vietnam Campaign 1950-54 * Gregory H. Hail
War at Sea: The High Seas Fleet * Robert G. Dick
The Soviet Air Forces at the Start of the Great Patriotic War * Ron Mazurkiewicz
Book Review: The Art of Warfare in Biblical Lands * Gary Gygax
Available at Wargame Vault.