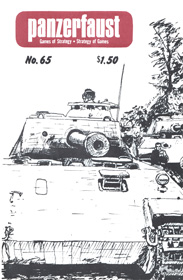 This issue was the first one produced in Fallbrook, CA, which would be the home of the magazine for the rest of its life. This, and the next couple would still carry no cover date, but this one is being considered December '74/January-February '75.
Contents:
A Military History of the Third Crusade * Stanley Grip, Jr.
A Look At the Ardennes Offensive * Anthony O'Brien
Ardennes Breakout * Randy Heller
The Myth of the Daylight Naval Battle in WWII * Jack Greene, Jr.
Combined Arms Operations * James Deininger
The Destruction of Army Group Center * Leo W.G. Niehorster
Victory Conditions, Neutrality & Capitalist Imperialism * Tyrone Bomba
Teaching the Beginner * Charles Starks
The Good Old Days * Mark Wiegia
Game Design: CRT-itis … Some Alternatives * Clifford R. Sayre, Jr.
Thumbnail Analysis * Editor
Passing in Review * Editor
Mail Call
Available at Wargame Vault.