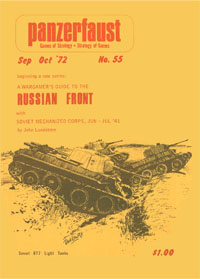 The third issue of Panzerfaust under Don Lowry (September-October 1972) continued the new format. The editorial column had recent news, and announced an upcoming move to Maine, as the current house that was holding the magazine, Lowrys Hobbies (a mail-order catalog), and Guidon Games, was far too small for everything.
Contents:
Line of Communications * Editor
Wargamer's Guide to the Russian Front, #1 * John Lundstrom
Waterloo: 30 Turns of Battle * Gary Gygax
Design Analysis: Phalanx & Alexander * Harold Totten
A Second Opinion: Game Review * Lawrence Schmidt
Wargamer's Guide to the ACW, Part IV * Don Lowry
Panzerblitz & Combat Command * Paul Mills
D-Day at LeMans * Steve Powlesland
Playable U.S.N. * Mark Swanson
The Six Days War * Harold Totten
Warfare in Miniature * Gary Gygax
Diplomacy * Gary Gygax
Game Design: Realism vs Playability * Harold Totten
Wargamer's Notebook * Lou Zocci and Jacqueline Lichtenberg
Pass in Review * Editor
Reconnaissance in Force
Mail Call
Available at Wargame Vault.