on
February 22, 2017
at
12:00 pm
After a bit of a delay, Tom Arnold and I got together for another Vassal ASL game, this time with a scenario from the recent Hakkaa Päälle. The Russians have taken the offensive in Finnland in mid-'44 and are back to trying to break the defenses that stopped them in the Winter War.
In this scenario, the Russians enter with eight squads (split between 1st line and elite rifle squads), a couple leaders, a HMG, a T34/85, a SU-152, and a IS-2, and then get six squads of (628) assault engineers with a couple FTs and DCs on turn two. The Finns defend with ten 648 1st line squads, a MMG, hero, PSK, two Sturmis (StuG IIIs in Finnish service), and a 81mm MTR. They're actually in two groups, but one setup area is just a subset of the other. One squad equivalent gets HIP, and the Finns get to assign two of their available PFs to any unit(s) they wish (probably the hero, but one each to the hero and best leader seems like a good idea). The Russians have seven turns to either take 5 of 7 buildings in the board 17 village, or get 5 squads (not squad-equivalents) and two AFVs past a 'finish line' that lies behind the village.
Tom had the defending Finns and set up a defense scattered along his setup line. Interestingly, he used all his available Dummies (6) as large "?", giving me five possible locations for his two Sturmis. It looks like the normal approach is along the west flank, going through some cover, and driving right at the village where there's some open ground for the AFVs to operate. I decided to go on the east flank, in the board 32 woods, and try to drive for the goal before he could get everyone to focus on me. Better yet, there's a nice gap at the beginning of the path that leads towards the village. By securing that, I can keep him uncertain as to which way I'm going. In fact, if he puts too much in front of me, I can switch goals in a hurry. Patch was by while I was setting up, looked things over, and had much the same idea, which was neat.
My initial advance had the two T-34s, covered by a pair of squads, holding my west flank. The main drive went up the 32A5 road, seizing the initial groups of houses for some cover. Tom only made one attack, revealing two full squads at the 'gap', and broke two squads who were armored assaulting up the road, while pinning a leader. I put acqusitions on the two squads, and on 17X2.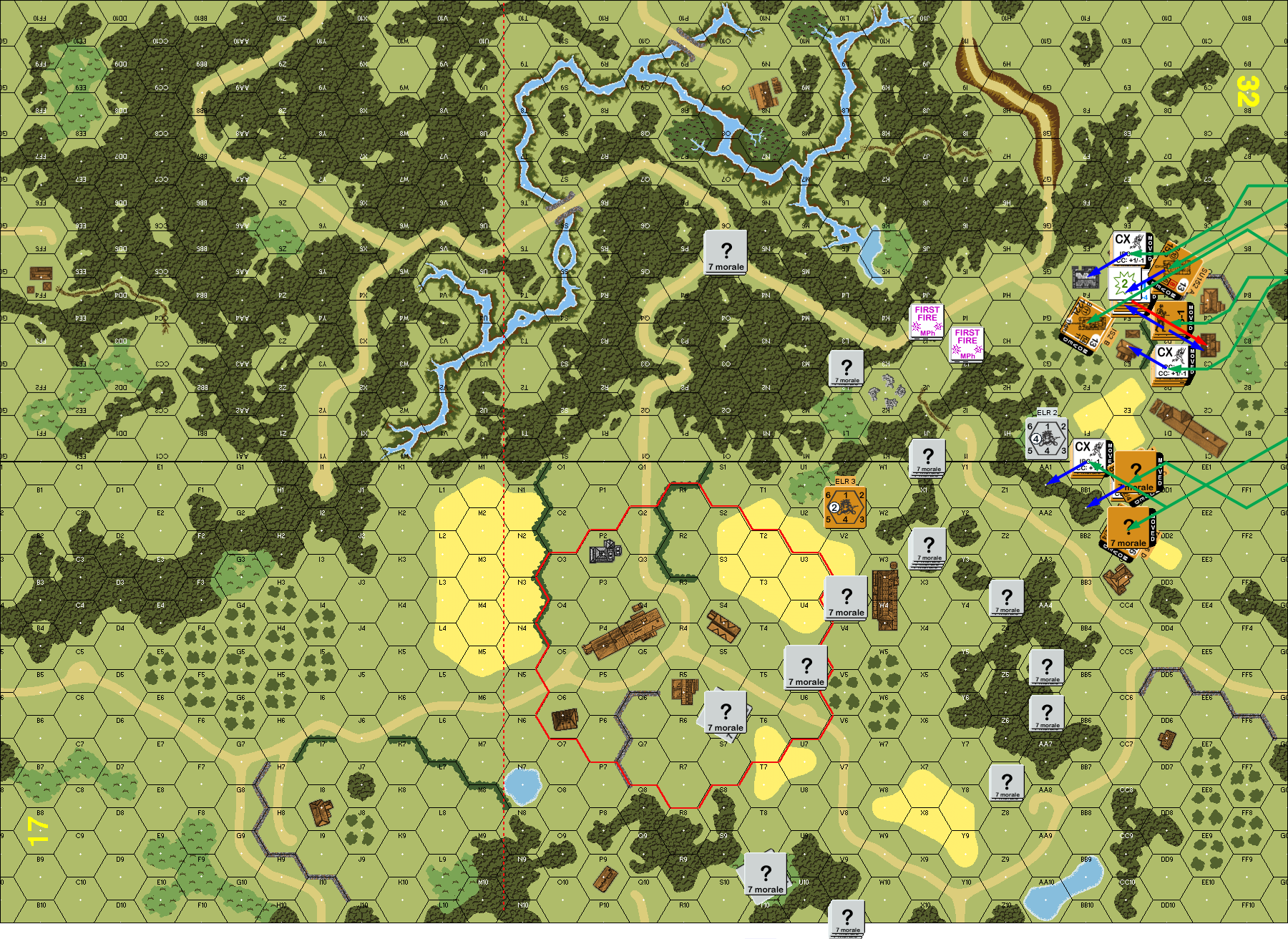 Situation, Russian Turn 1. North is to the left; the red circle is where the victory buildings are (two are covered by Finnish "?"), and the dashed line is what the Russians need to cross. As usual, green is movement, blue is advance, and red is routs.
↓ Read the rest of this entry…