on
May 11, 2022
at
12:00 pm
Patch and I got back to ASL at the end of January, and went for the first Winter Offensive scenario, "French Toast and Bacon". Early in the Battle of the Bulge, a small German force tries to seize a river bridge from a small American force.
I had the defending Americans, who have eight half-squads, a single M18 TD, and a pair of 76mm AT, as well as the ability to keep their three BAZ hidden. An interesting SSR gives them an off-board 105mm ART (akin to "Regalbuto Ridge", but self-spotting this time), which can declare its using what's normally a long-range charge to get a CH on a 2 or 3, even if it would normally be a miss. That last is low-odds enough I never got around to declaring it. Anyway, they're defending half of boards 44 and 59, and a stream overlay on 44 hooks up with 59, with everything past the stream effectively out of play. The Germans get four squads and three each Panthers and Pz IVs. Some GameSquad Q&A points out a vehicle can't control a hex with a bridge as it can't control the Location under it (even though that Location is inaccessible here), so the infantry must get to the bridge, as the goal is to Control the bridge hex as well as the hexes adjacent to it.
I had a heck of a time coming up with a defense, as there's not a lot to work with, and the Germans have two possible entry hexes. With 5.5 turns, part of the goal must be to slow down the Germans, and that means a hopefully cautious entry as a first step. But there's a lot of open ground near the entries. The two ATs were set up in the back where they could support each other, and cover the main gaps that the tanks had to go through as they got into board 55. The TD takes a TC at the start of every turn (with a penalty equal to the turn number), and recalls when it fails, so it set up forward where it could see both entry areas. The MMG set up nearby, where there was a decent rout path.
Patch used the south-edge entry (as opposed to the west-edge one), and started with a squad and his only leader, who shrugged off a 1MC from my MMG. He nearly searched to reveal the HS in 44Y3, but realized taking search casualties could be really bad. The next squad armor assaulted with a Panther. I fired to put down residual, and bounding first fire… malfunctioned his CMG. The Panther stopped in LOS of the TD, which turned out to have no APCR. He kept his Pz IVs out of sight, while the Panthers started covering the rest of the board.
The TD bounced a couple shots off the front of a Panther (-1 Final TK). The AAMG pinned a squad, and the ART put an Acq on his leader (including the extra six hexes range from SSR, a range 27 shot, for a 4TH +1). Patch's advancing fire mostly went wild with high rolls, including a MA malf, but he managed a 1 MC on the TD to stun it. He also got an improbable hit on CC4 to reveal the HS, but it passed the resulting NMC. He piled two squads and the 9-1 into Y3, and got ambushed. Sadly, I didn't see the HS living long after ducking out either, so he stayed for a 1:2 and missed, while the Germans got him.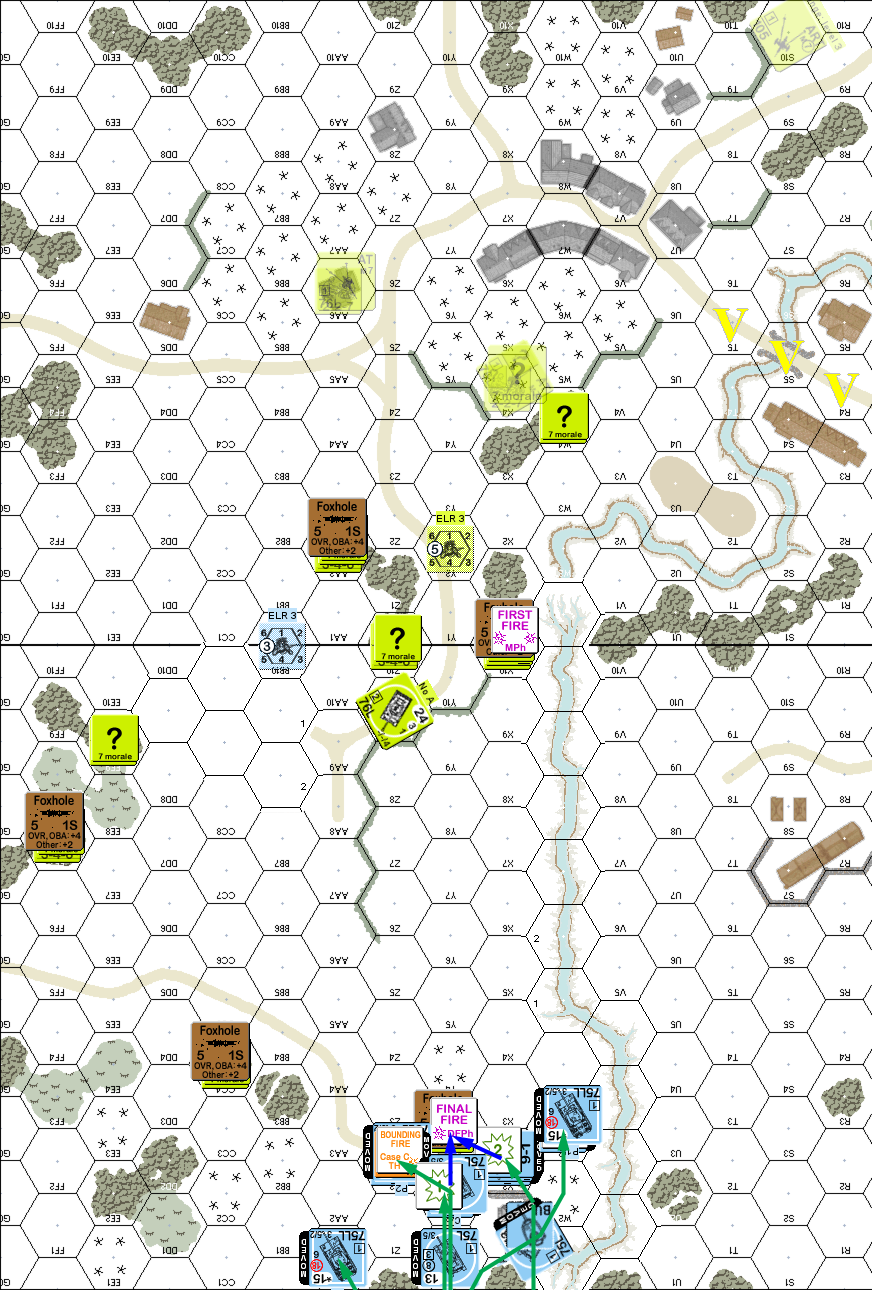 Situation, German Turn 1, showing the entire board and my guns.
↓ Read the rest of this entry…