on
March 22, 2021
at
12:00 pm
Captain's Log #48 had another interestingly inventive scenario in it, based on the main fiction piece of the issue. About a week after the episode "Trouble With Tribbles" the Klingon ship involved is still having trouble. The non-Klingon crew is all down with… probably the common cold, but they've never encountered it before. And there's a fresh outbreak of tribbles for the Klingons to deal with, while the ship is ordered to a border system to 'show the flag' while a Federation frigate is patrolling the area.
The story is actually pretty good, and winds up with what should be the normal one-pass showdown between two ships counting coup, but by now the tribbles have been chewing on the wiring, and the D7 suffers failures in several weapons. The scenario rather unusually starts on impulse 25 of the first turn, right after this happens. Two disruptors are shorted out, along with the wing phasers, and the scenario starts with rolling damage from the remaining two disruptors and the three boom phasers.
On the other side, the Federation has a FFG (yes, a frigate versus a cruiser!—also one of the first FFGs, and first refitted ship we've seen in action), with prox torps already loaded, and about to complete an oblique pass in front of the D7. All the FFG needs to do is knock down a shield on the D7 and get away to win. The D7 is wanting to avoid this and knock down a shield on the FFG. As extra handicaps, the D7 has minimal boarding parties, no damage control abilities, and any time a system other than power or the disruptors and boom phasers is used, it will fail on a roll of 6 (on one die).
Patch agreed that the situation looked interesting, and volunteered to take the FFG out for a spin. To generate uncertainty, there's random draws for whether the Klingons have any transporter bombs (no), a scatterpack ready (no), or have any 2-space or moderate-speed drones (I got one of each, and took the allowed option for one type-V drone).
All my rolls for the initial volley were 3s and 4s, which let both disruptors hit, and did 2 damage with the phasers for a total of 8 points on the FFG's #2 shield, only four of which registered. On the next (first of the game) impulse, we both went forward, putting the FFG right on the oblique, where he fired one proximity photon… which missed. Patch turned off the next impulse as the turn wound down to its end.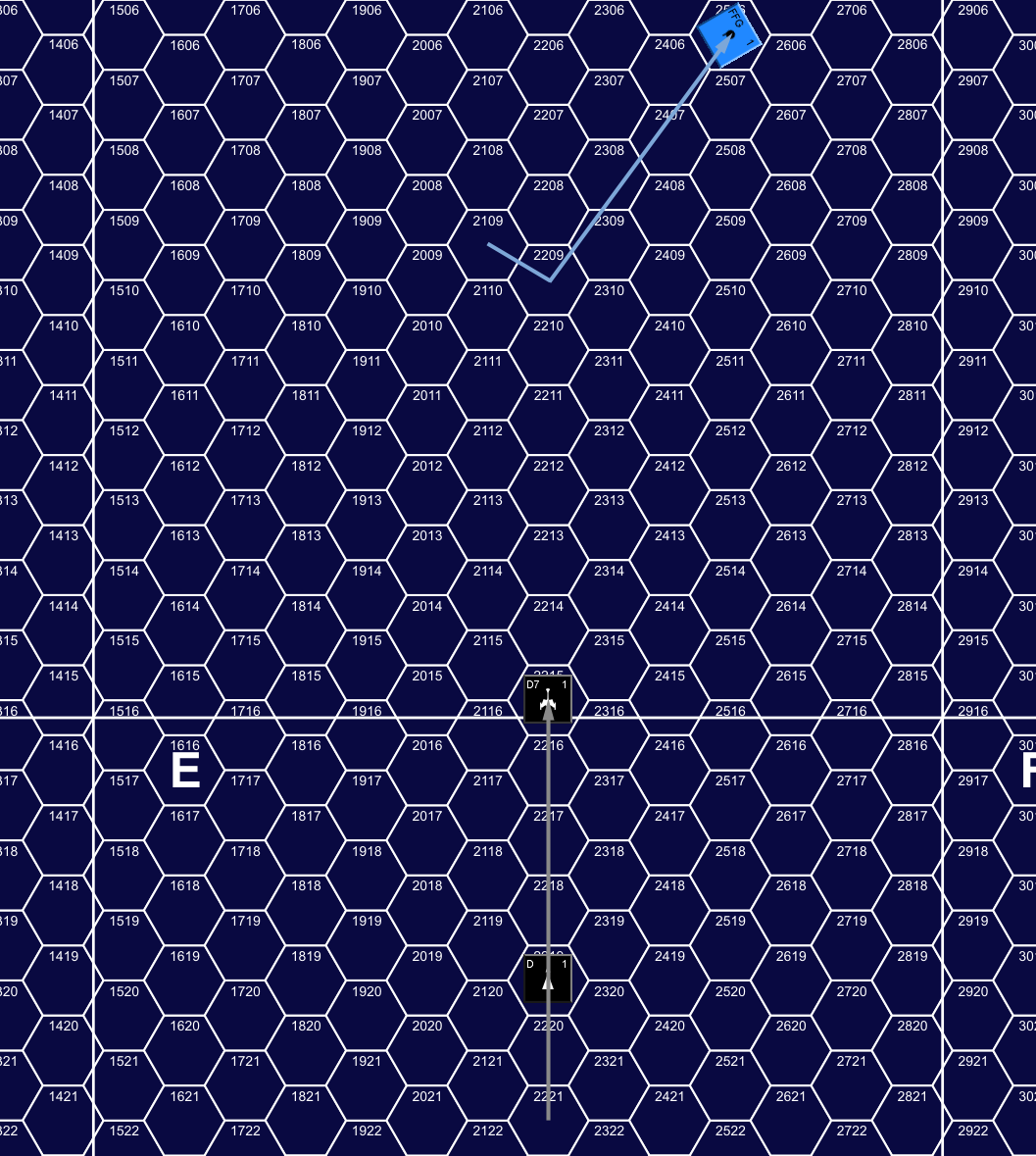 First pass, Turn 1, Impulses 24-32.
↓ Read the rest of this entry…