on
July 14, 2022
at
12:00 pm
At the start of April, Mark and I returned to our SFB campaign. This time, we went to the battle at Mark's third base, in Region 5. This features one of my two main 'base busting' fleets, led by a WDN. With it, I had two heavy cruisers and a light cruiser, plus two frigates. With 25 EPV left in my command limit, I could have put in another frigate (the WNF is only 21, though everything else is too big at 31 and up), or used destroyers instead, but I was out of any of those. Mark, limited by the first turn rules, only had a WCA and and WFF with his base, making it a notably smaller force than last time.

Mark set up next to his base rolled low for weapon status 1 again, while I set up behind the ships (at range 35). I came in at speed 10, while the Carnivons went 7. At that speed the WDN and WVF were running with good EW, though the WRL had a minimal 1/0 and the WFF couldn't manage any. Only the base put up EW for Mark (it is easy to suppose that charging phasers was more than enough power drain as it was).
On turn 2, the Carnivons picked up to speed 11, while I split between 11 and 12. The Carnivon WCA Wolfbite (201) put up a point of ECM, while I generally reduced mine. On impulse 9 the base launched a pair of death bolts at the oncoming fleet. The Carnivon ships slowly turned clockwise, and on impulse 24 I turned towards their new course at range 17 from the base. The Carnivons immediately turned off, presenting a stern chase. On turn 3, he slowed down to 9 and 10, and then continued counter-clockwise, putting the base between the fleets.  I had increased everyone's speed to 12, and on impulse 11 broke off to turn for a run at the base, which fired its disruptor cannon at WVF USS Intrepid (SF-68) on impulse 17, but missed, thanks to ECM it was running.
On impulse 32 the lead two ships reached range 8 and unloaded. WCA USS Mare Serenitatis (SF-25) and WRL USS Gatherer (SF-70) each hit with one out of two photons (fairly good with a +1 shift, and it would have been all four without it), while the seven phasers from the two ships rolled horribly to do 3 damage. This left the base's #6 at one box (I regretted that one box, as knocking it down would have forced him to use general reinforcement only on that shield).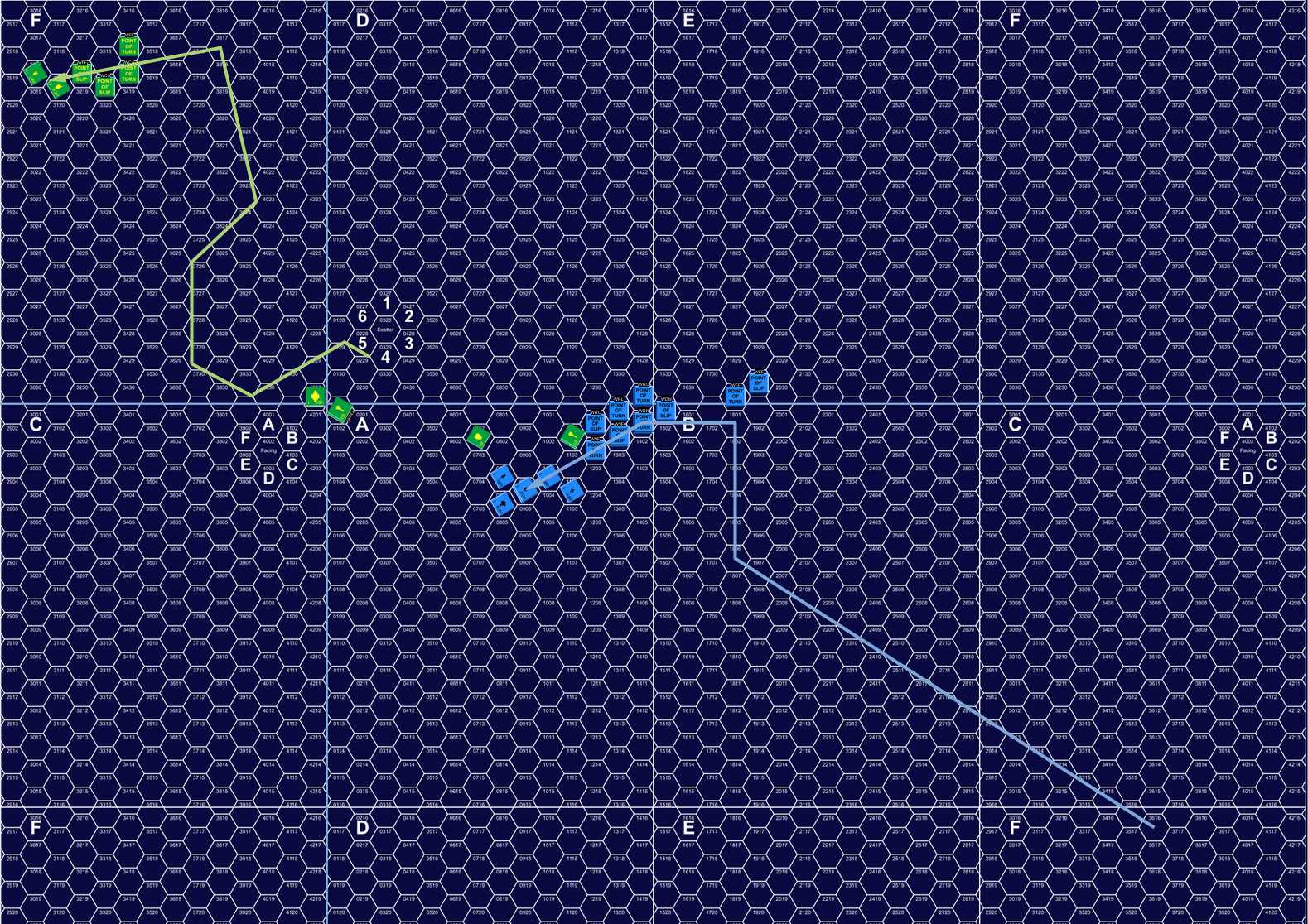 Initial maneuvers, turns 1-3.
↓ Read the rest of this entry…