on
December 4, 2020
at
12:00 pm
Mark and I returned to the "Lone Gray Wolf" mini campaign a bit ago, as my C6 dreadnought continued making its way back to friendly lines. This time was a proper challenge, as the pursuit group came up '4', which is the second-best Kzinti group. In the original, this is a CVL+ carrier group (basically modified BC, CL, FF with nine fighters); in this Y160 variant, there's no fighters (of course), and the ships are their regular unrefitted equivalents of a CS, CL, and FF. By straight BPV, this is 195 vs 262 (and by F&E ratings 10-12 vs 17-18), though there are some serious advantages to having one large ship instead of three smaller ones (it being easier to punch through a shield to destroy weapons on a smaller ship being the main one).
As ever with this campaign, setup is the C6 in the middle of the board, with the Kzinti 14 hexes behind it; in this case Mark started his ships one hex apart, with the CS in the middle. I started at speed 20 and no EW, while the Kzintis all went speed 18 with 1 ECCM running. The first few impulses got us going, and I slipped and then turned on Impulse 5. The Kzinti generally slipped over to keep in line with me, and I turned in late in the turn, and used the good arcs on the ph-1s to hit the FF's shield #1 for 8 points at range 12 (5 registered).
With the range staying closer than I might have liked, and Kzintis turning to intercept on impulse 32, I decided on a somewhat risky maneuver: going down to speed 12, and launching an ECM drone (actually done on Impulse 32). The Kzinti went to speed 21 (except the FF, which stayed at 18), and used varying amounts of ECCM, while I generated 6 ECM (with another three from drone when it came on-line during impulse 4).
I turned in at the start of the turn, and Mark tried to clear the ECM drone with a pair ph-3s on impulse 7, but failed to get any hits at range. He launched drones on 8, the FF slipped out, and the CS turned in for nose-to-nose confrontation. I tried tractoring the CS on 10, but gave it up after three points of power. The CS then launched from its remaining two drone racks, and I launched two drones, and then we unloaded into each other (with the CL adding in). Phasers knocked down all the just-launched drones and the ECM drone, and the CS and CL boosted ECCM enough to get the shift down to a +2. Two of four of his disruptors missed, and mixed phaser performance added up to 23 damage, or just over half my shield #1. One of my disruptors missed, but three overloads, 4xph-1 and 2xph-2 did a total of 50 damage, crashing through the #1 for 24 internals. This ripped through the forward hull, and took out the batteries, along with the usual scattering of weapons and power.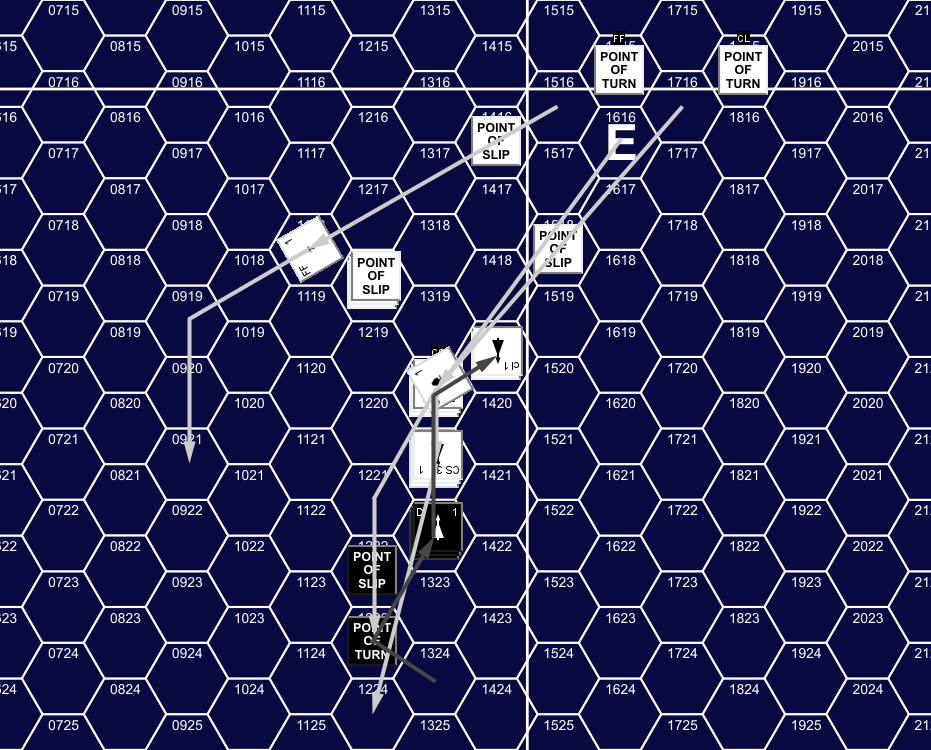 Turn 2, Impulse 10, showing movement for the first 16 impulses.
↓ Read the rest of this entry…