on
March 30, 2021
at
12:00 pm
Mark and I have dedicated Monday nights to ASL, as he tries to come to grips with the system as a whole (he's an old SL veteran). Part of the plan is to play through some of the old Paratrooper scenarios with him, since they tend to be good for the introductory side. This time was "Silence That Gun" which is a nice small infantry scenario with a single titular ordnance piece. There were a couple of prominent errors, so this isn't a completely 'textbook' playing, but it was instructive.
Mark took the Germans, who are defending part of the board 3 village with ten squads (mix of 2nd line and conscript), the usual MGs a 75mm AT, and one fortified building; and need to preserve the Gun and keep the fortified building (they have a choice of five buildings to secretly fortify), or at least maintain a CVP total equal to or better than the Americans. He didn't set up his HIP properly, so I ended up knowing which building was fortified (3N2), which is a heck of of thing to try to mentally ignore. The Gun was next door (which makes for usefully concentrated defense), and a loose line was established across board 3, with one conscript squad all the way out on the edge of board 2. I looked at the setup, and suggested that having someone at the upper level of 3N2 would be handy, as it could do a lot to inhibit initial American moves—completely forgetting that SSR1 limits that building (alone) to just a ground level. And we'll see just how good an idea it was….
I lined up at the limit of my setup area, with seven squads and a hero, giving the latter a DC, and deployed one squad, prepared to move into the rest of the middle loop, and use BAZ against buildings from open ground Locations such as O6, and of course start driving on the main concentration of Germans. Mostly, there wasn't a lot he could do, but an attempt to Dash to P2 ended in tragedy as a 1KIA killed a squad and broke my 9-1. Final Fire at a HS malfunctioned a LMG.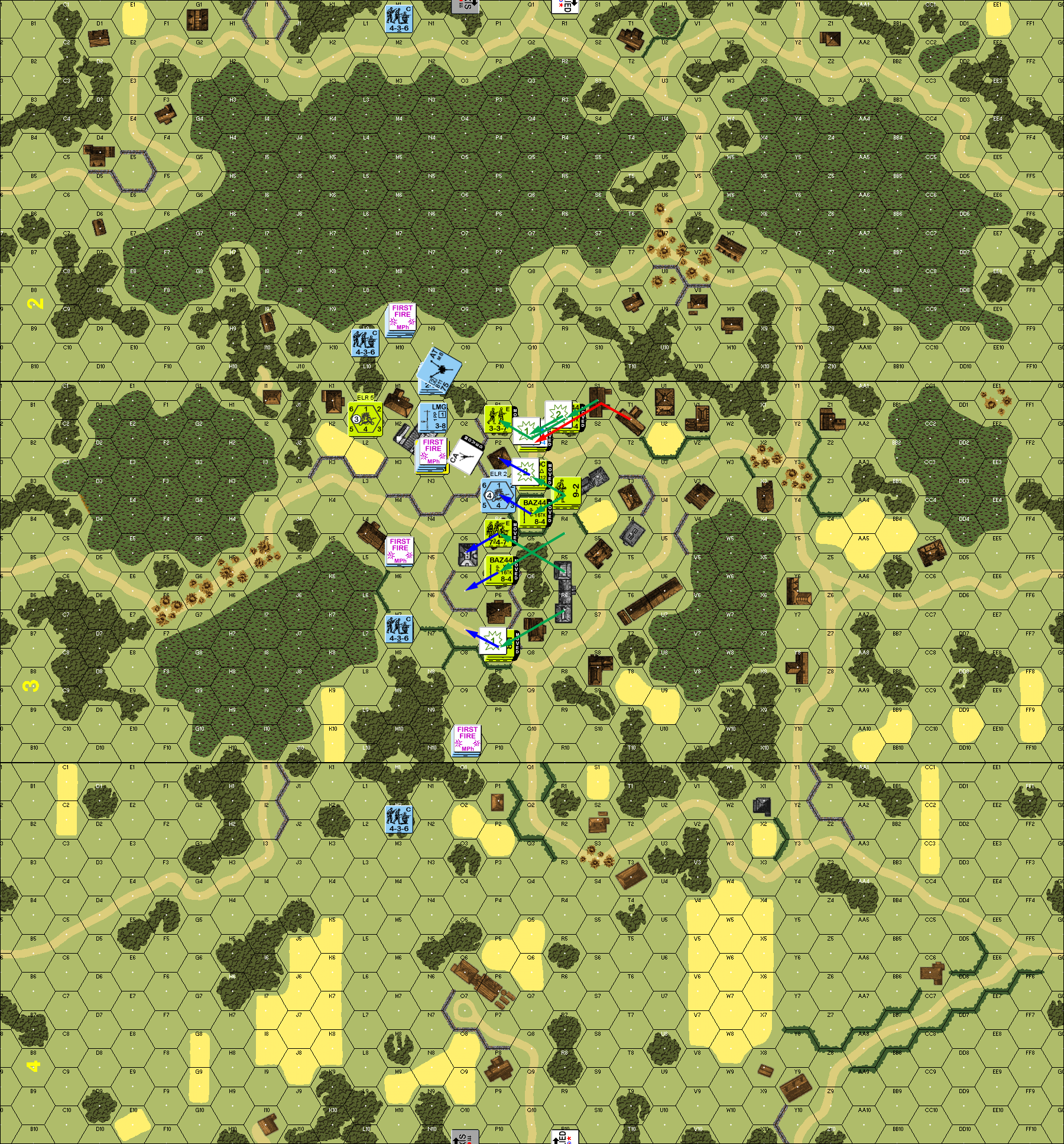 Situation, American Turn 1, showing the full board. Yes, all hills are marsh, and north is to the left.
↓ Read the rest of this entry…