on
September 30, 2021
at
12:00 pm
After finishing up "Stand Fast", a look for shorter ASL scenarios led me to 183 "The Pouppeville Exit" from the current version of Yanks. It has quite a publishing history, originally presented in the General as 'quick-play' SL/COI scenario F, then becoming tournament scenario T5 for ASL about a decade later in the General, reprinted in ASL Classic, and now appearing in Yanks. It would fit in with the Paratrooper scenarios, taking place on June 6th as part of the 101st Airborne secure the town of Pouppeville, which lies at the end of one of the exits to Utah beach.
As a comparatively early scenario, it features a very rare fixed defensive setup (the only other one I can think of offhand is "Buchholz Station", where both sides have a fixed setup). The Germans have seven squads (mixed conscripts and second line), plus a kubelwagen with AAMG and two 37mm AA guns. The Americans have six 747 squads, a MMG, BAZ, and DC, and need to take two (out of three) of the multi-hex stone buildings on board 3, and knock out the AA Guns (which can't be moved, and merely breaking crew counts). Play ends at the end of any Player Turn where this is true, and the Americans have eight turns to work with.
All the action in on board 3, but but board 5 is also part of the scenario, and the Americans can either set up on the road leading to town on board three, or on the road on the other side of the gully on board 5. Mark took the board 3 option and headed for the hill overlooking the village.
This meant there was no contact, and I was free to move about to establish a defense on my first turn. It also meant that everyone gained concealment, as there was no LOS.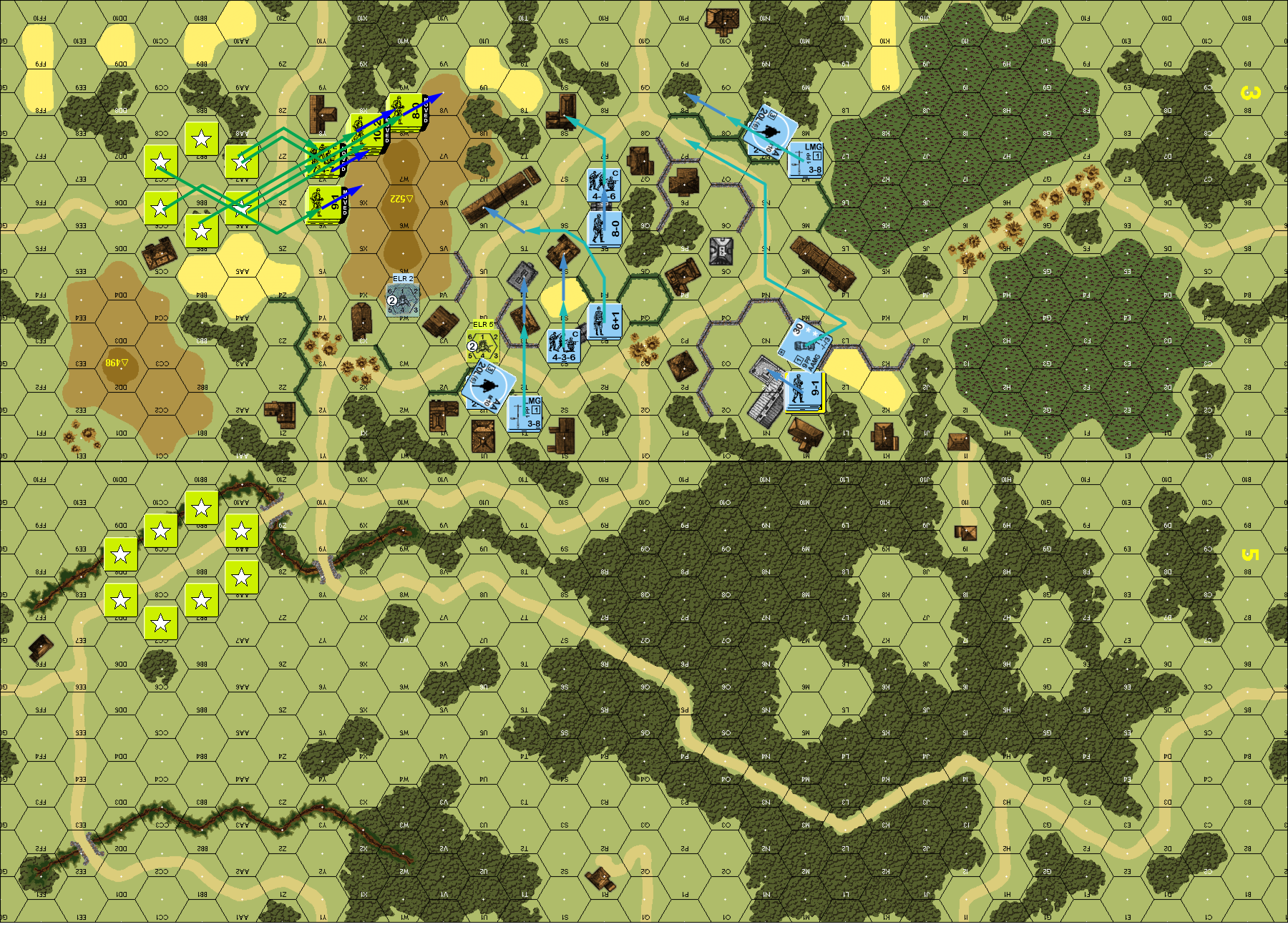 Situation, American Turn 1, showing the full board, and the American start areas. Also, my turn 1 moves are shown in paler arrows. Note that the east hills are swamps, and the building that would normally be in I10 is removed.
↓ Read the rest of this entry…