on
September 2, 2019
at
12:00 pm
A while back, I got contacted by Tracey Love on BGG for a teaching game of ASL. He's played the Starter Kits, and was in the middle of making the leap to the full system. This was an interesting experience for me, as there were plenty of things he was already proficient with, and then others that were completely new (including bocage, which I needed to brush up on). After a little discussion, we went with scenario 12 "Confusion Reigns" originally from Paratrooper, and now reprinted in Yanks, with me as the defending Germans.
At first glance, it seems an ordinary enough straight-up fight for St. Mere-Eglise with twelve squads on each side. However, the Americans need to get 12 CVP (and at least double the German CVP), and have better leadership with their excellent 747 squads. The German commander and his staff were killed just before the scenario begins, so the Germans can move a number squads equal to the turn number plus one per GO leader (they start with two), plus a unit that sticks with a leader for the entire MPh. This freezes parts of the defense in place, which must setup within 4 hexes of 24X5. The Americans get half of board 1 to set up in, and on the opposite side from there is board 4, which the Germans can exit from without granting CVP to the Americans.
I set up with a mass in the woods that dominate the setup area, with some forward HS, and my two main MGs in buildings. The MMG went in 24T6h1 where it could see what was going on at ground level elsewhere, and the HMG in 24V3h2 where it could see most everything. The main worry was keeping the Americans from getting around the main defense, and not only leaving me nowhere to go, but inflicting encirclement. Retreating through the woods was inevitable, and I hoped to withdraw to the north in an orderly fashion.
The initial American bombardment took a few logs to run, as Tracey got used to ordnance/mortar rules, and broke two of my forward HSes and his sniper pinned a LMG squad in 24BB3. His advance was fairly cautious and conservative, but he advanced nicely on his right. I managed to break one squad as he tried to get into the valley, but had no other effect, while his advancing fire managed to kill one of the broken HSes, and another good shot reduced my LMG squad with a K/1.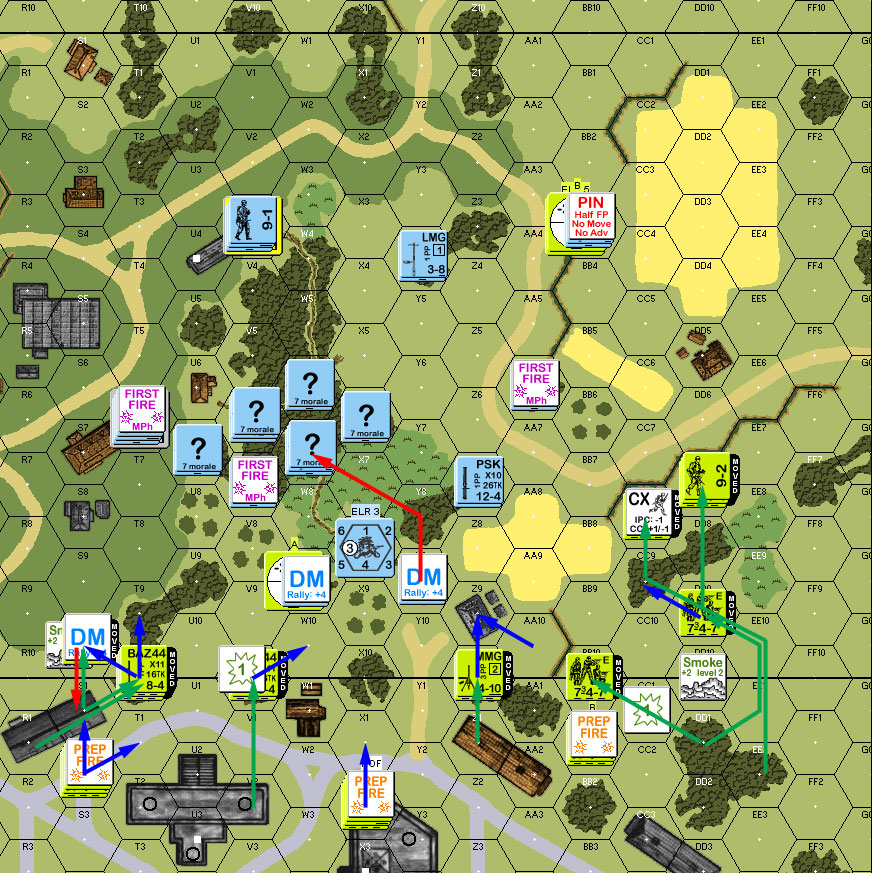 Situation, American Turn 1. The full map is half each of boards 4, 24, and 1, going from north to south.
↓ Read the rest of this entry…