on
April 7, 2023
at
12:00 pm
After finishing up in Piepsk, Mark and I went back to the Partisan scenarios for one set in Greece. Bulgaria claimed a part of it after the Axis victory there in '41, and by that winter had thoroughly pissed off most of the locals, leading to the beginnings of a few partisan movements. In March '42 a group raided a Bulgarian camp and made off with whatever weapons they could carry. The Bulgarians gave chase, and the Greeks split up in disagreement, with some staying to face down the Bulgarians.
The scenario starts right after a captured MG opens up and breaks the head of the Bulgarian column. The Greeks are defending board 4 with thirteen partisan squads (and sixteen "?"), three LMGs and two MMGs (all captured Axis Minor SW). The Bulgarians have nineteen squads lined up on the road, stretching back to board 10, five of which are broken and DM at scenario start (must have been in column). Mark took the Greeks, and mis-read the victory conditions, thinking he needed to stay at the victory line, instead of keeping me from crossing it. A clever twist is that while the Bulgarians need to have 7 squad-equivalents east of/on hexrow I, that number goes up for any MGs the Greeks have operating, potentially including any more they grab from the Bulgarians during the scenario.
My first action was to assemble one of the 50mm MTRs, which was right at the board 10 tree line. After that was a scramble for cover, and hurrying the rear of the column to the front. Mark didn't have any fire during movement, in fact, we found a fair number of just-barely blocked LOS as he checked for concealment loss. The 4G3 MMG then broke my MTR squad, reduced two of the broken squads, and eliminated a HS.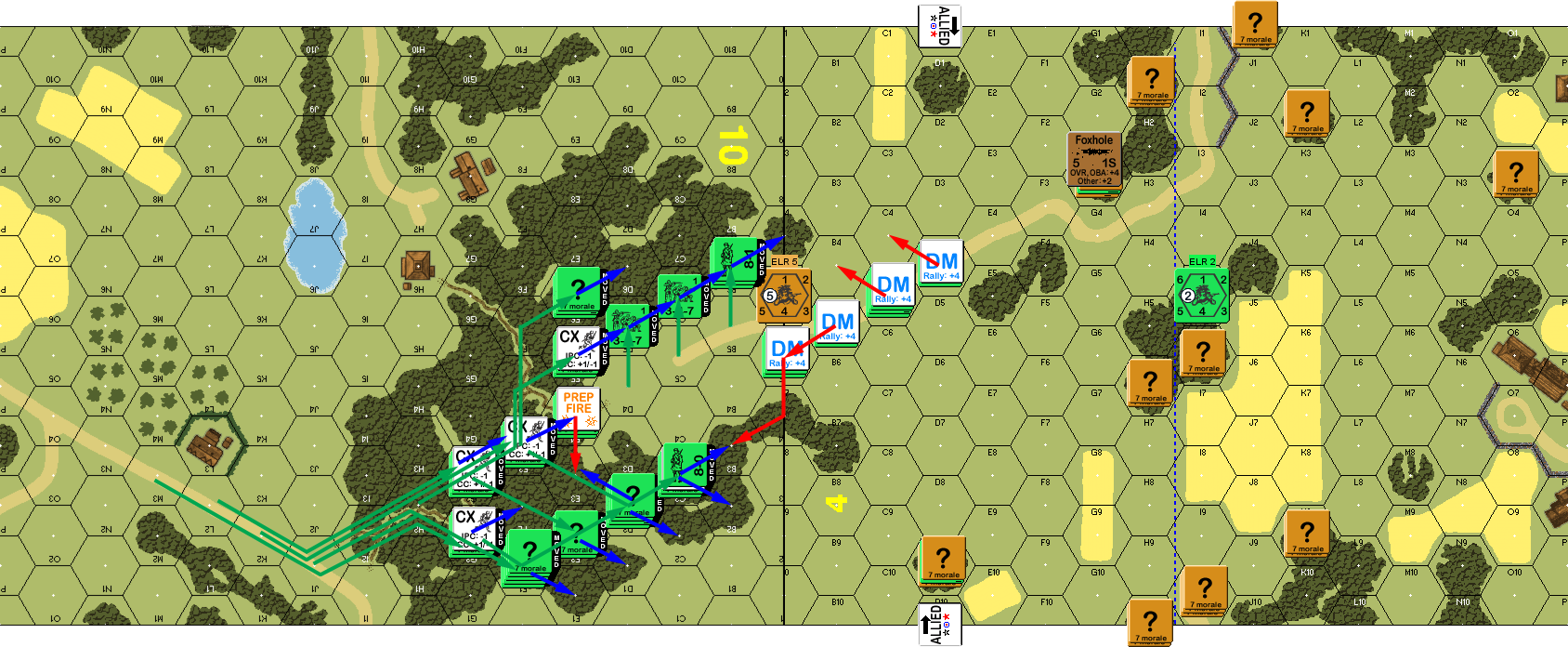 Situation, Bulgarian Turn 1, showing the full board. The blue dashed line is the goal for the Bulgarians.
↓ Read the rest of this entry…