on
September 8, 2022
at
12:00 pm
After finishing some French Toast and Bacon, Patch and I returned to Hatten, with the second scenario, in March. I continued with the Germans, who are attacking in about the same area this time.
Pre-game rubble took out Eglise Saint-Michel, eliminating a potential early lookout position. The Americans set up behind a road in the area the first scenario covers with eleven squads, MGs, a couple BAZ, one each 60mm and 81mm MTRs, three tank destroyers, a 57mm ATG, and some foxholes to spread around. There was a decent looking line up front, with the TDs further back along with the MTRs, and second line already in place with them, and a bit in front of the victory area.
The Germans get sixteen squads, good leadership, a PSK, a couple DCs, five halftracks (three standard 251s, and two 251/21s with 20mm guns mounted), and two Panthers. They set up on the other side of the road, but can also enter along the east edge (which I did with two loaded 251/1s). They have six and a half turns to go about twelve to eighteen hexes and take nine out of eleven victory hexes. (An extra wrinkle is that shifts one hex against a side that no longer has mobile tanks/TDs with functioning MA left.) I concentrated on the north edge with less cover, and a lot less green in front of me. A middle group was tasked with clearing out the central area with a cautious advance, while another three and a half squads held down the south, waiting to advance when he had to pull out from events elsewhere.
Much of the center OpFired, and I took a MMG shot at E7, sadly getting no result. The first two probing HS drew no fire, but the third one took a 1KIA from N8 (not where I expected…). A squad moved up, survived fire from D17 (barely in long range, but clear thanks to the road), and entered E7 to eliminate a dummy. As I moved into the central area, I took fire from I10 and H7 and C9 finally revealed themselves. Only the latter managed to break anyone, which was a help. At the end of the phase, I tried dashing across in the south again, and he revealed J7 (instead of adjacent J6…), and got a K/2 to break and ELR what was left.
Final fire then broke the initial HS in B8, and malfed an AAMG. My only advancing fire result was malfing the CMG on a Panther, despite two good rolls on C9. Patch did self-break the HS in H7 to get away from a 548.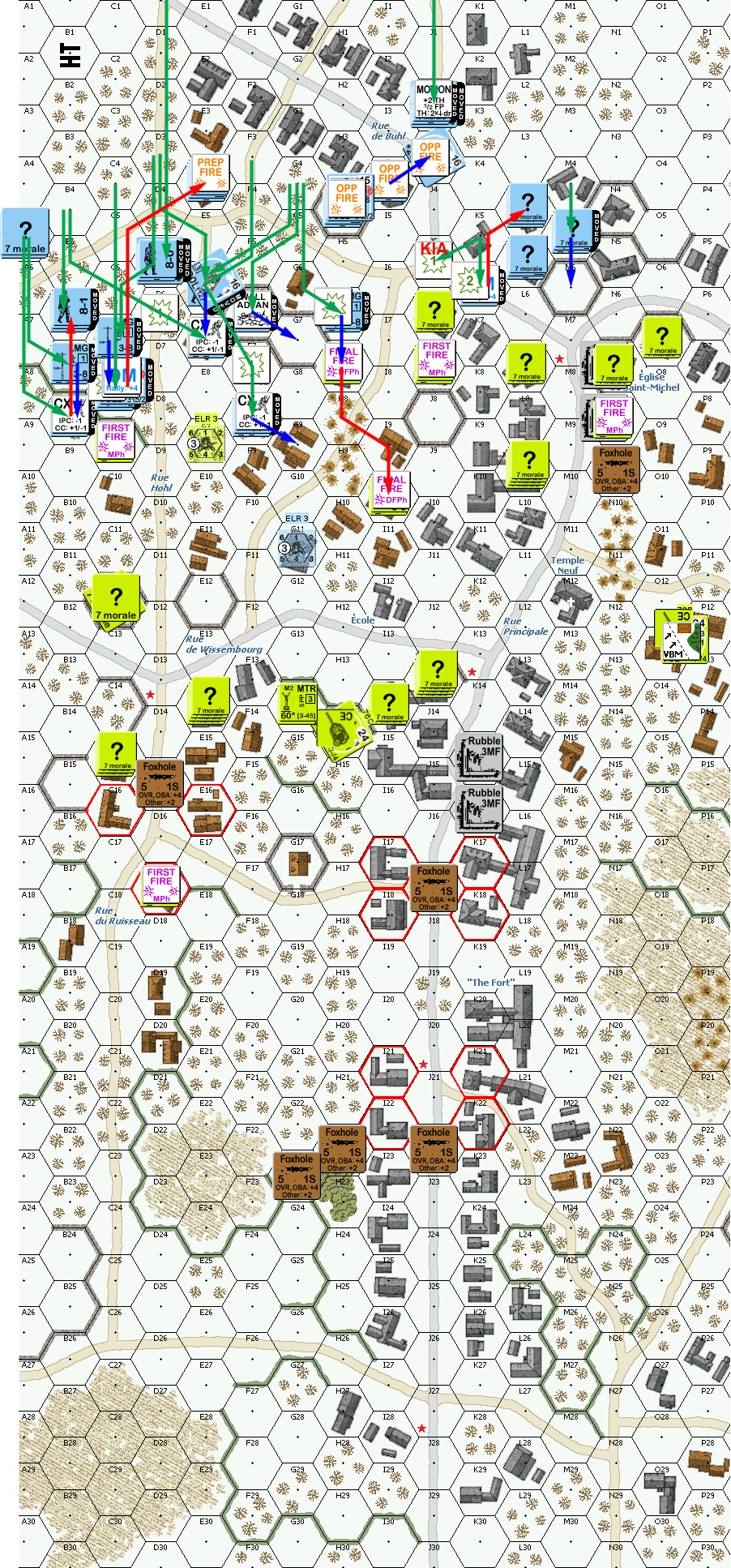 Situation, German turn 1, showing the full board. This is the entire north edge (towards the left). Victory hexes are marked in red.
↓ Read the rest of this entry…