on
February 10, 2023
at
12:00 pm
After finishing off a first lesson with OBA, Mark and I turned to the classic Squad Leader scenario "The Hedgehog of Piepsk" (as updated for ASL). The last time I played the scenario was with my dad in the early '90s in its Squad Leader form. The remake features even more Russian squads, but half of them are conscripts, and of course, defensive fire can be much more powerful in ASL.
The Russian force is brittle, since there's only three leaders for thirty-two squads (this and "Hill 621" were the 'mob of Russians rushing a small defense' scenarios of the original game), while the Germans get seven squads with four leaders, five machine guns, and OBA. It uses all of the three original non-city boards, though in practice the rear thirds aren't going to get used. With the winter of '41 starting, the Germans are holing up in whatever shelter can be found, and the Russians are counterattacking to push them out by taking all the stone building Locations (so each Location must be claimed, not just the buildings themselves) in the board 3 village in ten turns.
Mark took the defending Germans, and set up with nothing visible, which meant they were all in concealment terrain (by SSR), and not on exposed hilltops with great fields of view. I organized the 32-squad horde into three rough groups, with the center being the largest, and the initial objective was to seize hill 522. The north flank was to work along the board 3/4 board seam, and the south was to work along the foot of the board 2 hill with some scouting further up the hill.
The first turn was occupied by getting onto the board, and no Germans revealed themselves as I started sorting myself out in movement. The only sound was some faint German cursing as a HIP leader failed to get contact with his OBA battery. I advanced the one MMG onto the top of hill 498 (3DD2), which stayed concealed thanks to the lack of anyone to reveal them, and they could see most of the local area.
The lack of contact continued on the German turn, and no movement left me to try a couple probing shots that did not get any results.
The second move of my second turn finally drew fire as a LMG nest turned up in 4N5. That was the only activity other than contact finally being made, with an AR in 3X2 with the SR landing in 4O1.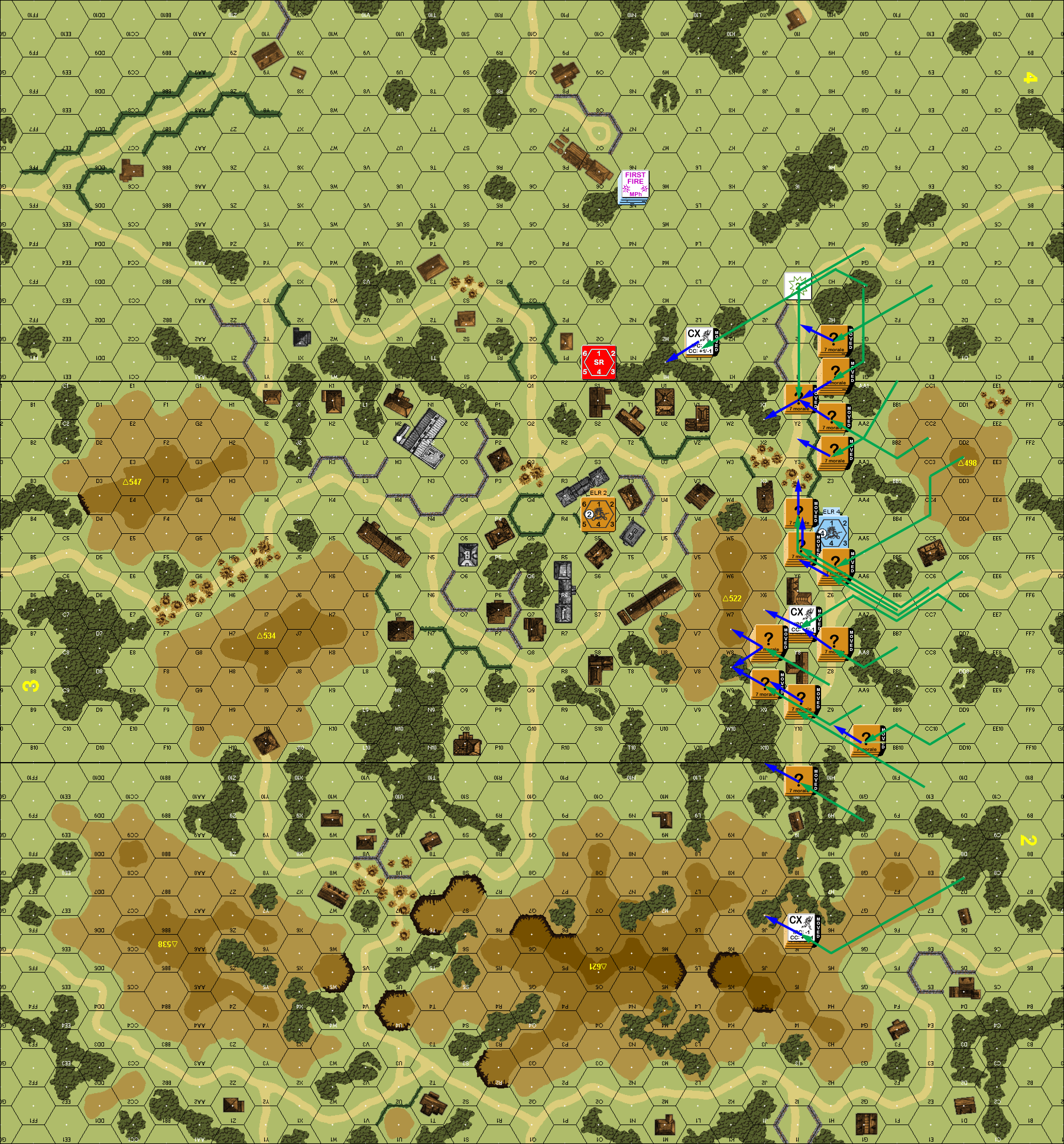 Situation, Russian Turn 2. The objective is to take all the stone building Locations.
↓ Read the rest of this entry…