on
September 20, 2012
at
12:00 pm
"Hill 621" is a classic scenario from the original Squad Leader game, and is much enjoyed in both the original and ASL formats even now. Like all the original scenarios, it's not very historical, but it has a great 'feel'. Both Patch and I had played it before, but not in ages, and not against each other. We got going at the end of March 2009…:
Well, Patch and I started our newest game last night. We'd talked over various possibilities while the previous game was wrapping up, and we eventually decided to visit an old classic, even if it will take a bit longer than the last couple games.
We've both technically played it before, but it's been a decade or so for Patch, and the last I played it, it was SL scenario 5.
Neither of us had a strong affinity for a side, so we rolled off and I got the Russians.
With 48 squads… it was hard to come up with much operational subtlety, so I mostly lined up at the edge of board 3, and am trying to keep everyone out each other's way until attrition shakes out a few bodies.
The pre-game MC broke two German squads, which promptly rallied in the RPh. The Germans set up near the west edge of board 4, in three stacks. With his middle stack, he made a mistake bypassing some woods 15 hexes away from the leaderless MMG I had set up in 3N1h2. The resulting 1MC was passed by the -2 leader and the first squad. However, the latter activated the Sniper who promptly Pinned that squad. The remaining two squads seeing their comrades hit the dirt pinned and broke, effectively halting the entire stack before they could get to the board 2 hills.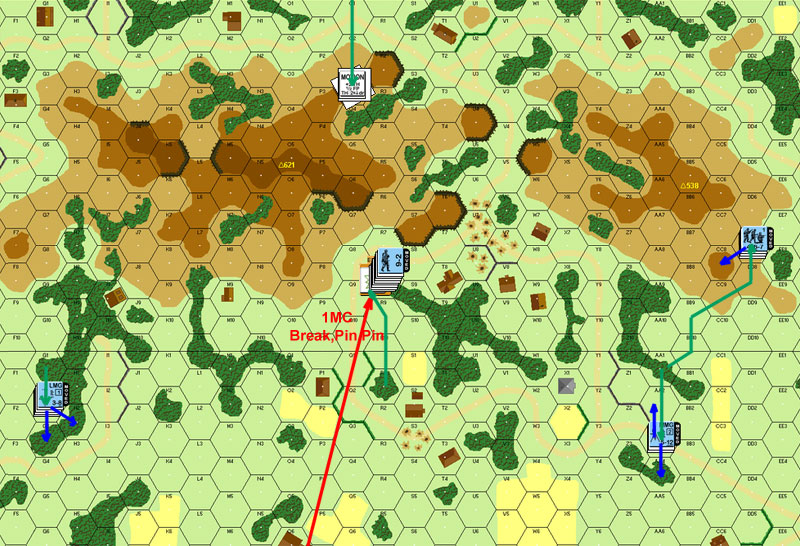 Situation, German Turn 1.
The broken German squad promptly rallied in my RPh. My only Prep was the MMG again, which pinned the squad that had advanced up to AA4.
Thanks to his middle group being out of position, I had a lot of freedom to move. They tried to fire a couple times with tricky LOS, but they were blocked. Overall, I had four squads broken, one by the Sniper. Not bad at all….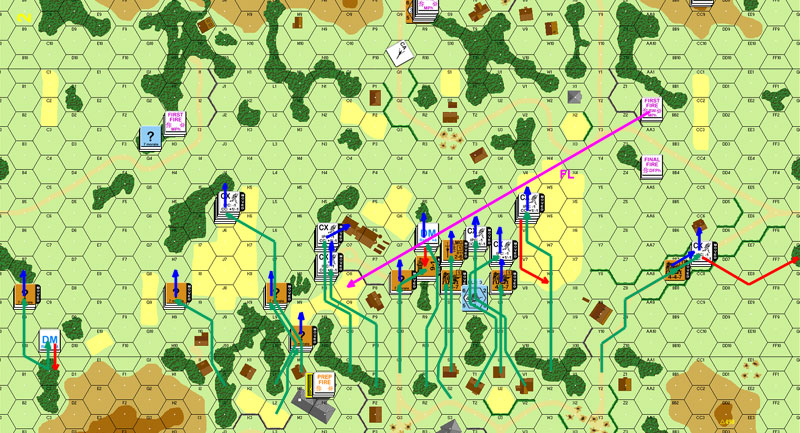 Situation, Russian Turn 1 after MPh.
↓ Read the rest of this entry…