on
January 29, 2020
at
12:00 pm
Martin and I went back to a mutual project to play through more of the initial Beyond Valor scenarios after I grabbed a hill in Italy from him in Regalbuto Ridge. This time was scenario 9, "To the Square" set during the Russian advance into Warsaw near the end of the war, and is a ten-turn slugfest on four boards, which took us nearly five months of PBEM to get through.
The Germans defend across three boards (1, 20, and 21) with fourteen squads (split between 467 and 447s), good leadership, two 50L ATGs, six hexes of wire, and a roadblock. He also gets 8 "?", 2 squads can set up HIP, and he gets to place six rubble counters in the forward two boards, and then randomly generate two more hexes of fallen rubble. The Russians attack from board 8 with twenty 447 squads with adequate leadership (not too bad for Russian mixes, actually), four T-34/85s (w/9-1 AL), and a module of 80mm OBA. Oh, and both sides get a HMG, 2xMMG, and 3xLMG. The Russians have 10 turns to take building 20H3, or exit 30 VP off the opposite (west) edge.
Martin had the Germans, and set up a loose line on board 1, all at level 2. There was a noticeable gap in the I-O section, but it was backed up by a second line at the edge of board 21. There was also back up for the south half in 1Z9, 21L8, and 21J5h2. Invisibly, HIP squads went in on the north and south ends of the board 21 line, with the wire protecting the victory building from a front assault, the roadblock at the south edge of 20, and the ATGs near the north edge of 20.
I debated possible courses of action for a while (including rushing into that I-O gap, or setting up on the level 2 portions of board 8 for long-range 85mm, MG, and OBA spotting), but eventually decided to go hard against the south edge, looking for a board exit. Holding the flank with the board edge would be good for the start, but I figured a shift north to cross the board 21 graveyard would probably be a good way to go. In fact, if Martin built up too much in front of my south-edge drive, I would drive NW and assault the victory building. A functioning T-34/85 is worth 7 EVP, and with all four being 28, just shy of the 30 VP goal; the AL brings them up to 29. I hoped to keep them intact and use Riders to carry a squad off-map and bring me over 30, while they could also help with a quick shift in focus, and I set up with one tank having Riders.
I prepped a T-34 at 1X2, and naturally missed, but at least it should start forcing him out of there (Op Fire would have been smarter). Thinking the south gap was a bit large, I did some searching as I prepared to send tanks into unknown territory, and found nothing. I moved into 1Z2 to draw fire… and did, surviving a PTC. A second move to X2 got SFF in X1 for no effect, and another squad got into the building through Y3.
The T-34 with Riders dashed forward to BB6 with exactly enough MP to unload, and to my surprise Z9 did not fire. Presumably he didn't want to come under accurate fire from the tank, but I felt keeping me out of building Z6 would be worth it. I showed Martin had the right I idea when the MA got a '2' in AFPh, but didn't manage an Unlikely Hit with a subsequent 5. Overall, the initial turn went very well, as I figured to have at least one broken squad from the rush on 1X2, but that didn't happen. If only I knew where the AT and HIP were….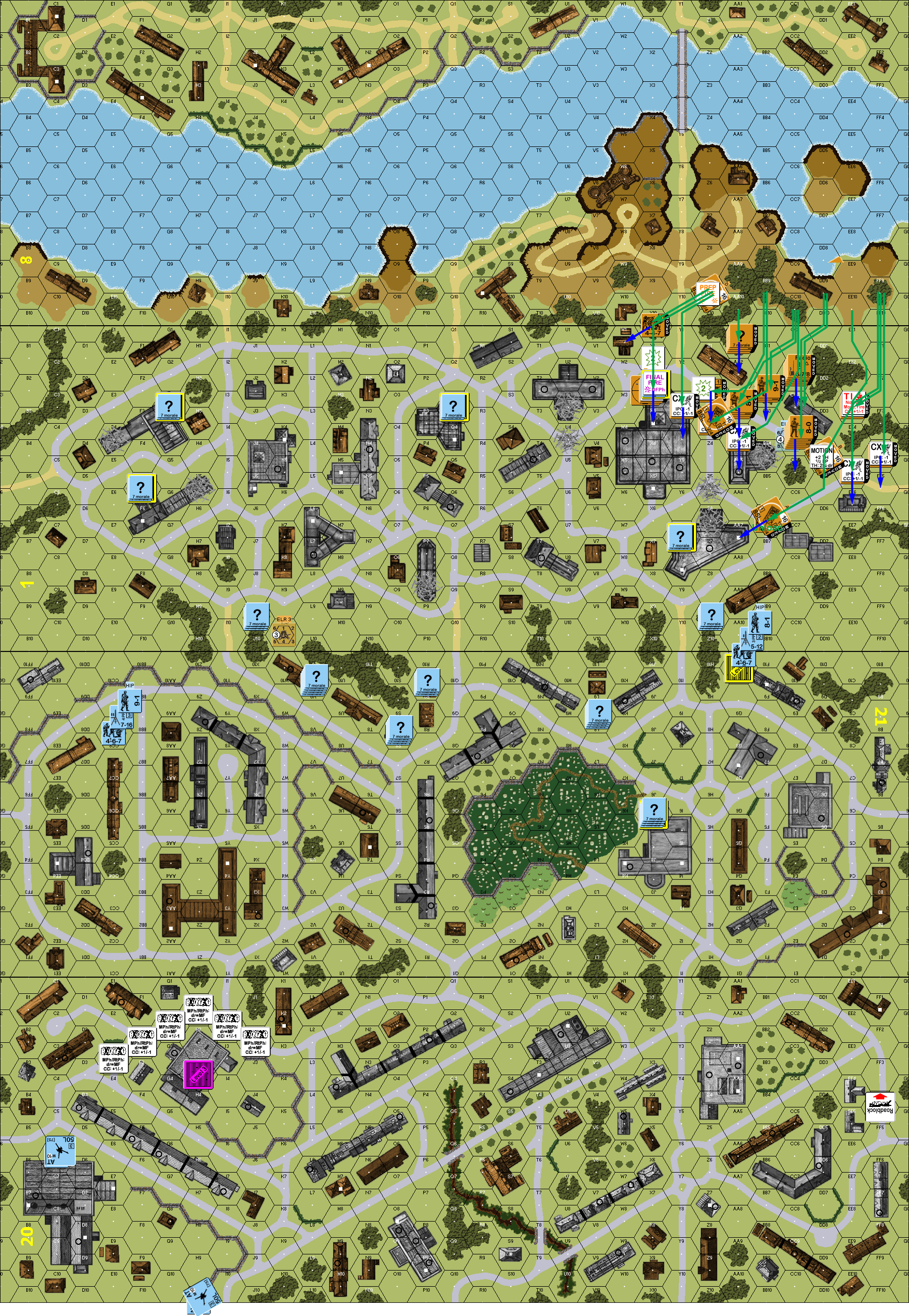 Situation, Russian Turn 1, showing the hidden parts of German setup. North is to the left, 20H3 is the one hex with a Level 3 Location. Two T-34 moves (which started in 8CC10 & DD9) are not shown for clarity. AL is with 'C' in 1Z3. My Sniper is out of position thanks to forgetting to move him after changing plans.
↓ Read the rest of this entry…