on
February 18, 2015
at
12:00 pm
Last year, Patch and I decided to celebrate the upcoming release of Hakkaa Päälle by playing scenario G17 "Hakaa Paalle" from Volume 29, Issue 2 of the General (pity that neither of us can afford the module right now). It's January 1940, when a running firefight starts between the Finns and Russians. There's Deep Snow, Extreme Winter, Drifts, skis, and winter camouflage.
The Russians enter first with 20 628s and 6 LMGs, followed by 12 squads of 838 Finn supermen (assault fire, spraying fire, no cowering, underlined morale, stealthy, and can declare HtH CC) with 4 LMGs. The Finns need to have at least 10 more CVP than the Russians at the end of ten turns, and the Russians can exit off the west edge without penalty (both sides enter from the east). The map is a board and a half (longwise) east-west (so 50 hexes for the Russians to get away), and two tall, with all the buildings, walls and hedges removed.
Patch took the Russians, who have already spent 2 MP before entering, so his first turn was occupied by ducking around the woods near his entry area, and got backed up a bit. The Finns entered, and moved laterally towards a group of woods near the board edges, trying to find a way to get into range before the Russians could get past. Patch managed to pin two squads with a long-range shot from a pair of LMGs to slow me down slightly.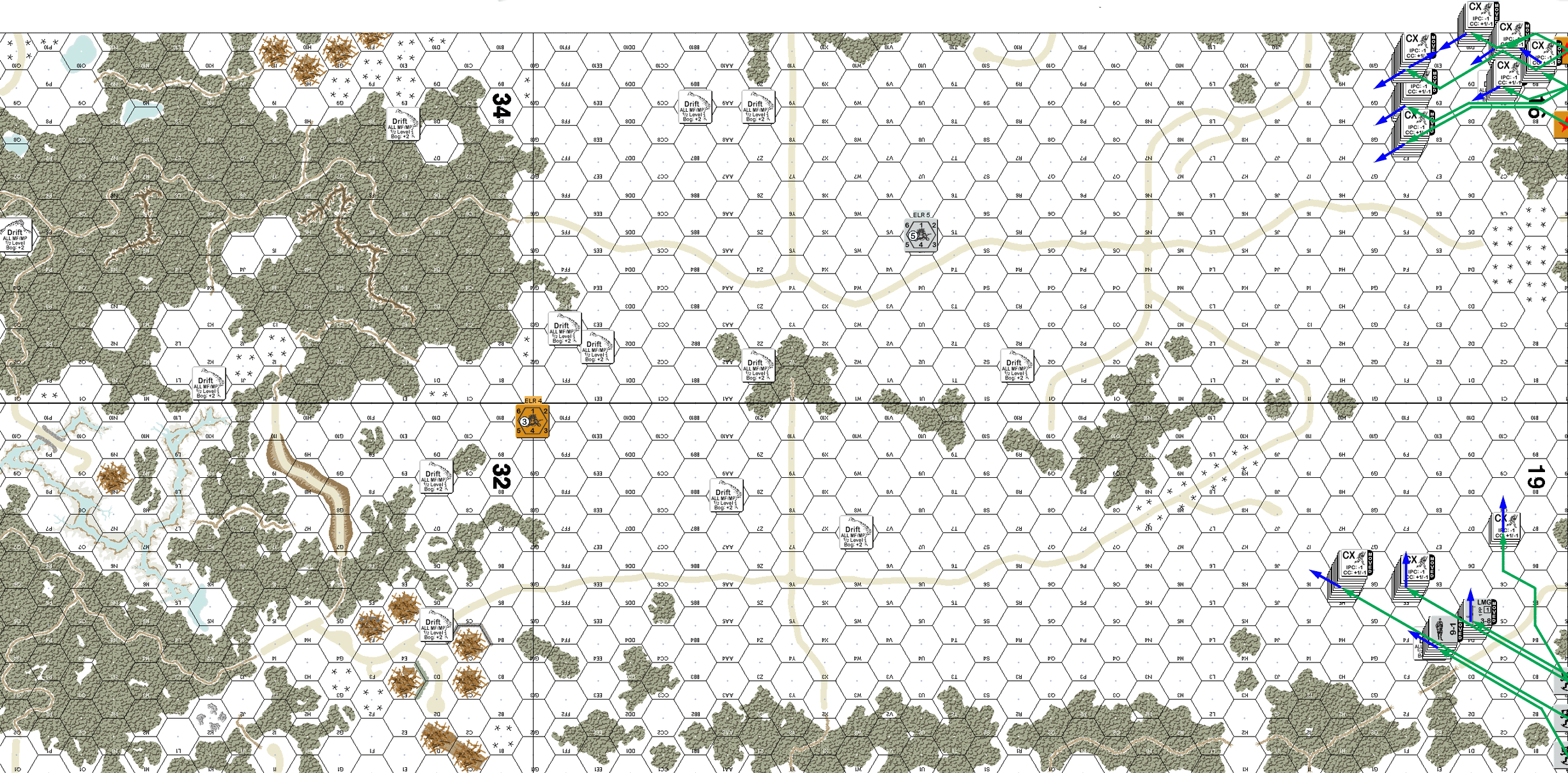 Full map, showing both sides first turn movement. Stacks are taller than usual thanks to all the skis.

↓ Read the rest of this entry…