on
July 26, 2012
at
12:00 pm
When I advertised on GameSquad for a PBEM game of ASL, I ended up taking on two new games. True to my distractible nature, I let the second one get buried under other things at one point, and dropped the game, only to notice it and get it restarted about a year later. We started in June 2007, and didn't finish up until August 2008…:
This game has been proceeding slowly for a little while. I picked up a second opponent when I advertised for a game a couple months back. We started up as my game of Gavin Take was winding down. I've been a bit distracted, and my opponent, John Bock, just moved, so he's quite naturally distracted too.
Anyway, he took the Russians and I got the Germans in this little 4 1/2 Turn struggle for three buildings on board 3. With two half-boards, I set up half my force with a Flammpanzer III on board 4 and the other half with a Pz IVH enters the first turn. The main fears for the tanks are running out out of fuel for the flamethrower, getting ambushed by a 45mm ATG, getting ambushed by an ATR, and a KV-I that enters randomly.
My main fear is running out of time. Five turns of movement isn't much, even with not all that far to go.
As would be expected, my first turn was composed of getting up to the Russians. The PzIV got a CH with the MA, driving in the picket on that flank. Sadly, the Flamethrower was unable to do more than Pin the squad in front of it. I considered going into CC with him, but the likely result would be to tie up my MMG squad in Melee, so I passed on it.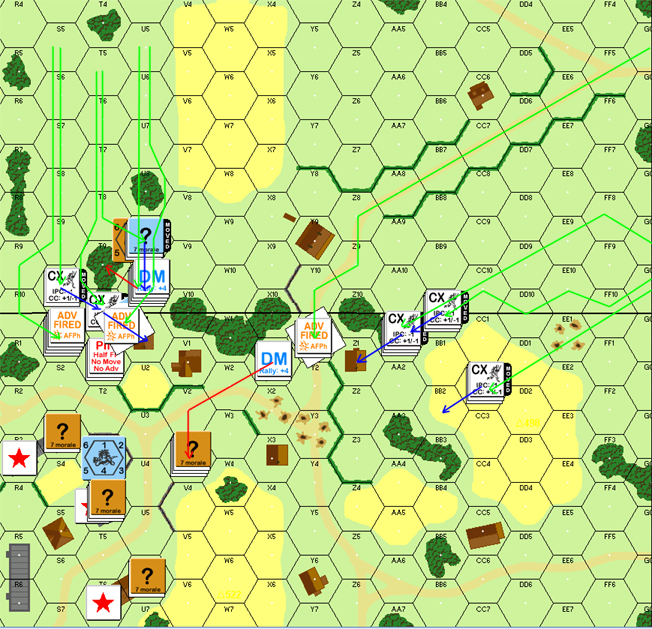 Situation at the end of AFPh German Turn 1, showing movement (green), rout (red), and advance (blue). Red stars are the victory buildings.
↓ Read the rest of this entry…