on
December 20, 2012
at
12:00 pm
After the wrap-up of the last scenario (which coincided with a bad week for me), I asked Patch to put forward a scenario suggestion. He came up with the interesting J123 "Charging Chaumont", which we had to cancel be the deluxe overlays don't seem to have been redone for the new VASL deluxe boards yet. Instead, we ended up with J124 "Cobra Kings", with me as the attacking Americans.
It's Christmas Day 1944, and the Americans are attacking into Assenois in the drive to relieve Bastogne. I enter into a pair of deluxe half-boards with a mixed force of Shermans, halftracks, and infantry, and have five turns to clear one of two full boards that the Germans set up in of any GO Infantry. This is at dawn, so there is a +2 LV for the first turn, and a +1 for the second turn. In addition, I pick hexrows, and the Germans roll to see if any buildings are rubbled in them; finally, all Germans without a leader are TI for the first player turn, those with a leader are merely Pinned.
I enter in two turns, with the first turn's forces being a 76 M4A3E2, two 75 M4A3E2, four halftracks, an armor leader, a hero, 8 squads of infantry, and various toys. Since all Infantry must enter as Riders, some of them have to be on the Shermans. Patch gets 12 squads, two 88s, and two Hetzers enter on turn one.
Patch initially forgot to HIP his roadblocks, which forced a re-setup, and a move away from his first plan. Sadly, we also forgot the +2 LV for most of my turn, which did hurt some. I am continuing my habit of failing PTCs and MCs with Riders, but passing all the Bail Out MCs.
Taking a look at things, I decided I liked the western (bottom) route better, mostly because I knew a fair amount of my force would end up using the sunken roads, and the east one forces turns. One squad of Riders was pinned and Bailed out successfully, only to be broken by Patch's Sniper, while another Broke and Bailed Out in the middle of the entry board. I managed to unload five squads + hero successfully (one of these was due to a mis-count on a Sherman's movement—the error was probably more than made up for by forgetting the +2 LV on the shots that pinned/broke me).
In the APh, I advanced squads into both ground-floor stairwells of building bC4, Encircling two groups of units on Level 2. I also advanced a MMG squad into D2, while the Hero that had been with them stayed outside with his BAZ. The one flame set by the pre-game rubble checks went out in the wet conditions.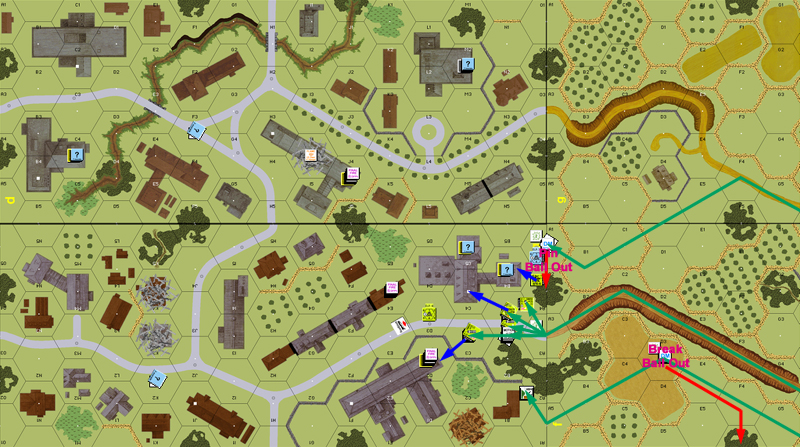 Situation, American Turn 1, showing full setup.
The leader that had been broken in fD3 immediately came back in my rally. The squad didn't, but getting them on my turn would be fine.
For Prep, Patch fired a PF at my Sherman parked in the middle of the main road, and thankfully missed. bD2 took a 36FP +2 shot at C3 and killed the halftrack parked there. However, the crew survived, and the Hero passed the 4MC. The bad news was that his Sniper went off again, and re-DMed the broken squad in A4.
His defenders on the east end started moving up from dM2. Some of the middle defense in dJ4h2 went downstairs, and the rowhouse defenders in bE4 skulked and split up. Both Hetzers entered on the east road and took up covering positions out of sight.
My defensive fire was notable for a hit on D2 from my Sherman in B3, after revealing the 9-2 AL (…this, also, was a mistake; we forgot the +1 for my overstacking). All three squads and the leader failed the resulting 2MC, seriously unhinging his defense. Worse, there was no good routing from it.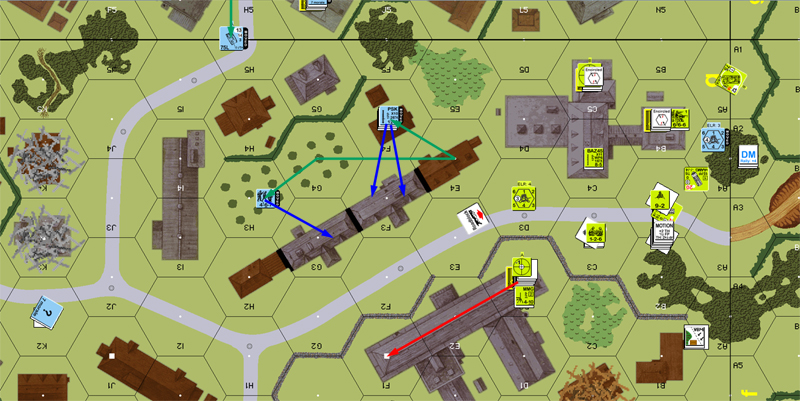 Situation, German Turn 1 in the west.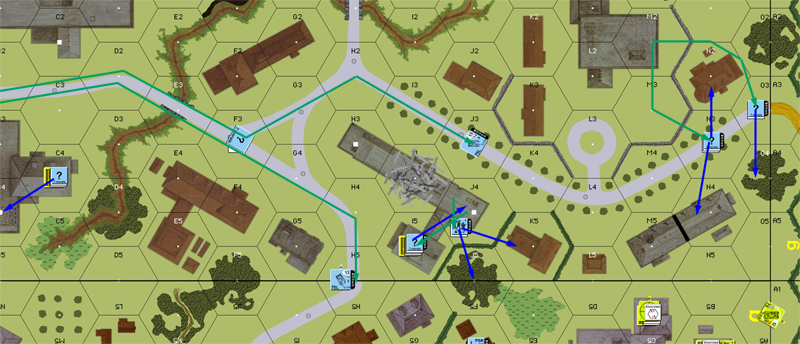 Situation, German Turn 1 in the east.
↓ Read the rest of this entry…