on
August 7, 2022
at
12:00 pm
At the start of June, Mark and I got to trying out the Great Battles of History series. Or, I did, as Mark has played a little of it in the past. That said, we were trying Chariots of Fire, which apparently has somewhat different rules than the rest of the series. (I am disturbed by the fact that the series seems to have never picked up a single unified rule set, other than the variant Simple GBoH.) In fact, we were starting at the beginning, the battle of Sumer, ca. 2320 BCE.
This basically marks the transition from the old kingdom of Sumer to the kingdom of Akkad. There is, naturally, not a lot known of this period, and it's obvious this is more of an excuse for an evenly-matched training scenario. Both sides get ten shock infantry, three light infantry (one of each of the three missile types), and one battle wagon (or battle car, as I've seen them elsewhere), and one heroic leader. The last is the only real difference between the two, with Sargon (the historical winner, and soon 'the Great') being one better than Lugal-zagessi in all ratings.
The map is flat and featureless, under the presumption that the battle would have taken place away from all the valuable irrigation infrastructure (I really doubt that, but again, training scenario…).  We used the standard setup (you can figure out your own) given in the rulebook. So the first few turns consists of the two sides advancing on each other across an empty plain….
I had the Sumerians, and edged constantly to my left as we advanced, with the hope of being able to wrap around his flank. It's technically a chit draw system, but there's only one formation on each side in this small scenario, and an initiative roll means one person gets to choose what the first chit of the turn will be. However, there's still four chits, as each side gets a "momentum" chit, where they have a chance to make a particular wing go again. Overall, the wrinkles to a regular chit draw system are nice, though it feels a bit odd in this extreme case.
Both of us were somewhat nervously edging up as we got into range of each other. I got a double move at the start of turn 3 (tied initiative, drew my momentum, which was successful, followed by my main wing chit; we did not catch the double-move cohesion penalty at this time) and moved about half of my line into contact with the Akkadians, with my right flank refused.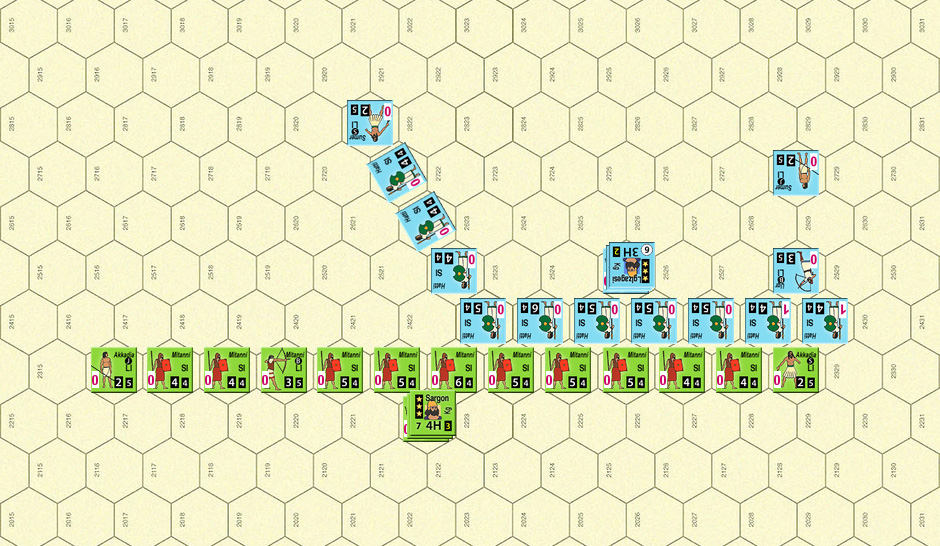 ↓ Read the rest of this entry…