on
March 29, 2020
at
12:00 pm
Patch and I finally got back to Budapest recently, starting last December, and finally finishing up at the end of February. Speaking of, the date is 7 February 1945, so the Germans are suffering from food shortage (no double-timing, broken ML is down one), gas shortage (vehicles are immobilized on a 11+ DR when they try to Start), and Ammunition Shortage level 4 (3 for vehicles).
I got the attacking Russians, who are trying to take Object 59—the Southern Rail Station (since re-built). A secondary goal is to instead take three nearby prominent buildings in 6.5 turns. They get eighteen squads (from Assault Engineers, and elites, to 527s), three BVR squads, plenty of leaders, a .50-cal, a MMG, a FT, three DCs (one must go to the BVR), two 122mm ART, three T-34/85s, and one old T-34 M43. They also get 80mm OBA with a HIP observer. The guns come with trucks to haul them around with, and I tried, but as you'll see, it came to nothing….
The Germans get ten squads (a mix of SS from 658 to 468s), and the Hungarians have six squads (Elite and 1st Line), with a PSK and DC, a 75mm INF, a FlaK 38 (20mm), two each roadblocks and trenches, three wire, and four vehicles: Pz IVH, Hetzer, Zrinyi II, and a Nimrod. They get eighteen mine factors, four fortified building Locations, and one HIP squad.
There's eight buildings with random rubble checks, and Patch's rolls knocked down a good part of the city, producing ten rubble counters (at least one of which was falling rubble), and ten debris markers. Patch's defense largely used this rubble to great effect. There were almost no clear roads through the debris and rubble, and he put his roadblocks on the main two left: narrow streets NN18/OO19 and PP19/QQ20. Way off in the south part of the board were some buildings untouched by the demolitions that could be bypassed for a way for vehicles to get through without Bog (but not for Guns being towed, which I didn't realize for a bit). He set up almost entirely behind the Kékgolyo utca, giving up a lot of space, but very secure in an extensively built up area. I had to complement him on such a fine cork in the bottle.
With not much visible from my starting line, one ART set up to force him away from PP19. I'd bring up men, tanks, and try to clear the roadblock, getting down the Greguss utca, putting pressure directly on the Rail Station. Five squads would head to the TT19 building to flush him out of there, while the rest would proceed along the south end of the map, though thinly-held territory to BBB15 (one of the secondary objectives) and then continue on to the other two. The primary goal was to take the three secondaries; there was still significant force there, but I could get there with enough time to defeat them. If too much pulled on to defend that section, re-orienting to the Rail Station was still possible.
I failed to contact my OBA on the first turn, and the only Prep was the ART missing ATT on PP19. Patch only had two shots during my MPh, but each one broke a 527; though after one shot, he was disconcerted to see a FT settle in across the street. Most of my advancing fire did little more than put down acquisition markers, but the FT got a result to break a Hungarian squad and the concealed leader with him.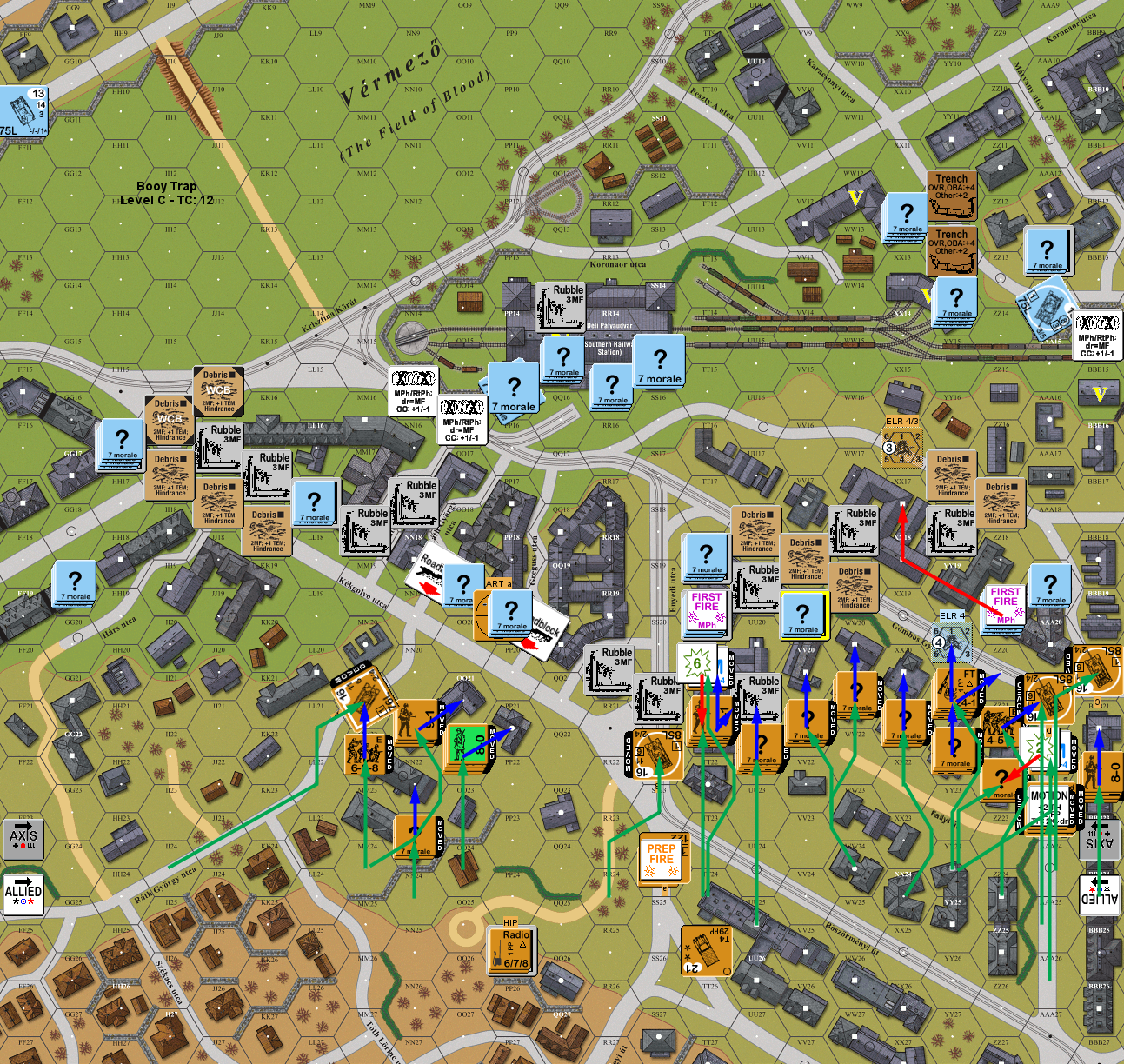 Situation, Russian Turn 1, showing the full board. North is to the left.
↓ Read the rest of this entry…