on
September 1, 2017
at
12:00 pm
Patch and I finally got back to Festung Budapest for our latest ASL game. FB has a lot of unusual scenarios, and that's definitely true here, as there's a four-hexrow overlap in the opposing setup areas, and anyone who sets up in the same Location starts in Melee (setup is simultaneous and secret). This is probably easier in VASL than FtF. Right after that is worked out, a die is rolled to see who goes first, and is effectively on the attack, as they will have to Control five out of nine ground-level victory Locations at the end of five turns, and both sides have a limit of 35 CVP.
Pre-game rubble checks knocked down most of building YY30, but did nothing to four other buildings. I had the Russians, who start with nine squads (three each 628, 458, 527), a MMG, DC, a 75mm INF, and three T-34/85s. There's also six OB-given "?". I mostly used those to conceal the bulk of my forces, but also put a Dummy in EEE27. My main concentrations went on the VC Locations of ZZ27 and CCC28, but the MMG went further out in XX26, where it could cover most of the north side. I put two squads across the main north-south road, with a 628 on the VC Location in ZZ25, and a 527 + 7-0 next to a VC Location in EEE25. Most of my concentration was in the south, and I hoped to take and keep DDD25. The INF was in AAA29, where it was out of the Axis setup area, and could cover most of the area being fought over, especially to the south.
The Axis has three SS squads (two normal 658s and a 468), three regular elite squads (a 548 and pair of 468s), and three Hungarian 526 squads. They're at Ammo Shortage 4, and only have two LMGs, but also have a DC, 75L AT, Pz IV H, StuG III G(L), and a SdKfz 251/9 (with a short 75mm gun), as well as six OB-given "?" and initial Control of all victory Locations. On the west-side of the main street, he had what turned out to be a dummy in YY27, and two Hungarian squads in building CCC28, one of which was instantly in Melee with my main stack with a 9-1 and 628 (the remaining Hungarians were in BBB26, with the leader in BBB24), while the ATG was in ZZ24. The rest of his squads were in a line along the east side of the street, with two of them in cellars. In one case, this meant we were in the same hex, but not in Melee, but my force in EEE25 did end up in Melee with a 468. His Pz IV was in bypass of FFF24, adjacent to the Melee, though actually out of my setup area, the StuG was in CCC24 looking down the street, while the SdKfz 251/9 was in ZZ23, where it could cover the central building.
The scenario also has purchasable reinforcements, where each side gets three points every turn, and there's a schedule of what you can buy, from leaders and squads, a few tanks, or even eliminate the next player turn. (You just go through your turn and then do your next turn right after, costs 8 points.) The start went to the Axis, and Patch skipped buying anything, and went straight to Prep. He only fired his group in YY25 at my guys next door in ZZ25, getting a MC that I passed. Movement consisted of skulking in the center and preparing to rush into EEE25.
I didn't want to reveal too many "?" for fear of making them vulnerable, but I did reveal the INF, which missed a shot at DDD25, but behind-the-lines fire at DDD28 broke that squad. Patch had forgotten his squad in ZZ25/c, and I pounded it, eventually breaking it with a shot from a T-34. Patch declined to advance into CC in ZZ25, though he would have had an edge in leadership and FP (he'd still be attacking at 1:1 -1, unless he could get the Ambush; too chancy). But CC went poorly for me, with the Hungarians wiping out a 628, 9-1 and DC in CCC28 while taking no losses, and he CRed my 527 in EEE25 for no losses.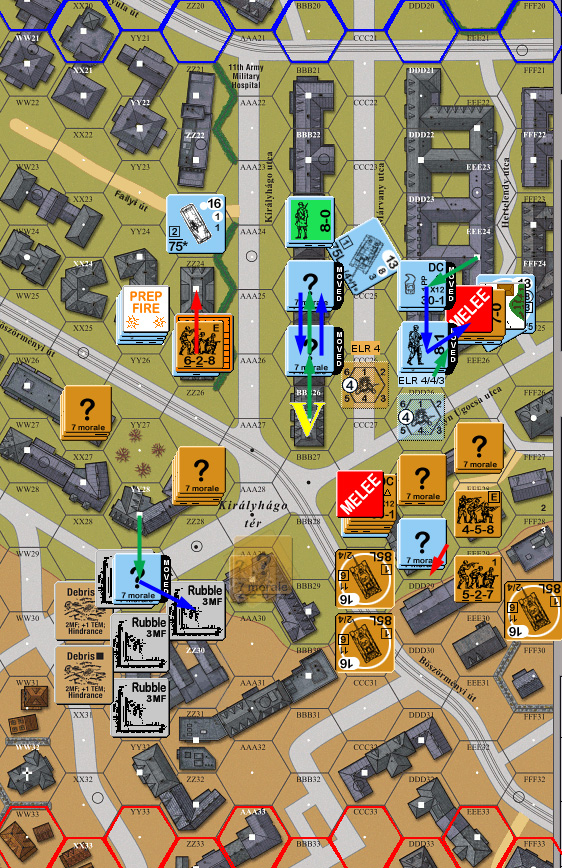 Situation, German Turn 1 showing the full playing area. The red hexes are the Russian entry area, and the blue hexes are the Axis entry area. North is to the left. German setup was xx28 and above, Russian setup xx25 and below, but not in/adjacent to building BBB26.
↓ Read the rest of this entry…