on
September 14, 2021
at
12:00 pm
[Scenarios 1 & 2]
[Scenario 3]
[Scenario 4]
Once again, I had hopes of drawing an easy fight as Mark and I got back to "The Lone Gray Wolf" back in May. But, Mark rolled a 1 again, which made me really glad I'd eliminated a CL from it last time, leaving it at a CC, CL, and FF. Even better, that CC was missing most of the padding. However, it's still not a group to take lightly, especially as that CC has the weaponry to cause some major damage, if it can line up a good shot.
Mark lined up directly astern and went speed 18, while I did my standard speed-20 opening with 1 ECM, while all the Kzintis also put up some ECM. I turned shortly into the turn, while Mark kept his options open by slipping towards me. On impulse 5, I blew batteries to bring my ECCM up and fired phasers at the FF to dent it's #1 shield, with a mix of rolls doing four damage, three of which registered on the shield. The Kzintis started slipping out, and I continued my turn, bringing disruptors to bear on impulse 24, and I fired two (all I had charged) at the CC's #2, getting one hit which bounced off of reinforcement, and the turn ended with us back outside the forward arc at about range 22.
I stayed at speed 20 for turn 2, while the Kzintis slowed down to 15 and 14. Mark boosted ECM, while I had a 2/2 split for EW. The Kzinits turned in on impulse 2, and I followed suit on 7. He continued slipping, and I turned towards the Kzinti formation on 18, and the Kzintis launched a full spread of drones on 19, and then turned off. Range was down to 15, so I boosted ECCM to match the FF's and volleyed the disruptors at it, hitting with three, and then doing one more point with the three bearing ph-1s, doing 9 damage to the #3 shield (after a point of reinforcement). On the next impulse, I tried a couple of ph-2s to do one more point, and exactly collapse the shield. Six impulses later, I turned, bringing more phasers to bear, and was still on the #3 shield, doing three internals with mixed rolls on a ph-1 and 2xph-2, taking out the bridge and a warp box. After that, the FF turned the shield away, and the CC and CL turned the other way.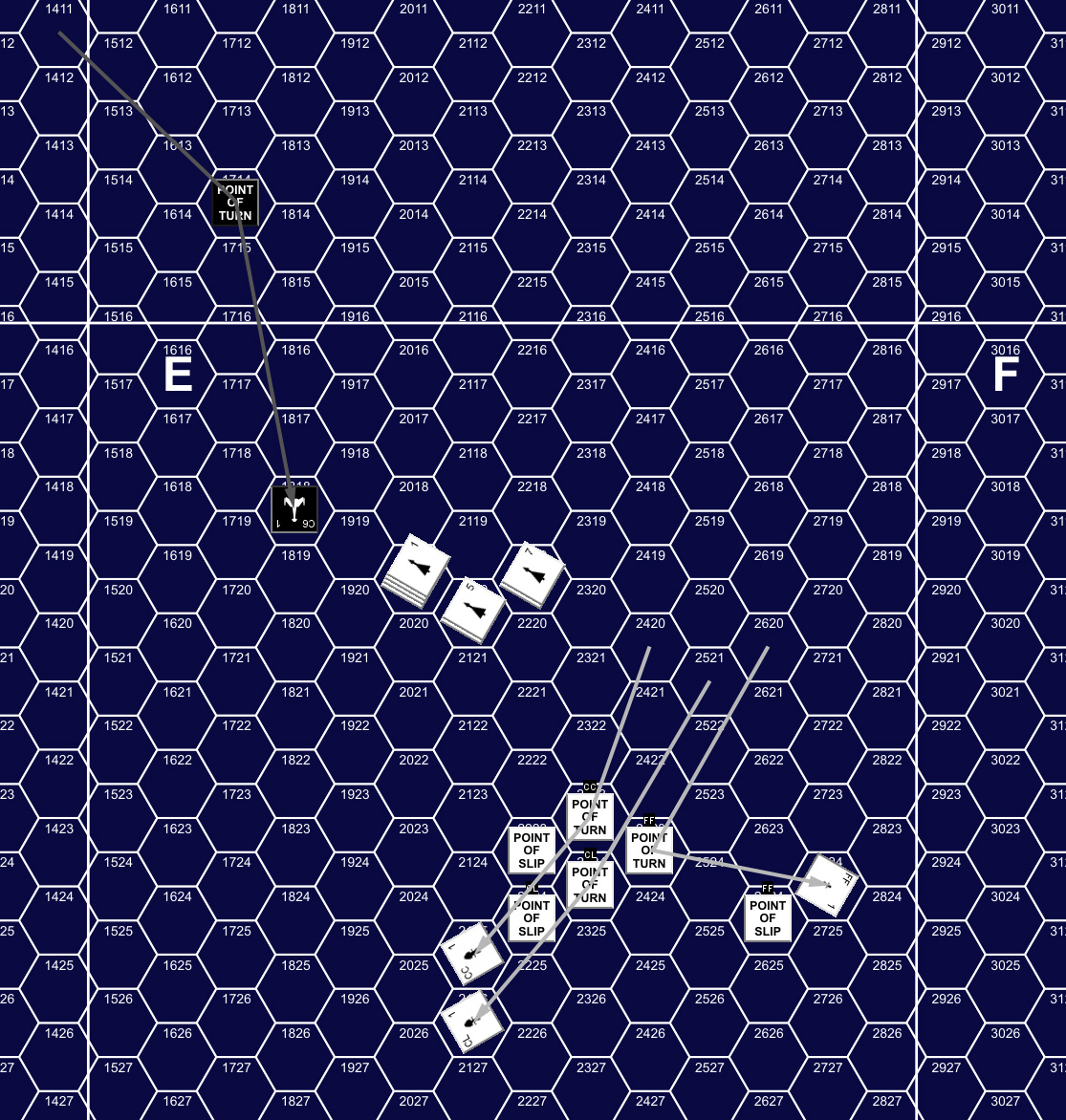 Beginning of Turn 3, showing movement from Turn 2, Impulse 19.
↓ Read the rest of this entry…