on
April 30, 2022
at
12:00 pm
Last December, Mark and I got going on a large project that is going to take us a while: Playing a modified version of the SFB Admiral's Game campaign from Advanced Missions. Once sorting out the basics was done, we decided to try the first region… first. It features his largest base defense force, and my smallest base assault force, "merely" being lead by a CC (it was also the only force where it was not theoretically possible for me to add another ship). It would also serve as a test of just how tough these early bases were going to be for me. We had the following available:

This was about the only fleet where I tried to stick with one particular member navy. The Andorians (xNx ships) use drones instead of photon torpedoes as heavy weapons, so I figured massing them against a static object for a bombardment would be one of my better options for them. (In this era, speed-8 drones are relatively faster, but still slower than what ships can actually do, so base bombardment is still a good option.) It also features my only 'pair' of ships, as the only classes I have more than one of are the four that I built new ones of this turn, and the other three all ended up split up from their sisters.
Mark set up with his two ships a few hexes away from the base, but pointed towards it, and a poor roll left him at Weapon Status-I (with his bonuses, the lowest possible). The rules give the attacker an automatic WS-III, but I have to set up at least 35 hexes from the base, which with these ships is over two turns travel at best speed. With my mix of designs, I ended up with my fleet speed scattered from 11 to 14 even at the beginning, while Mark went 12 (WDN) and 9 (WDD). EW was minimal, with only the base and Mark's WDN opting for any at all. I set up opposite of the Carnivon fleet and headed in, while they passed through the base's hex and turned right. On impulse 32, the base fired its two bearing phaser-1s at WND USS Battler (SF-75) at range 25, doing one point to its #1 shield.
For turn 2, I kept to the same speed range, though Battler reduced speed to 11 to repair the shield damage, while the WDN dropped to 8, and the WDD boosted to 13; the WDN boosted ECM to 4 (the maximum in this era), and the WNC and WNL started generating 1 point of ECM. On impulse 12, the base fired on Battler again (range 21) and missed. By impulse 24, the WDN was ten hexes away from the base, and turned towards my oncoming fleet, followed by the WDD on the next impulse. I started slipping that way, and then turned to intercept over the next few impulses.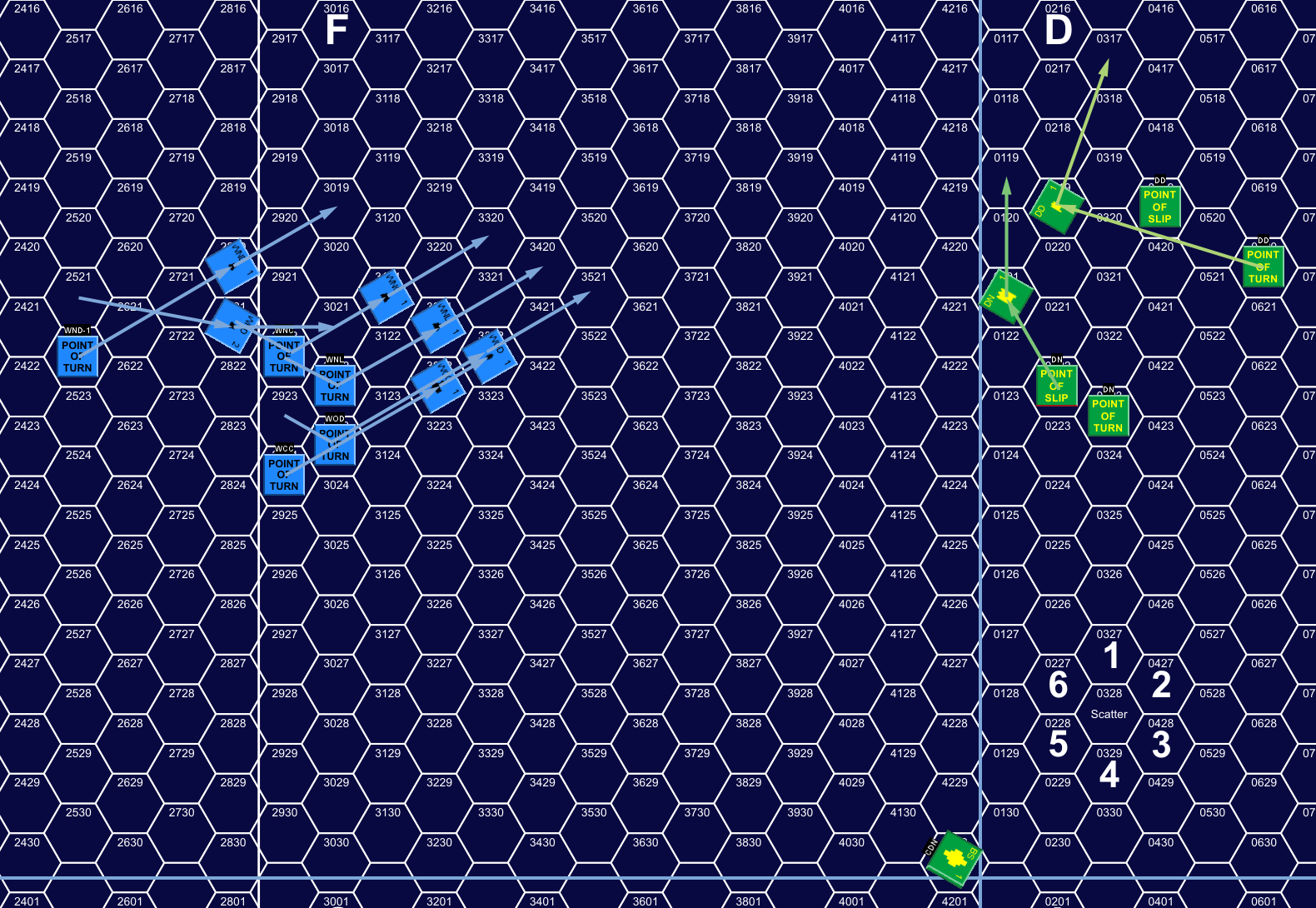 Turn 3, Impulse 1, showing movement from impulse 24 of turn 2, to impulse 8 of turn 3.
↓ Read the rest of this entry…