on
July 23, 2018
at
12:00 pm
After a little casting about, Patch and I ended up going for an ASL scenario with the Allied Minors, playing "Into the Fray" from Doomed Battalions. It's the first day of the invasion of Poland, and Germans are attacking with 16 1st-line squads with decent leadership, and some armor (2xPz II plus 3x PSW 221) coming in on turn 3. The Poles initially defend with 13 green squads with poor leadership, a MMG and two ATR, but get 13 elite cavalry squads with good leadership on turn 1. Both sides have a minimal SAN of 2. The Germans win by either exiting 30 VP off the far edge of boards 4 and 33 in seven turns, or by getting 20 more CVP than the Poles do.
Patch took the Poles, and when I got his setup, I saw three main possibilities. The first one that occurred to me was to advance near the west edge of board 4. I had a grainfield and a couple of woods hexes for cover, and would presumably push back the Poles with their 6+1 leader. The real problem was that there was actually a fair amount of terrain to fall back on, and I'd be pushing him back ~4 hexes at a time. The second, and a fairly interesting one was up the center. There was a group of four squads with no leadership with only light cover. If I could isolate them on the flanks (using my MGs) I should be able to defeat them in detail. But the cavalry would be in front of me after that, and everyone else on my flanks….
I ended up with the third option: Up the east side of board 33. There's a large grainfield to cover the initial advance, and an initial knot of defenders in a two hex house to deal with, and then a lot of open space with only an orchard for cover. Trying to exit that way certainly had it's own problems, but I had a range advantage, especially over the initial green squads, and the wide open spaces would allow me to use that.
As expected, my first turn was reasonably quiet. Between the grain, and long range, Patch didn't have a lot of shots, but an upper-level squad managed to pin my MMG squad as it started forward, delaying that part of my plan. A shot by his other upper-level squad at my 8-1-led stack with my other MMG generated a PTC that was ineffective. A couple of DFPh shots did nothing, and then… my first AFPh roll was '2', which generated a 1MC broke his squad even after cowering, my second shot was a 1MC that broke another squad, and a later shot was a NMC that reduced a brokie to a HS (it would have disrupted the last squad in the building, if I hadn't been going for a double-break). Patch routed out of the large building into the stone building adjacent.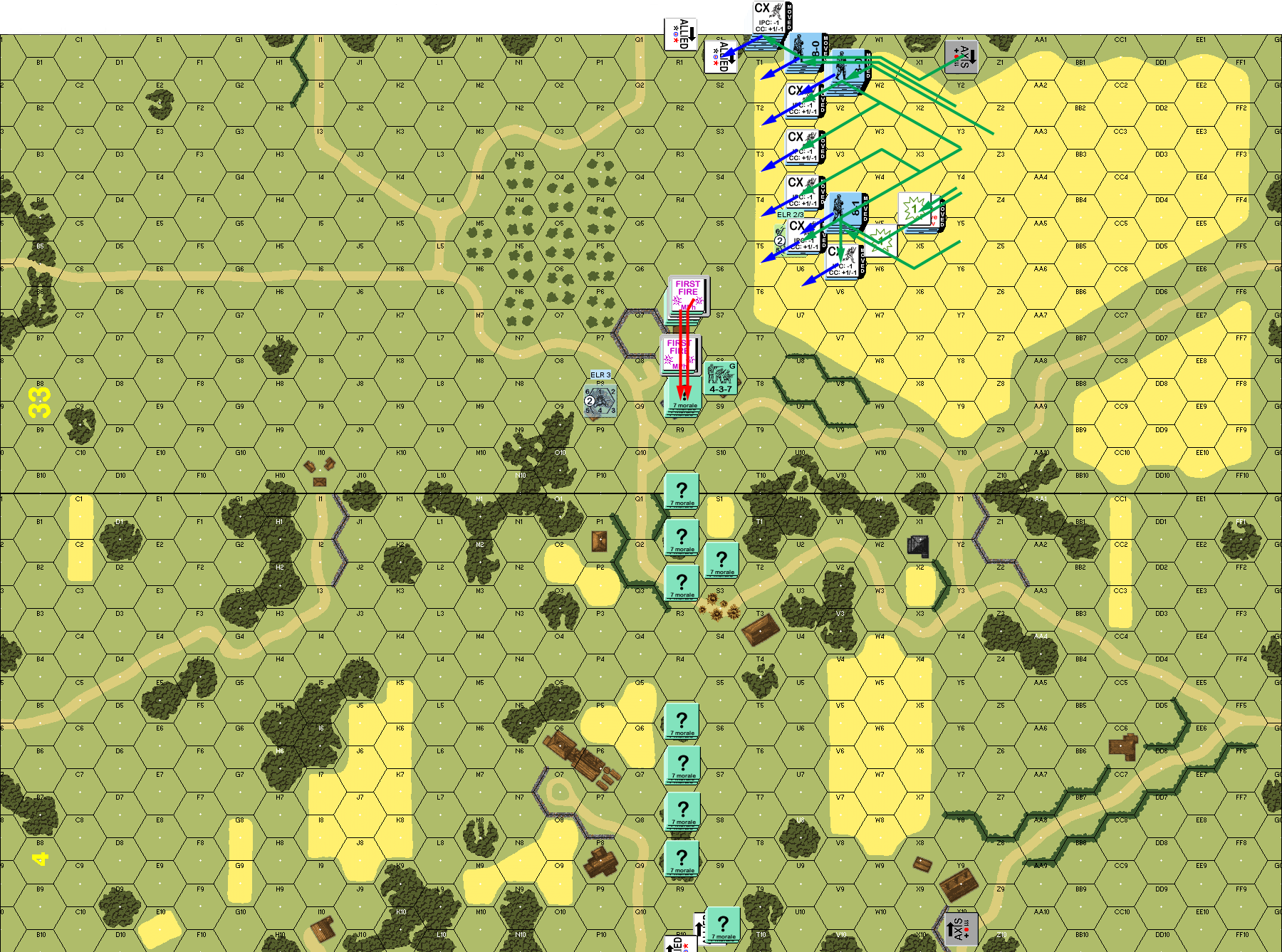 Situation, German Turn 1, showing the full board. North is to the left. The Poles had a two-hex strip to set up in….
↓ Read the rest of this entry…