on
February 14, 2013
at
12:00 pm
With all the time we were starting to put into Festung Budapest, I mentioned to Patch that maybe we should look at doing more VotG scenarios. Patch immediately mentioned the very odd VotG23 "Heroes of the Soviet Union" from Journal 9. I had been thinking more in terms of going through them systematically, like the FB scenarios, but what the hey…. We started in July 2012:
Five and a half turns on a tiny corner of the VotG map at night. The Germans get a horrible little force of five leaders and 3 vehicle crews (1-2-7), with three machine guns and 24 factors of mines. On turn 1 they get three HS that have to patrol along the roads. Once the action starts, they can act normally, and the Germans get another HS+leader. Oh, and all the German leaders get 1 FP with range four. (Like a hero, but without the Heroic DRM.)
The Russians have… six men. Four wounded heroes, a wounded heroic 9-2 and a heroic 7-0. They need to get 8 VP (exit off the east side, or casualty, as long as at least one VP is from exit).
It's the tiniest scenario I've ever seen, and I doubt anything will ever break that record.
Patch wanted the Germans, though he forgot to check the VotG SSRs, and missed that he didn't actually get any HIP. I looked at his cordon, and set out for the north-east corner, where things were thinnest. I quickly ran into trouble because roofless buildings cost 3MF, and my Cloaks only have 4MF to begin with (reduced from the normal 6 by SSR), which kept me out on the streets more than I liked.
With no known units out there, all Patch had to do was enter his patrolling HSes and send them down the streets. The only die roll all turn was the Wind Change DR, which promptly lowered the NVR to 1.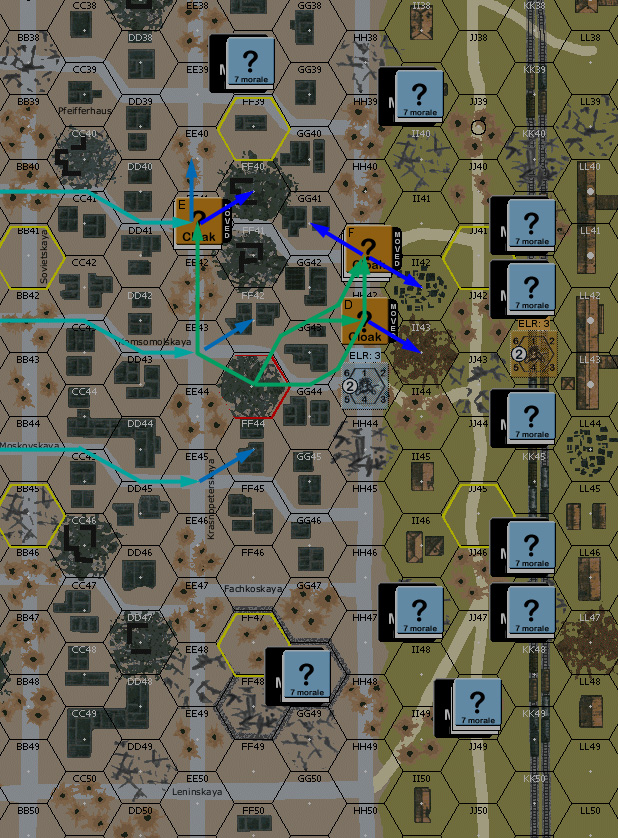 Situation, Turn 1, including the routes of the entering German infantry.
↓ Read the rest of this entry…