on
July 22, 2022
at
12:00 pm
Back during May, Mark and I returned to the GCACW series with the third All Green Alike scenario. Interestingly, it's simultaneously historical (in that the opening setup is just where everyone was two days before First Bull Run), but ahistorical in that it assumes that McDowell assumes the offensive with the Army of Northeastern Virginia two days early, with the Confederates less prepared.
Somewhat oddly, part of Tyler's 5th Division, and Early's Brigade start exhausted because of a small fight the day before (seeing the overall set up for that would be interesting). The Confederate Army of the Potomac is behind the Bull Run, with abatises under work, and Johnston's units are still far away, while the Union troops are already concentrated at Centreville. The Union forces are going to need to deploy and shake themselves out, but there's plenty that can be done. And they need to do plenty, as the victory conditions are suitably more ambitious than the pure historical battle.
I reprised my role as the Union player, who gets the first initiative by scenario rule, and I sent Hunter's 2nd Division towards the Confederate west flank, and on my second activation (thanks to Confederate command paralysis) came around behind Stone Bridge, while Burnside attacked across the bridge, blowing the roll to do little more than exhaust and disorganize both sides. Porter's Brigade managed to go again and forced a retreat, which wiped out the Confederates blocking Stone Bridge.
Then I sent Heintzelman's 3rd Division towards the east flank of the line. The trip took a bit, and ended with Franklin's Brigade crossing the Bull Run at Butler's Ford and taking up a position to block the fords while the rest of the division was still on the other side. Mark finally got a real chance to move, and shifted Longstreet's Brigade to confront Franklin, sent Early to Camp Pickens, and Bonham to reinforce the west flank and occupy Groveton (in two moves).
Hunton's Brigade moved on the Union flank but had slow going to end up near Sudley Springs. Tyler's 1st Division took positions along the middle of the line, now that the Confederates were getting spread out, and Miles' 5th Division headed west to try and get around the flank. Good rolls got him to Sudley Springs for hasty attacks against Hunton, but it took both brigades to force him to retreat near Gainesville despite good odds. Mark moved Early down the Manassas Gap road to join Hunton, along with the 13th Mississippi and Radford's cavalry. Munford's cavalry went to get behind Franklin and keep me from using the fords a bit further downstream.
Jackson's Brigade and the 6th North Carolina entrained and got into the area of the fighting, but the rest of Johnston's army had a struggle to get to the closest station (Rectortown) for entraining the next day.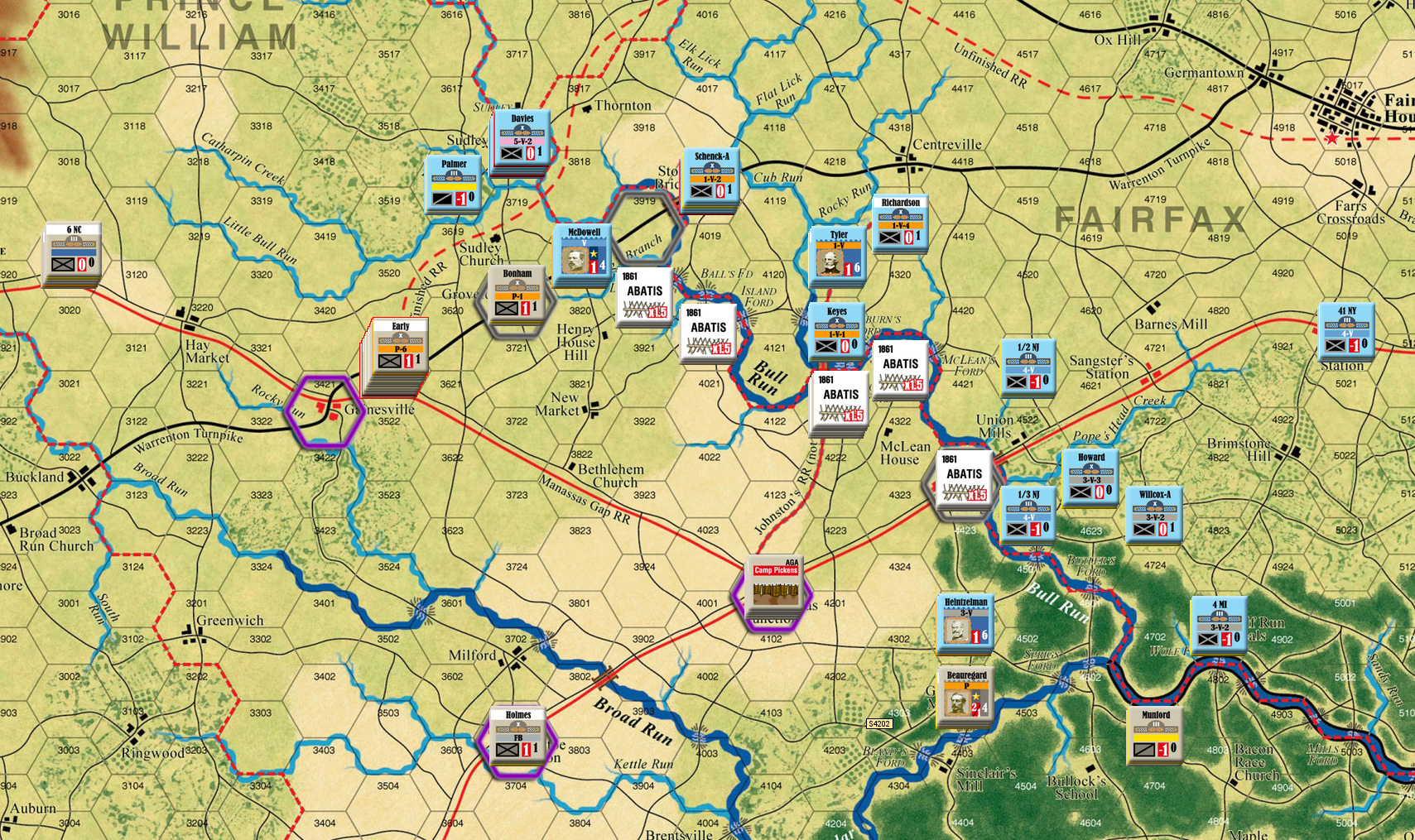 End of July 19/turn 1, after fortifications are built, but before recovery.
↓ Read the rest of this entry…