on
March 22, 2022
at
12:00 pm
The aftermath for "The Liberation of Tulle" mentions there were a few major buildings the Germans still held at the end of the day; among them was L'Ecole Normale, which made me say, 'I know that name…'. And indeed, scenario DA1 from ASL Annual '89 is about the Maquisards assaulting that building the next day in Tulle. So this sequel became the next stop in Mark and I's play of ASL scenarios.
This time, I had the defending Germans, who have five squads, three machine guns, ten "?" and set up on deluxe board c. The partisans get ten squads (two of which are 527s) and a pair of LMGs, and have seven turns in which to render building cK4 aflame (in this case, having two blaze counters in the building—and they do have MOL capability), or for there to be no unbroken German MMC in the building.
Setup is simultaneous, and I deployed two squads (the Germans can deploy everything by SSR), one of which was my allowed HIP squad-equivalent, which went in cI3 with a LMG to halt any advances towards the east side of the building, and the other was buried in cK3h1 to force a search/mop-up once the obvious defenders were taken care of. The west side had a dummy and the other LMG+HS with the 7-0 leader. Sadly, there's almost nowhere to set up north of the building so that relied on a squad and a half, and more dummies, with the MMG centrally located in L3.
Mark mostly set up in a rough line to the north on board b, with three squads and his 7-0 to the west largely on the board e hill. Prep did nothing, and Mark did a limited advance under cover of smoke (by SSR, partisans have a Smoke exponent of 2, and he rolled well), with my only fire being to break a 527 after the smoke went away.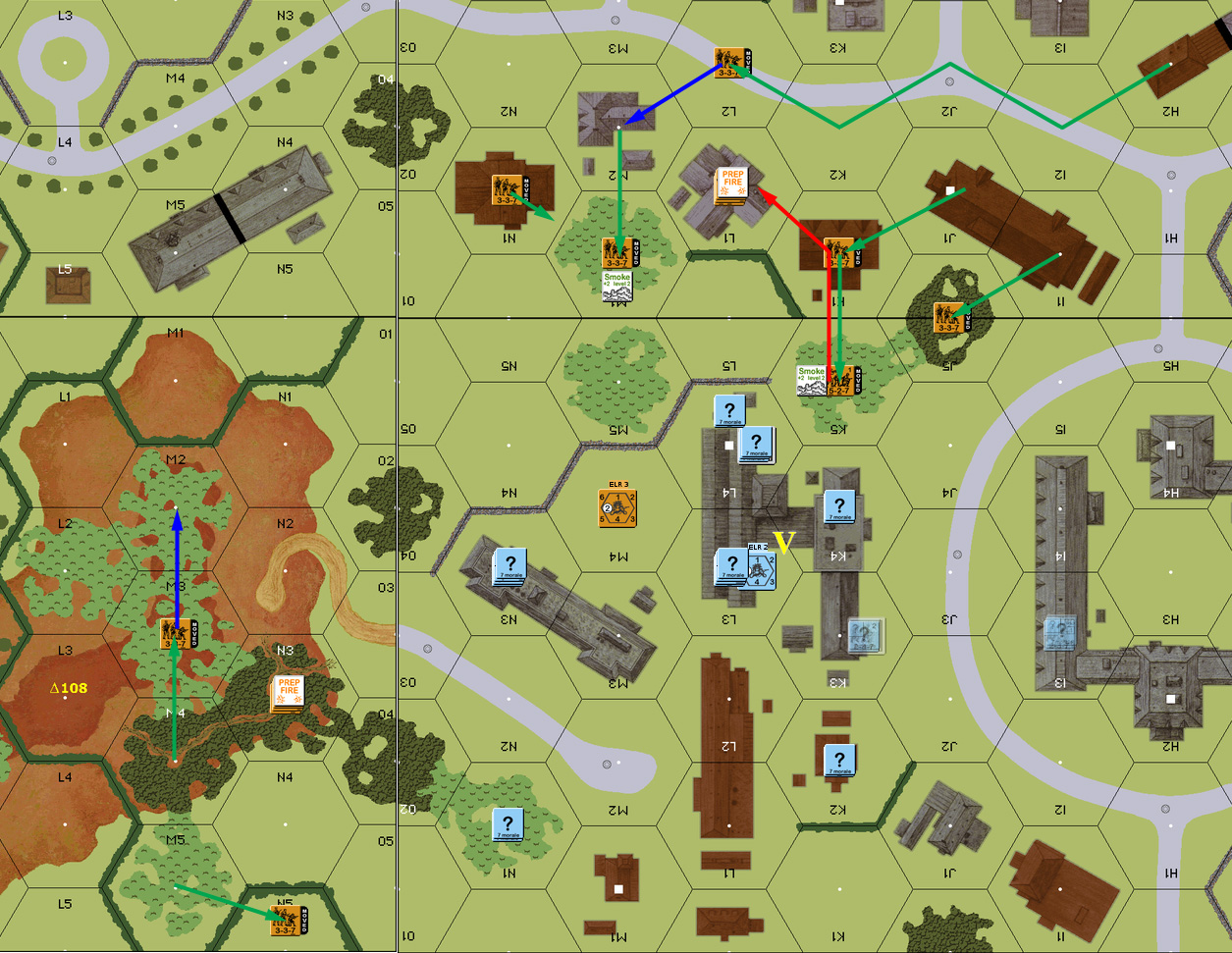 Situation, Partisan turn 1, showing my HIP. This is not the full board, but is all the important parts, and stone building cI3 is actually woods. Only buildings with printed stairwells have a level 1 (and there's no level 2 Locations).
↓ Read the rest of this entry…