on
December 5, 2022
at
12:00 pm
Back in August Patch and I played the next Y161 scenario, "…And Settle Their Hash". A Kzinti squadron is performing drone bombardment when a Klingon squadron arrives to spoil the fun. The Klingon ships are much heavier, but with 18 drone launchers on three ships, there's a lot of free firepower for the Kzinti. The cost is they're loaded with all Type-IIIXX drones, which are two spaces, and so will run dry fast if just thrown out as fast as possible. I took the challenge of the undersized Kzintis, and played a little too conventionally.
The Kzintis set up in a line on the right side of the board, and can gain points by continuing the drone bombardment, i.e., launch drones ballistically in directions B or C, and they they get away. (They get 2 VP per such drone under Modified Victory Conditions.) The Klingons are on the left, just entering the (floating) map, but more paralleling the bombardment course than aimed right at the Kzintis.
Patch determined to close range with opening speeds from 21 (E4) to 28 (D7), while I went speed 24. I launched one set of bombardment drones on impulse 1, and a second set on 3. Even at these speeds he had not caught up to the drones by the end of the turn, and increased speeds to 27 (E4) to 30 (D7) while I stayed at 24 for turn 2. I turned across his path near the top of the turn, and launched a new set of bombardment drones on 10 while Patch started engaging the first two sets. On 16, the D7 turned towards me, with only one drone destroyed, while the F5 and E4 continued after them. On 22 I started turning off, but he turned in to pursue on 25, at which point I launched four drones at it. The D7 fired two disruptors for four damage to DF-77's #3 shield, and followed up with a drone launch on 26. The SDF had sensor channels powered, and turned off the tracking on the Klingon drone, while Patch destroyed a drone and damaged another with phasers.
Meanwhile, the other two ships cleaned up most of the rest of the first turn's drones, and the E4 hit with a range 12 disruptor to do 2 damage to the SDF's #1.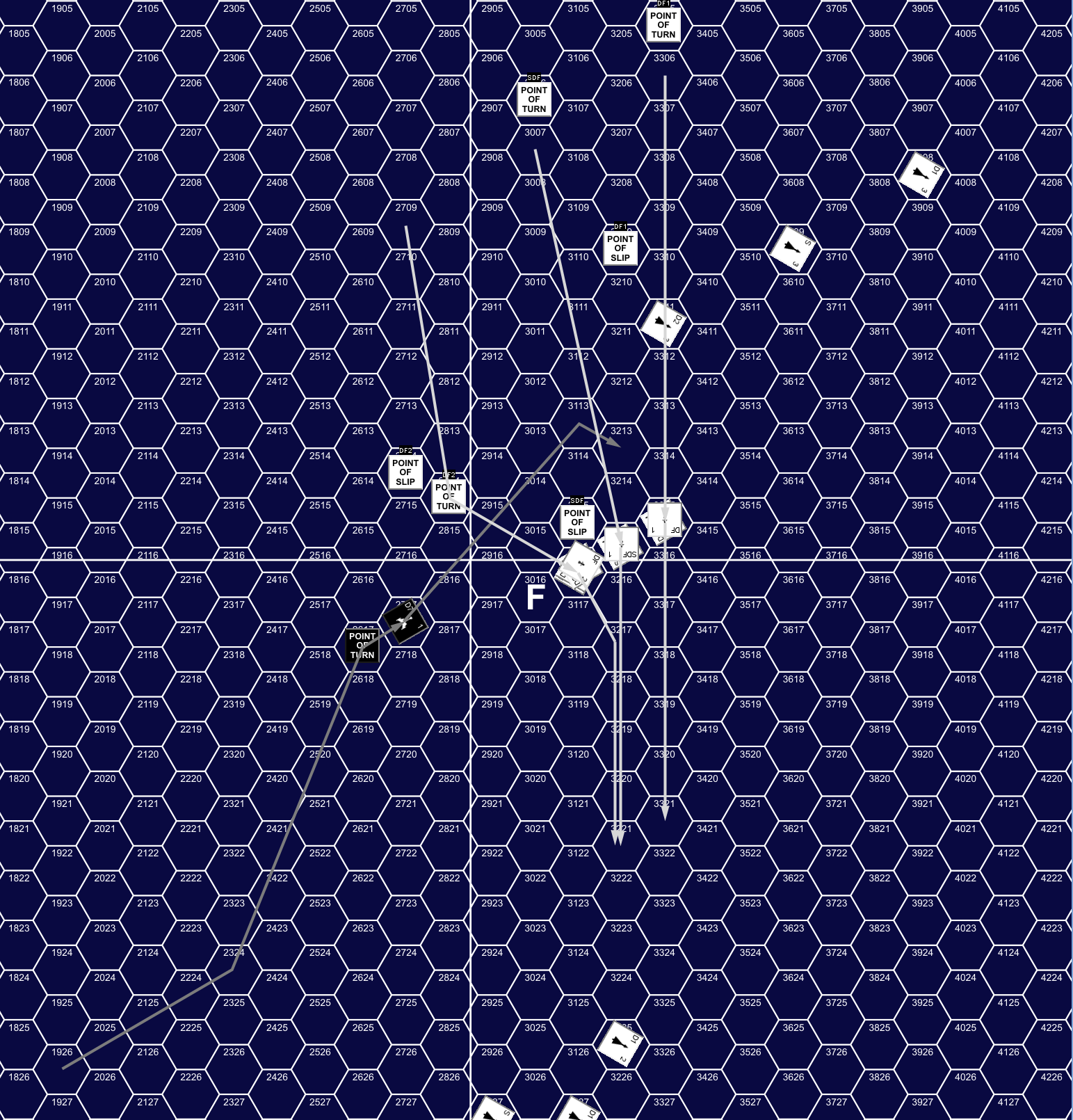 ↓ Read the rest of this entry…