on
October 19, 2013
at
10:19 am
It's been entirely too long since our group has managed any Star Fleet Battles, so Patch and I started a game on-line a while ago. Our current play-date is concurrent with the short Gorn-Federation War, so we used the excuse to actually use the Gorns and fast seeking weapons. We tend to prefer battles with more than just one ship per side, so the Gorns got a CA and CL (a good pair), while I came up with a few possibilities for the Feds. Either a CA and DD or CA or CL would about right, BPV-wise, but both the CL and DD are somewhat odd ships. The last possibility was a CC and FF, which would leave quite a gap in sizes, but are both solid Federation ships.
Patch took the Gorns, which left me to choose which set to take, and I settled on the CA+DD. I've always like the DD, and I had no compunctions about keeping a couple photon tubes empty to speed it up. We set up in the standard Patrol scenario locations, and rolled randomly for Weapon Status. Zero. That hurt both of us, since Patch was going to need three turns to get his heavy weapons ready, and I didn't have anything pre-loaded, including overload energy. The CA started warming up a wild weasel and suicide shuttle while the DD just kept up at speed 16. Patch only went speed 8, despite having plenty of power, with the plasmas on the cheap turns and no phasers to arm.
I reduced speed to 12 for the second turn as I struggled to get a pair of photons overloaded, and loaded a second pair as proxes. Patch had ECM up, and I missed through a +2 shift. We began turn 3 at a minimum range of 13, and headed in for our first firing pass. I boosted slightly to speed 14, while the Gorns split at 12 (CA) and CL (15). His extra power and moderate speeds added up to heavier EW than I could afford.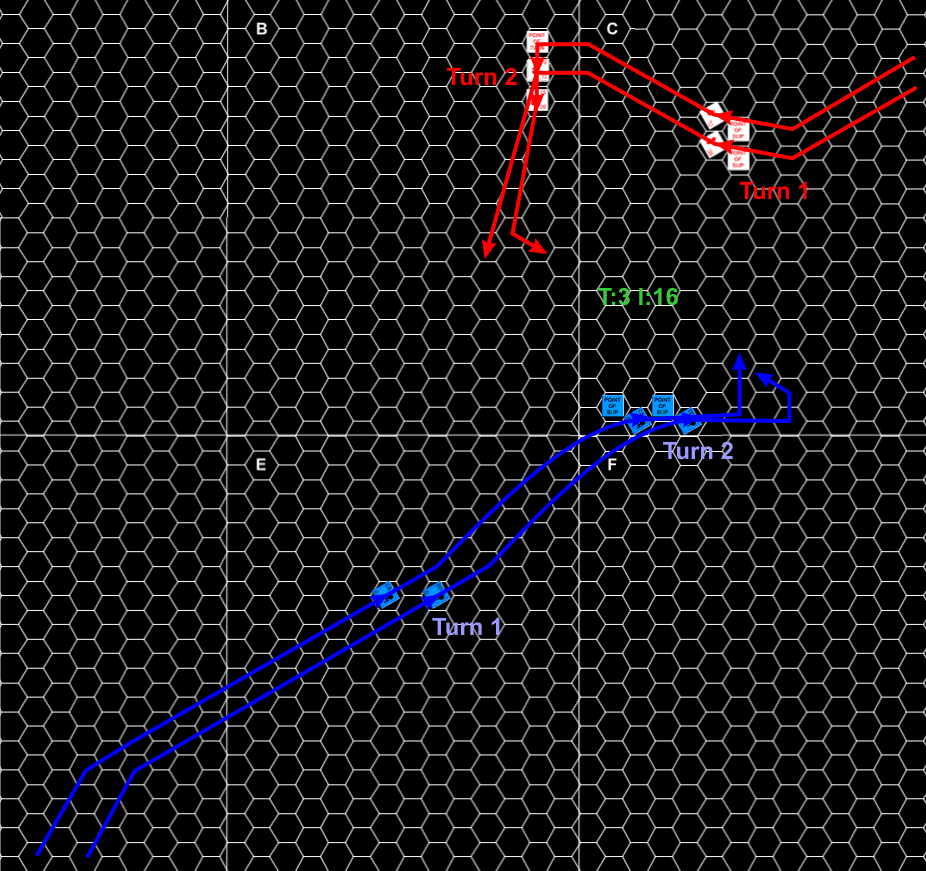 The first two and a half turns.
↓ Read the rest of this entry…