on
June 7, 2012
at
12:00 pm
The final scenario presented in Pegasus Bridge is a giant sprawling thing that takes up the entire map, and presents the British forces from the beach finally linking up with the Airborne division at the end of D-Day. It's a very good, if very large, scenario that I enjoyed over four months at the beginning of 2007. Get something to drink, this one is going to be long:
This AAR on the final scenario in Pegasus Bridge has been a while in coming. It's a large scenario, with a lot happening spread out over a large area. So setup took a while for both of us. I've been busy with a con that I sat in the dealer's room in… and I've been a bit intimidated.
That said, we did most (and certainly the most exciting parts) of my (British) movement last Wednesday, and are now finishing off the turn.
This last scenario features hard-pressed airborne troops still defending Benouville and Le Port when the landing forces from Sword beach start arriving on the scene. This happens late in the day, and Turns 9-12 will have a +1 LV Hindrance for dusk (11 1/2 turns… yeesh. I hope it's long enough).
The Germans are technically defending, but have a marked local superiority in Benouville, while the contest in Le Port would be reasonably even without the reinforcements.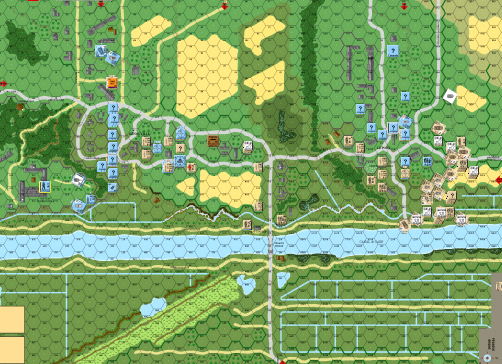 General situtation at the end of British Turn 1.
Patch is having some amazing luck, having broken a MTR, a MMG, a HMG, and a PzIVs BMG and CMG during his defensive fire. I haven't broken anything, but I haven't had any effective fire yet either (despite getting a BFF Improbable Hit), and have managed to loose a Stuart.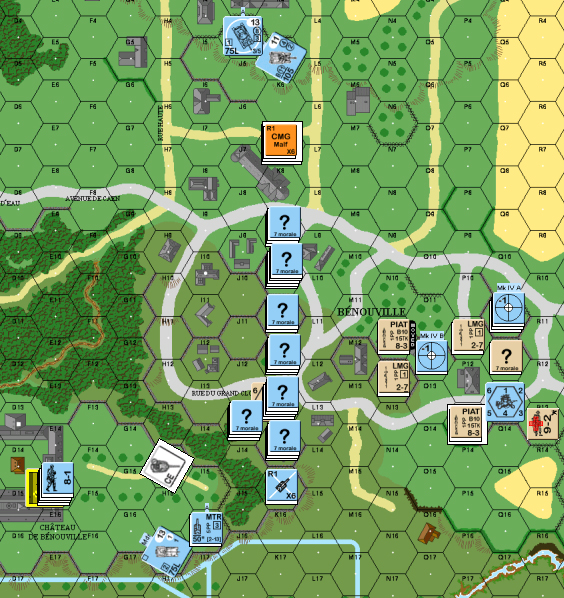 Detail of Benouville, end of British Turn 1.
Obviously, I'm going to have to start pressing the Germans back in a hurry, and then send what I can afford down the road to Benouville before the Germans really get into the swing of things down there.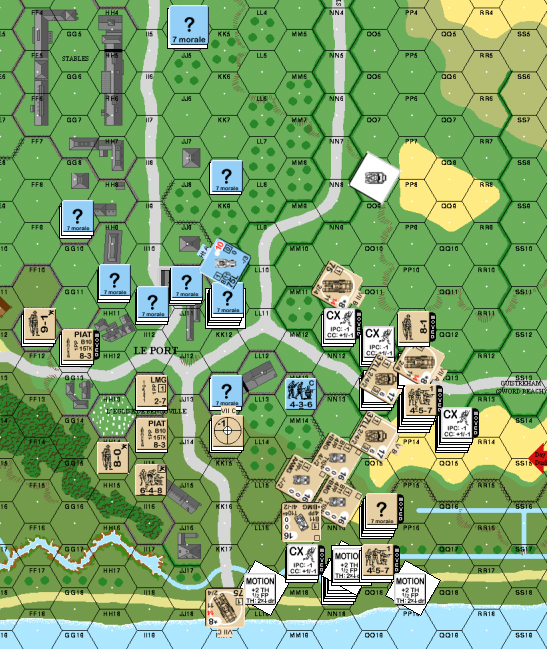 Detail of Le Port, end of British Turn 1.
↓ Read the rest of this entry…