on
July 14, 2017
at
12:00 pm
Having fallen into playing a couple scenarios from a set of four SL-conversions/tournament scenarios in ASL Annual '96, I arranged for a third and advertised for a game of the last one in the set, A96 "In Rommel's Wake", and got a game with Pierce. In May '40, Rommel has crossed the Meuse, but the French are still holding other crossings, and the German army is trying to seize another one from a small defending force.
There's a number of interesting things going on here. It's a three-board scenario with board 7 and two bridges in the middle. The Germans enter from board 5 with nine 1st line squads of bicycle troops (with an errata SSR that allows them to carry four LMGs) and two PSW 222 armored cars. The basic French defense is six 1st line squads, two 8-0 leaders, a MMG, two LMG, and two DCs on board 2 and the south bank of the river, all but one squad HIP as long as they're in concealment terrain. However, they secretly draw a chit before the game that determines the length of the game, and their exact troops. With a draw of '1', it's the basic troops and 5 turns; a '2' is 6 turns, and adds a squad, an 8-1 and a MMG; '3' is 8 turns and one of the DC is already secretly Set on a bridge hex; and a '4' is 10 turns, and adds an eighth squad, and promotes an 8-0 to an 8-1. The Germans need to have 12 VP south of the river at the end of the game (including broken units!), and at least one of the bridges needs to be intact.
The scenario has a lopsided record on ROAR, so we went with the French balance, which gives them a pair of foxholes, and Pierce volunteered for the French. He (unknown to me) drew chit 1, and set up the foxholes at the exit to both bridges, which now that I think of it should have been HIP until I came  into view, though the non-HIP troops in them would have been something of a giveaway, and it wouldn't have take long to see them. I decided to go for the far, wooden, bridge as it was much shorter, and I didn't want to be stuck on a single clear hexrow forever. I gave some consideration to sending some forces to the nearer, longer, bridge, so that both were threatened, but decided I would need concentration of force more than the French.
Bicycles are fast. They count as Infantry movement, so there's no changing CA, and CX and leader and road bonus still count, but each road hex costs 0.5 MF, so I made 16 hexes this turn (+1 in APh). Also, there's no MF cost for getting on/off them. The two ACs went down the middle, one of them to 7Q3 so it could try to interdict any shift of troops to the targeted bridge, and try and keep the French from hurrying onto the bridge to Set a DC on it, and the other to a more sheltered position that could see near the exit of the stone bridge.
To my surprise, there was no French response at all, and the second half of the first turn passed quietly. I had figured there'd be at least one squad covering the main bridge who'd rush towards my attack.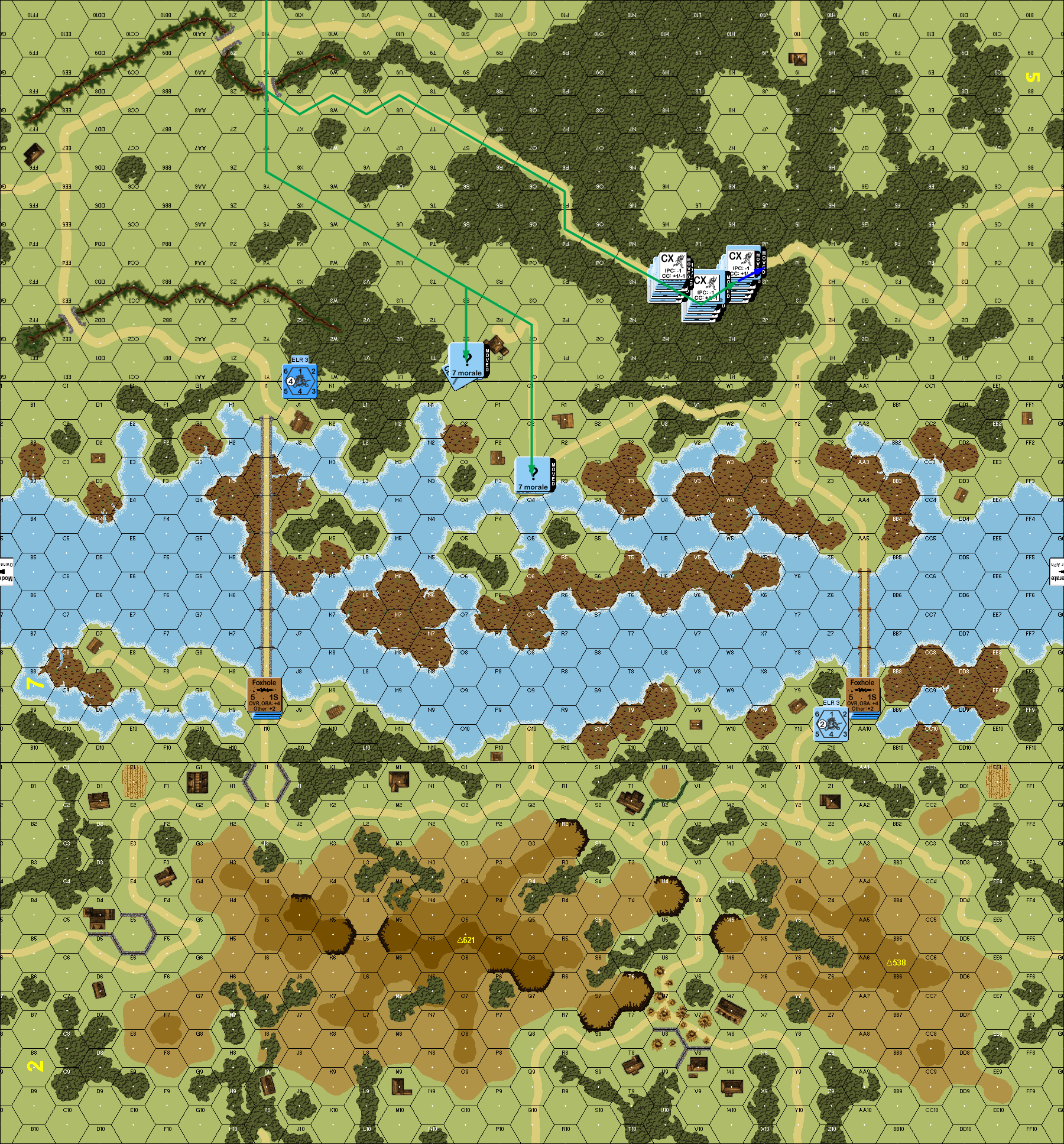 Situation, Turn 1, showing the full map.
↓ Read the rest of this entry…