on
February 2, 2021
at
12:00 pm
After our last adventure in Korea, Patch and I decided to return to Action Pack 3 for our next ASL game. It's a couple of weeks after the previous scenarios in that package, and the main part of Gruppo Nord is still encircled, and holding out for rescue as the Soviets launch an attack to wipe them out.
The scenario uses half of boards 22 and 49, and as ever with this set, has some interestingly different bits. There's a base Italian line up for defense, and then an number of Italian and German reinforcements that can be bought with VPs, and the the Axis player must spend at least 15 VPs (decided before setup). The Russians have a fairly nice force that sets up on board, and can spend VPs to enter some of them from the flank. In addition, both sides track CVP, and get one VP per building hex they control at the end of turn 7. Oh yes, there's ground snow, and everyone other than non-elite Italians have winter camouflage.
Patch took the Axis defenders, and spent the minimum 15 VP, giving him twelve Italian squads (ranging from elite to conscript), an Italian 75mm AA, and two German 50mm AT (all standard setup), plus a pair of Pz IVF2s on turn 2 (spending another VP to get them a turn early), and a platoon of 467s with MMG & 8-1 entering on turn 3. His initial 'anchor' turned out to be the 49W9 (partially rubbled) stone building, with more on both flanks, and a second line on board 22.
The Russians get fifteen squads (mostly 447s, with some 458s), a few SW (including a DC, and 2xATR—oh, and the Italians have two Russian ATRs), two T-70s, and three T-34s. I set up 3×447, 9-2 (best leader), and an ATR to enter from the north (4 VPs for four units). They were to head into his flank forces, with a tank heading over to provide cover, and everything else lined up at the limit of my area, with a south group somewhat detached from the rest (largely thanks to terrain). The initial goal was to seize some forward locations, and then have a few spare squads sweep through taking building hexes; something that caused more trouble than I had hoped.
Patch didn't interfere at all with my movement ("Just going to it out there: My setup needs work."), but Patch had noted all the long LOS alleys in the map, and had set up guns for them. A 50mm AT was in 22F6, and immediately hit and killed a T-70 during DFPh. Z9 turned out to be the Italian HMG nest (as I had figured), which failed to do anything with its shot. AFPh teased me with a '2' for an Unlikely Hit on the HMG… which turned out to be no hit at all (subsequent 6).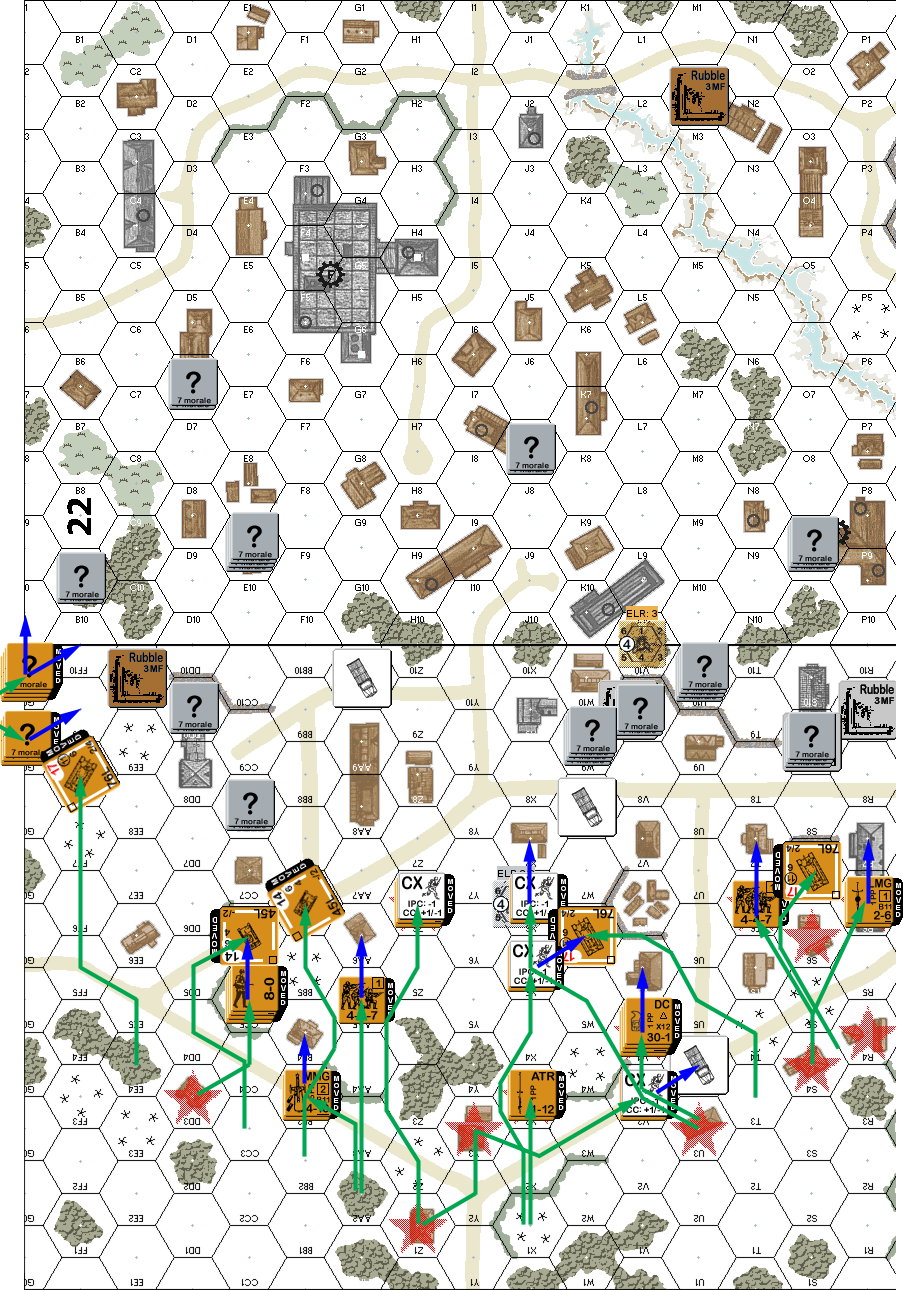 Situation, Russian Turn 1 showing the full board. North is to the left; note two buildings are factories, and a few hexes start rubbled.
↓ Read the rest of this entry…