on
February 6, 2017
at
12:00 pm
Crossposted from the SFU blog on BGG
Somewhat to my surprise, after Patch and I finished up "Arctic Crossroads" he suggested an SFB game. He wanted smaller ships, and something other than Klingons, so I looked to a Kzinti-Lyran fight (appropriate as they're also involved in the Four Powers War right now) with squadrons using ships smaller than CAs.
The Kzinti produce their first Destroyer in Y159 (our current playing date), and I certainly wanted to show it off, as I don't think it appears in many scenarios. It's mostly known as an 'also ran' ship, as production is halted in favor of the later Medium Cruiser, and it is relegated to second-line duty during the General War. But right now, it is brand new, and effectively the one of the most advanced designs around, and certainly the best ship the Kzinti have for the tonnage. At a Move Cost of 1/2, it has 24 power, 2xdisruptors, 4xph-1, 2xph-3, and 4xdrone racks. This is more power and firepower than the larger Light Cruiser class, which it is effectively replacing (the CL will be refitted to have more power, more disruptors, and bring its drone racks up to 4, but that's a few years away still). It shows a shift from ph-3 to ph-1s, and an increase in drone throw weight (eventually, just about all Kzinti ships have at least four drone racks, but until now, that's only been true on the much larger CS/CA/CC hull as well as the seven racks on the much larger DNE).
Then I chose a Lyran Light Cruiser to lead the opposite squadron. It has the exact same BPV as the DD (after adjusting for the lack of ESG capacitors), and while larger with more internals, and it has slightly better phasers (4xph-1, 4xph-3), coverage isn't quite as good, and its shields are slightly weaker than the DD's.
Both sides' squadrons were rounded out by a pair of frigates, which also happen to have the exact same BPV, and fairly similar characteristics. Patch, as it turned out, went for a full load of Type-II (speed 12) drones, with no larger Type-Vs, for a total cost of 16 BPV. I vaguely contemplated taking some transporter bombs, and I should have, but neither of us took any.
We set up, and rolled randomly for Weapon Status (with a +1 for a war zone), and ended up with WS III. That was to my advantage, as the Kzinti don't have any multi-turn weapons, and it meant my ESGs were already fully charged. I also had a suicide shuttle pre-charged on the CL. The Kzinti squadron went speed 15 for the first turn, as did my CL, while my FFs went 16. We simply closed the range for the first half of the turn, but the DD turned off at about range 25. During impulses 28-30, we fired as ships hit range 15. I stuck to disruptors, which all missed with six straight 5s. Patch launched half his drones on each ship, and volleyed all his disruptors, which all missed with three 6s and a 4, while four phasers he fired also missed on "better" rolls (two 3s and two 4s). On impulse 32, I turned towards the Kzinti FFs to see if could engage them separately from the DD.
With ranges coming down fast, I decided to put power into overloads on CL, and EW on the FFs, and went speed 9 for the CL and speed 13 on the FFs. Meanwhile, Patch sped up to 19 on his FFs while the DD stayed 15. Patch was surprised I hadn't boosted speed as well, which I had considered, but I wanted to be prepared for a close-range pass (and the FFs stayed on regular disruptors in case something like this happened). Sadly, I only had slightly better EW than Patch, but it meant I would have even shots at his FFs while everyone else was at a +1 to fire at each other.
Patch's FFs turned off on Impulse 4, confirming my fears that he would just dance around my slower-moving squadron this turn. On Impulse 10, I turned towards the gap between Patch's forces and starting warming up an ESG to tackle the wave of drones that was in there. To my surprise, Patch turned his DD in shortly after, allowing me to get closer to it. Things started coming to a head on Impulse 15, when my FF-1 started sweeping the drones with its ESG, and my FF-2 and the DD traded shots. Both ships hit with one disruptor, and missed with the other, and had similar phaser rolls, though the ph-2s on my FF led to less damage being done.
On Impulse 18, I turned towards the DD, as it turned back away, launching its last two drones for the turn (the other racks had staggered fire over the previous few impulses). The DD scored another 4 points on the front shield of FF-2 with the 360-phasers, while the CL did 15 points to shield #3 of the DD, hitting with both disruptors and one good phaser roll (a second phaser missed entirely…). The next impulse, FF-2 announced its ESG, and I fired another three phasers at the DD. FF-1's phaser missed, but the remaining ph-1s on the CL both rolled 1s to knock down the shield and do 5 internals, including a ph-3 and two power. That was pretty much it for the turn, though on Impulse 28, the two Kzinti FFs fired disruptors at my FF-1, with one hitting, and on the next couple impulses, they launched drones.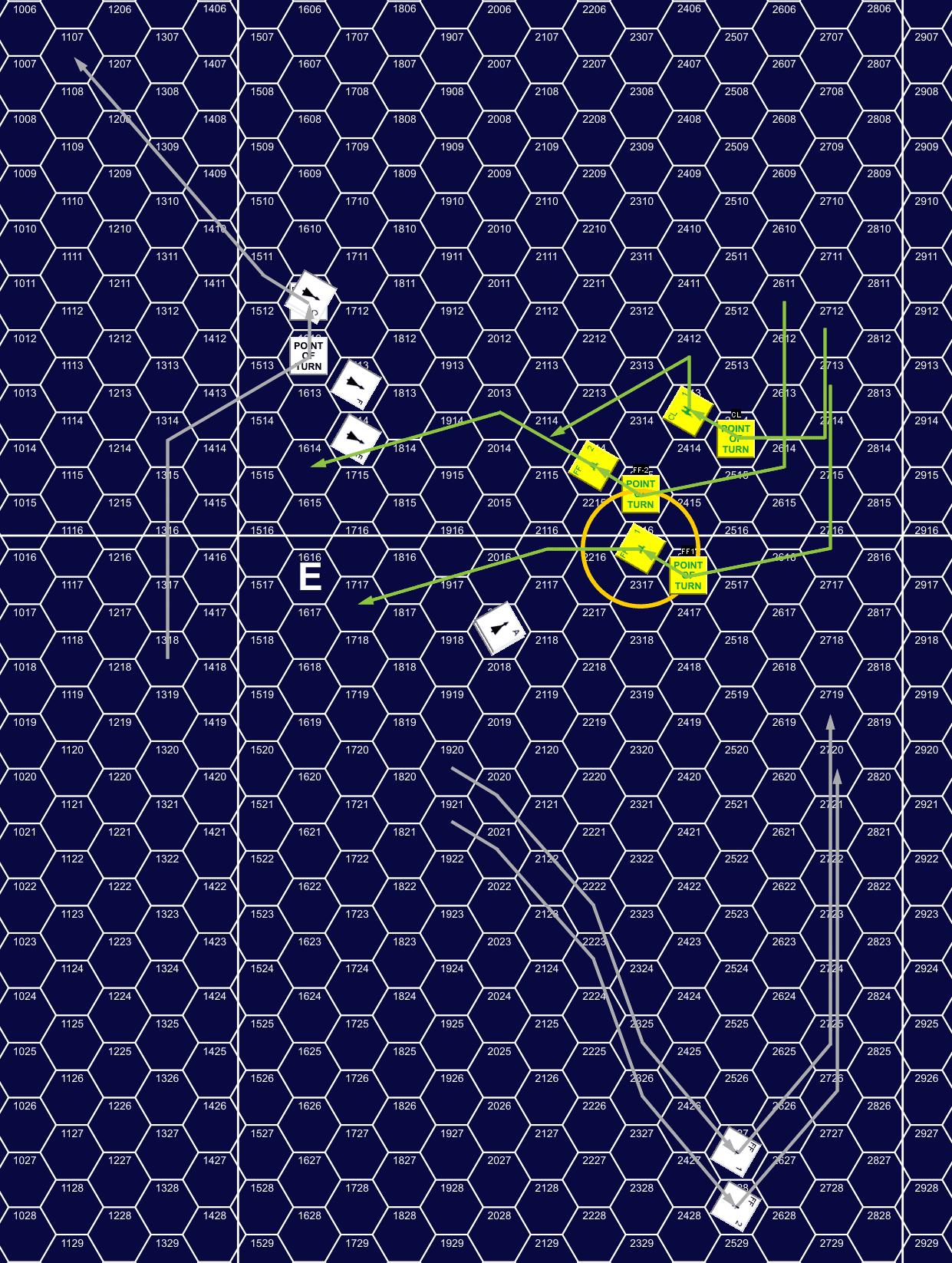 Turn 2, Impulse 18, showing movement throughout the turn.
↓ Read the rest of this entry…