on
November 3, 2022
at
12:00 pm
Mark and I decided to revisit The U.S. Civil War a bit ago, this time trying the 1863 scenario, and using the advanced naval rules. This time I took the Confederates, and was not reassured by what I saw on the board at the start of the year.
Most notably, Grant is already sitting across the river from Vicksburg. But Bragg is facing a slightly superior army in east Tennessee, and Lee is facing a superior Army of the Potomac in Virginia. Many of the coastal forts have already fallen, and the Mississippi is only held between the forts in Vicksburg and Port Hudson. And things can only get worse.
All game, rounds tended to be a bit on the short side (lots of 2 and 3 action point rounds), and Winter 1863 set the tone. I used a card early to build a fort in Petersburg, and secure it against the Federals in Norfolk. Longstreet moved to clear out North Carolina, eliminating the garrison in Plymouth. Mark transported Sigel with a small force to New Bern, which with its existing garrison was more than Longstreet's small army was going to handle. When Longstreet pulled in the garrison of Goldsboro to help, another 3 SP arrived in New Bern to keep Union local superiority. On to Richmond in the final round (i.e., 4 APs) produced an offensive in the Shenandoah to take Strasburg. This prompted Jackson to detach from the Army of N. Virginia and march into the valley, while I used another card to fortify Goldsboro, NC.
Out west, Taylor crossed the Mississippi twice, picking up Gardner's force and heading off Bank's advance into western Louisiana, defeating him and chasing the demoralized army past Thibodaux. It was found that Grant had supply next to the Mississippi, but any further south, or away from the river, supply would rapidly run out, so he headed north to shore up the depot network, and then came back to Vicksburg. Porter ran the guns at Vicksburg to support a landing just south of the city, which Pemberton intercepted to put McPherson in the displaced box. A second attempt landed further south, which Pemberton failed to react to, but then activated to put McClernand into the displaced box before returning to Vicksburg.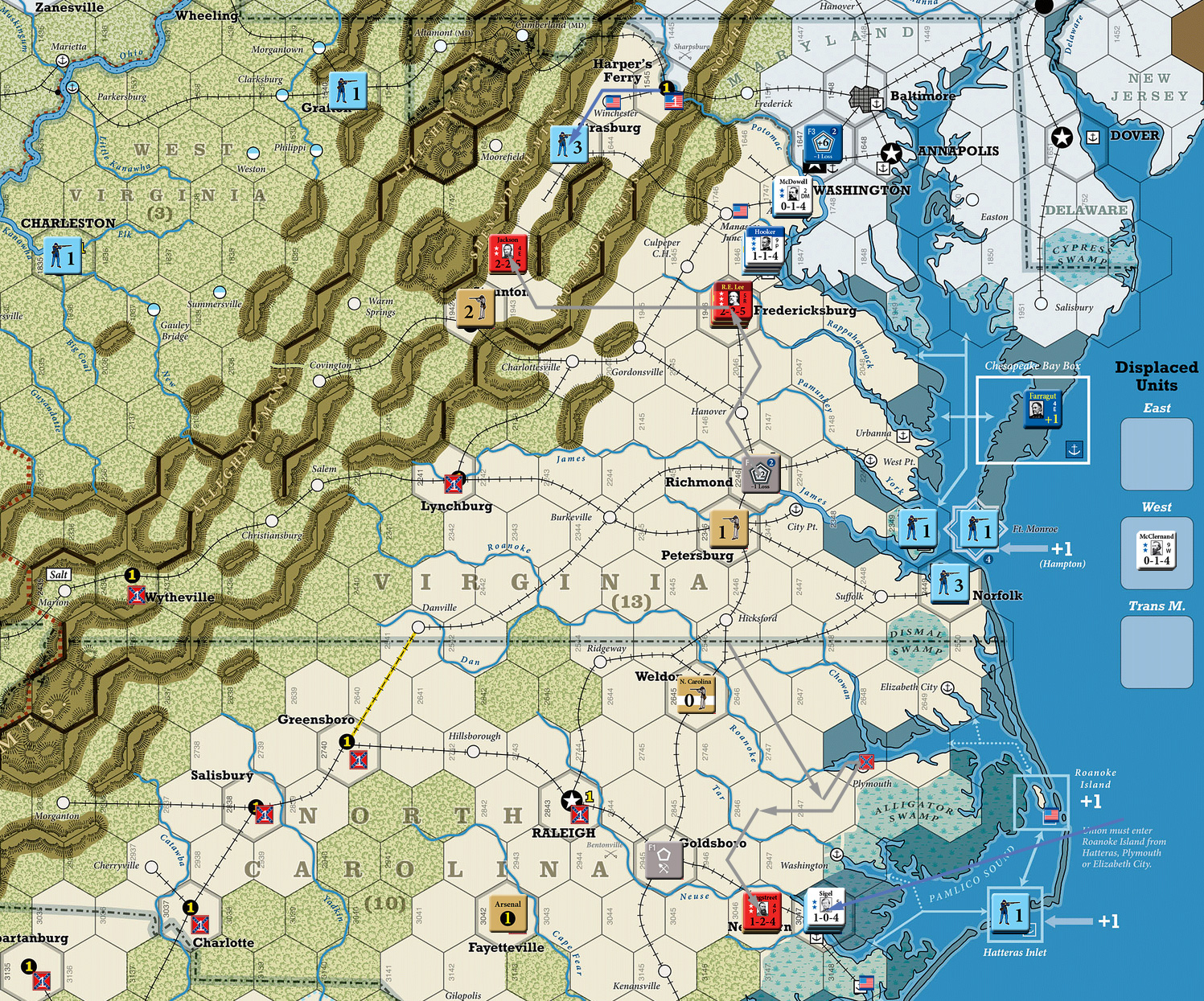 ↓ Read the rest of this entry…