1863 Civil War
on
November 3, 2022
at
12:00 pm
Mark and I decided to revisit The U.S. Civil War a bit ago, this time trying the 1863 scenario, and using the advanced naval rules. This time I took the Confederates, and was not reassured by what I saw on the board at the start of the year.
Most notably, Grant is already sitting across the river from Vicksburg. But Bragg is facing a slightly superior army in east Tennessee, and Lee is facing a superior Army of the Potomac in Virginia. Many of the coastal forts have already fallen, and the Mississippi is only held between the forts in Vicksburg and Port Hudson. And things can only get worse.
All game, rounds tended to be a bit on the short side (lots of 2 and 3 action point rounds), and Winter 1863 set the tone. I used a card early to build a fort in Petersburg, and secure it against the Federals in Norfolk. Longstreet moved to clear out North Carolina, eliminating the garrison in Plymouth. Mark transported Sigel with a small force to New Bern, which with its existing garrison was more than Longstreet's small army was going to handle. When Longstreet pulled in the garrison of Goldsboro to help, another 3 SP arrived in New Bern to keep Union local superiority. On to Richmond in the final round (i.e., 4 APs) produced an offensive in the Shenandoah to take Strasburg. This prompted Jackson to detach from the Army of N. Virginia and march into the valley, while I used another card to fortify Goldsboro, NC.
Out west, Taylor crossed the Mississippi twice, picking up Gardner's force and heading off Bank's advance into western Louisiana, defeating him and chasing the demoralized army past Thibodaux. It was found that Grant had supply next to the Mississippi, but any further south, or away from the river, supply would rapidly run out, so he headed north to shore up the depot network, and then came back to Vicksburg. Porter ran the guns at Vicksburg to support a landing just south of the city, which Pemberton intercepted to put McPherson in the displaced box. A second attempt landed further south, which Pemberton failed to react to, but then activated to put McClernand into the displaced box before returning to Vicksburg.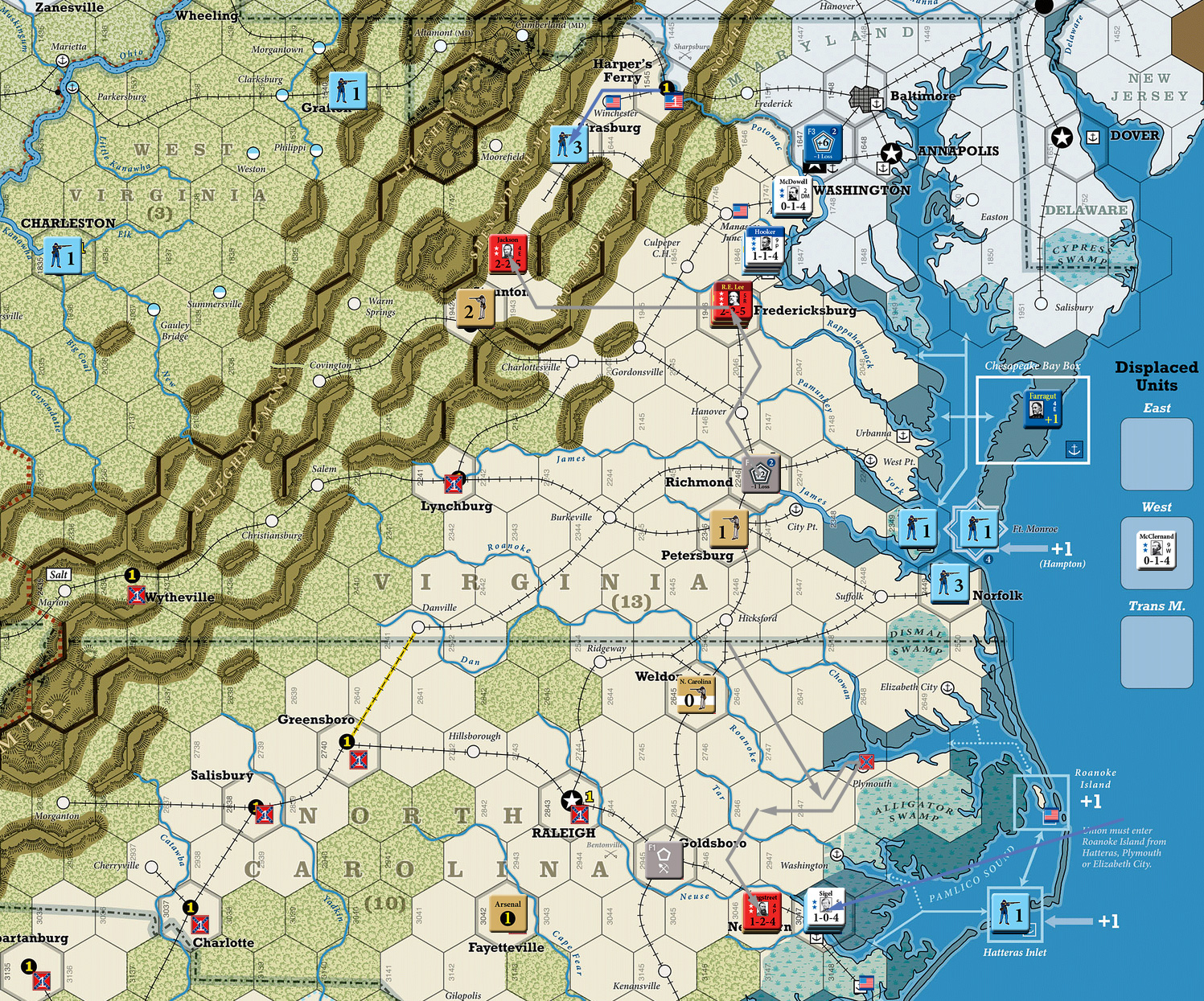 For turn 10, Mark placed his free fort in New Orleans. Taylor was probably unlikely to retake it without that, but he was closer than I would have thought, and it was a danger at this point; though just the 3SP moved in there via strategic movement should be enough to get Taylor to retire. Blockade running rolls were poor, and I only got 9 SPs, and started a new ironclad in Florida.
Sedgewick took command in Norfolk, and under pressure to get On to Richmond, attacked the Petersburg fort, but couldn't knock out the garrison. Jackson gathered in the garrison of Staunton, and headed down the Shenandoah, retaking Strasburg, but then was defeated outside Harper's Ferry. He rallied the army, and then took Harper's Ferry, and went over the rail gap to Frederick. Sigel departed North Carolina in a naval move to take St. Marks, FL, and at the end of the turn took Tallahassee and Chatahoochee (destroying the just started CSS Florida).
Sherman had detached towards the end of last turn to take Monroe, LA, and this time headed north to take Camden, AR. Grant left the Mississippi again, and took Shreveport, and then advanced down the Red River and took Alexandria. Kirby Smith, with a tiny force, managed to stay one step ahead of Grant the entire way (a truly impressive set of passed avoid battle rolls), and was joined by Taylor in Alexandria. Still outnumbered, they retreated out of Alexandria, while McClernand advanced out of New Orleans and took Port Hudson (and gaining control of the Mississippi outside of Vicksburg). Grant was now out of supply, and Kirby Smith advanced, with Grant pulling out of Alexandria and moving back into supply range. Pemberton rail moved his army down to Ponchatoula, and then marched over to take Baton Rouge. Burnside detached from the staring match outside Nashville with a small force, and chased Forrest out of Tennessee.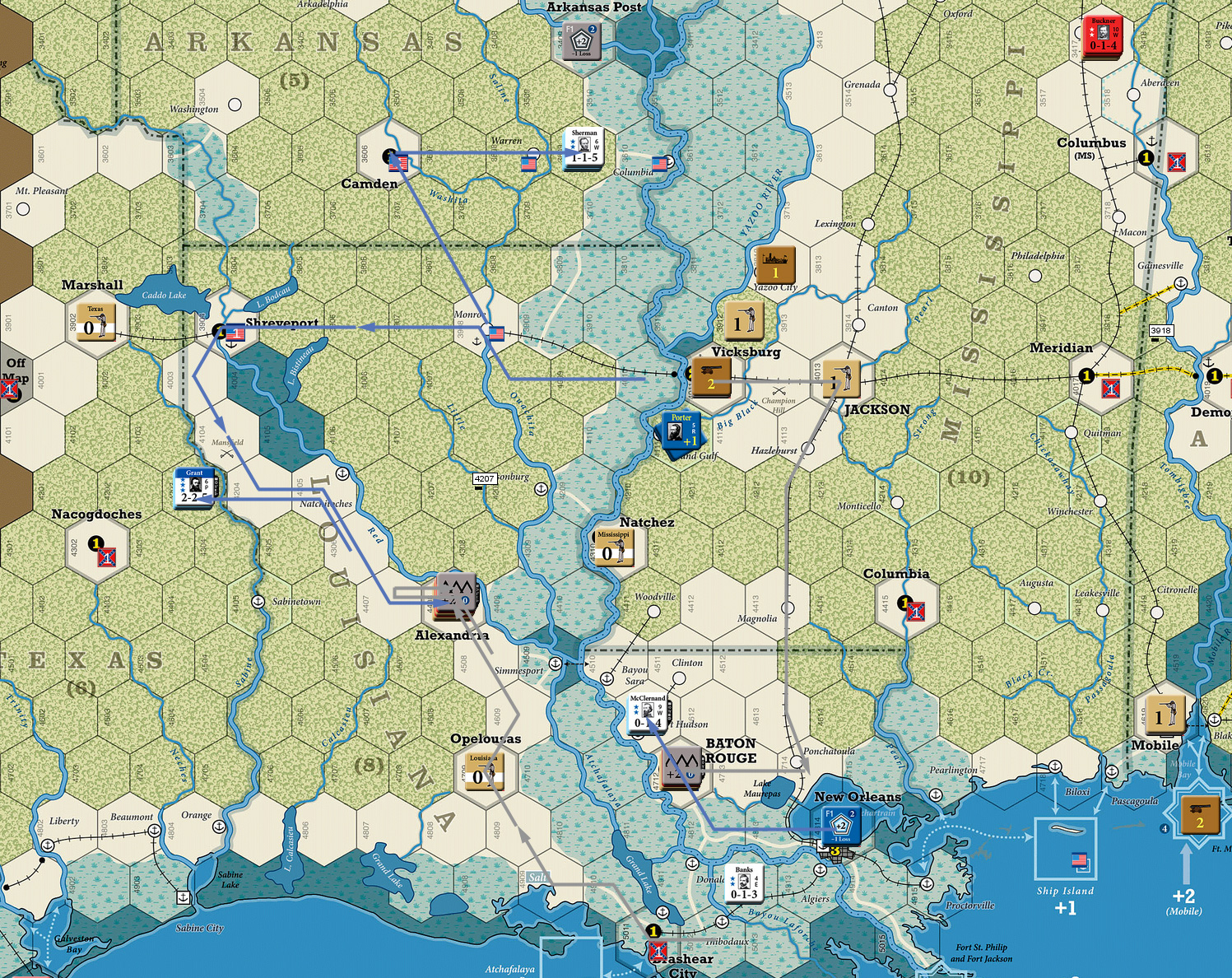 On turn 11, Mark upgraded the fort in New Orleans, and despite losing ground with on-board resources, better blockade rolls got me up to 10 SPs this time. With Jackson lurking in Pennsylvania, Mark put garrisons in Baltimore (under Hooker) and Harrisburg (under McDowell). He also put a new force in Holly Springs, MS (under Blunt), after denuding much of that area last turn. Beauregard transferred down to Savannah to oversee of the developing emergency in Florida.
A.P. Hill took control of a force in Petersburg, and picked off Sedgewick's army in two battles and then headed to reinforce Lee, prompting a new Union fort in Aquia Station. Hooker (spurred on by cries of 'On to Richmond') chased Ewell (who had taken over Jackson's army after he died) out of Frederick. More troops showed up in St. Marks, marched to join Sigel, and then he took Albany, GA. Beauregard railed his army to threaten the supply just as the turn ended.
I wanted to send Kirby Smith back across the Mississippi, but realized that Union control made that nearly impossible, so I spent a card to build a new fort in Baton Rouge. Sherman took the fort in Arkansas Post and then went north to take Little Rock. Grant took Nacodoches, and then went north to Marshall. Once the fort finished, Union control of the Mississippi was forced back, and Kirby Smith moved across the Mississippi, but McClernand intercepted him, and forced him back across before marching north to take Natchez. Kirby Smith followed him there, and forced McClernand out of the town before Pemberton marched north to join him.
Burnside scattered Forrest's troops, and moved onto the rail in northern Alabama, followed by McPherson taking Decatur. Buckner moved up to eliminate the garrison in Corinth, but couldn't quite gain the town itself, where he defeated a counterattack by McPherson. Bragg left a holding force in Tennessee under Polk, and got into the Cumberland Gap for a drawn battle with Burnside who pulled his demoralized army out to a safer area. Bragg followed up by advancing onto the rail line through central Tennessee.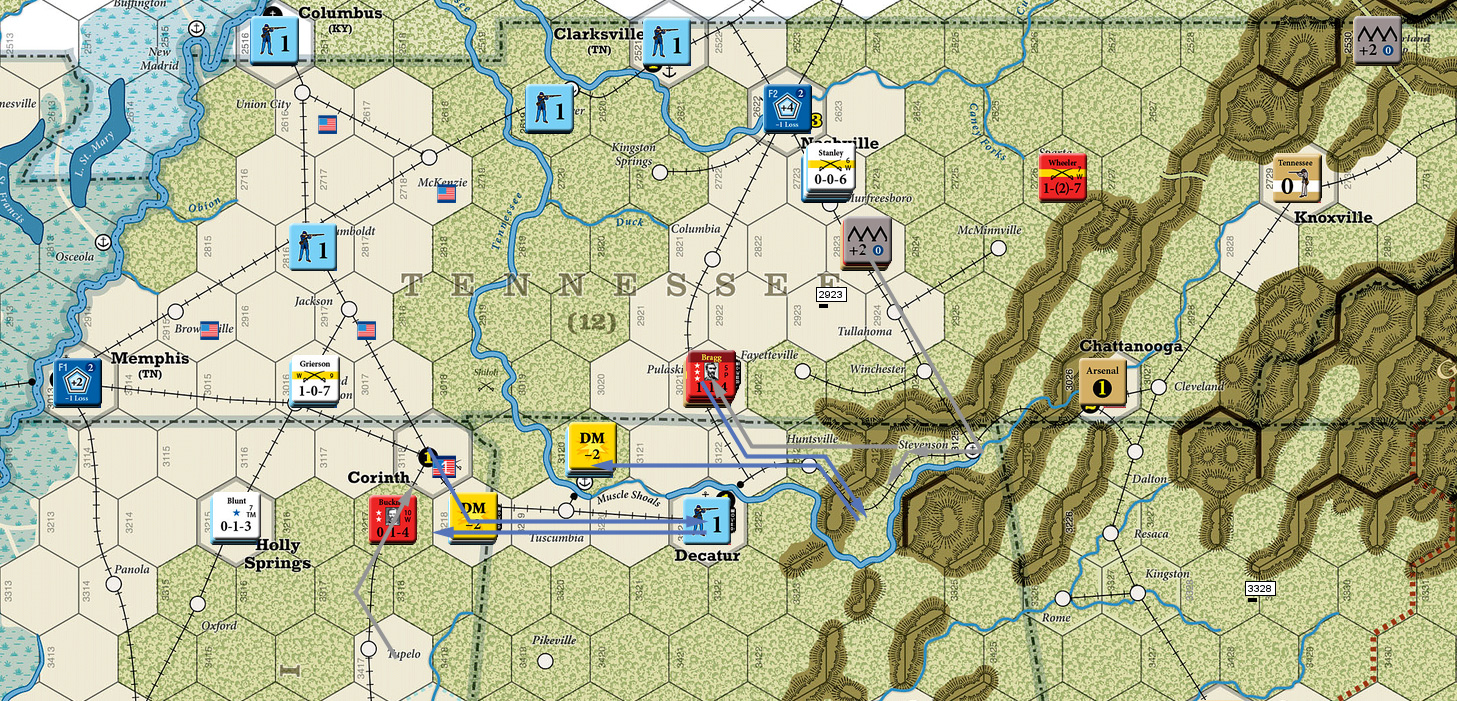 For turn 12, the free fort went into New Bern, and good blockade rolls got me 10 SPs again. Another 2 SP were transferred to St. Marks, while I sent 2SPs to Beauregard (giving him 4 overall), and I sent Cleburne to command a new 2SP army in Columbus, GA.
Rosecrans split off from the Union army outside of Nashville, losing a battle against Bragg, who counterattacked for three drawn battles before finally scattering the remnants of the force and reaching Columbia, TN. Buckner took out a garrison in Tuscumbia, and then forced Brannan to retreat south from Decatur. Banks finally activated to retake Brashear City. Kirby Smith managed to chase down and disperse the remnants of McClernand's army, and then headed north. I started a fort in Alexandria, LA
The new force in Florida moved to garrison Tallahassee, where Beauregard defeated them, and then eliminated the remnants at St Marks. With supply cut, Mark sent a 1SP force across the Altamaha (to establish a depot), while Sigel fortified a central position in Irwinville and Hancock arrived in Savannah with reinforcements. Beauregard took out the depot, cutting Sigel's supply again, who then advanced on Beauregard, but stalled on the wrong side of the Altamaha on a tied battle. Hancock attacked acrsso the Altamaha, and scattered Beauregard's force.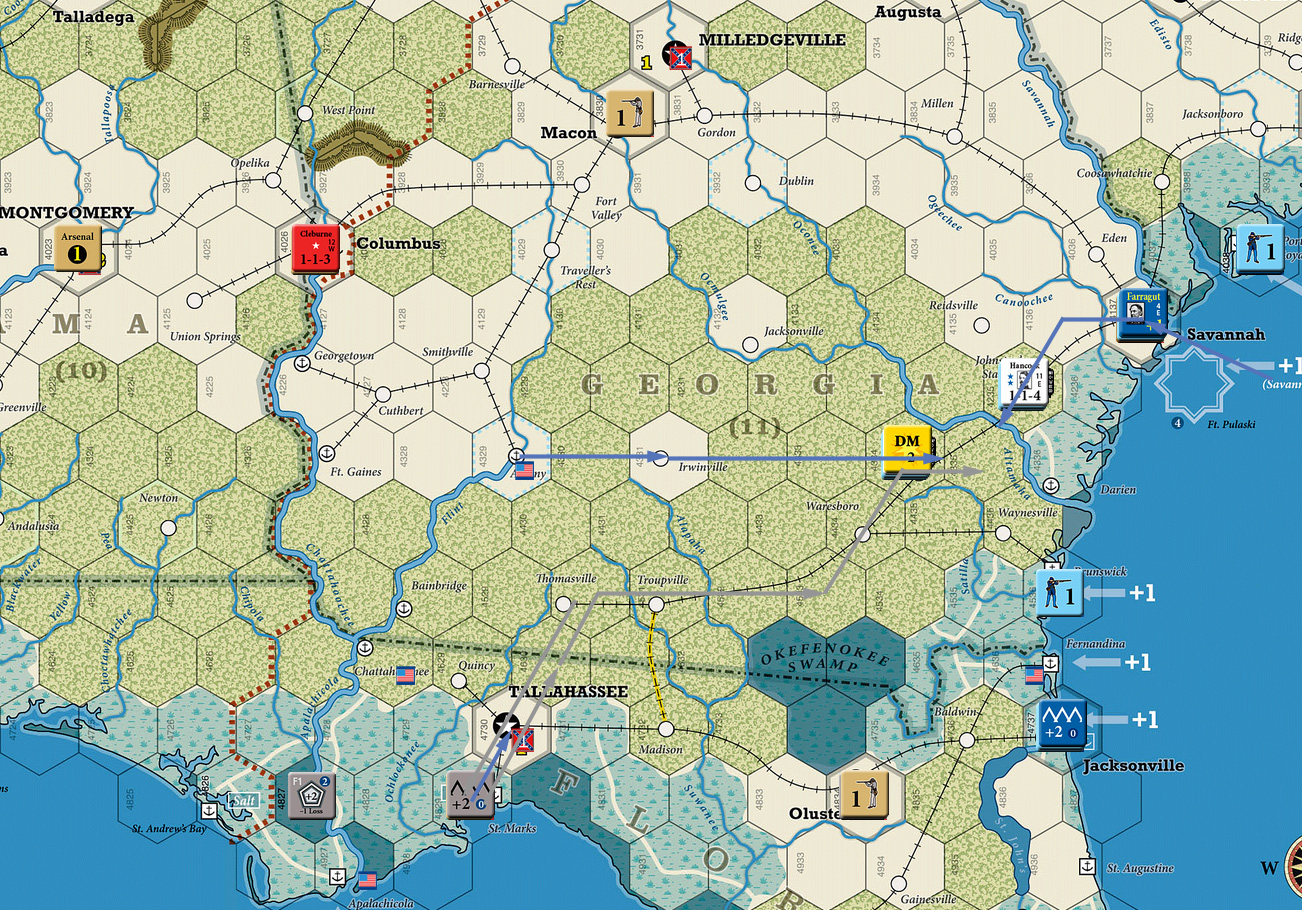 The latest free fort went in Corinth, and I was back down to 9 SPs. I put together an army in Macon, with Beauregard in charge, and brought Cleburne's force in Columbus to 3 SPs, while Butler came in at Savannah, and more men were shipped down the Mississippi to Grant (who stayed where he was after promoting to 4 stars), while Sherman transferred to Jacksonville, which had slowly accumulated troops, and was now at 5 SPs.
Price set out from Alexandria to take Shreveport, but Grant moved to head him off, and he settled for taking Nacogdoces. McPherson continued south to take Meridian, left behind most of his army, and occupied Demopolis, but was defeated in an attempt to take Selma. Kirby Smith followed him, knocking out the big garrison, and retaking Meridian and Demopolis.
Bragg moved to cut Union supply in Tennessee, taking Dover, while Wheeler galloped north to block the rail at Munfordsville. Schofield moved against Bragg, who intercepted and defeated him at the banks of the Cumberland River. Bragg then went up the river, and took out the garrison of the fort in Nashville (ironically, the army in Murfreesboro still had 7 SPs, but the commanders had all scattered elsewhere, leaving only Stanley, who failed to intercept, even with the cavalry bonus). Thomas advanced on Decatur, and pulled in Burnside, but could only manage a tied battle with the combined army. Bragg moved north to Bowling Green, but was defeated by the garrison there.
Sherman headed west, and took Olustee, Madison, and Tallahassee. Beauregard moved up to to the junction at Millen to block easy access to any place worth points as 1863 drew to a close. Sherman moved up to Smithville, and Beauregard moved back to Macon to cover it for the final action round. Sherman tried for Columbus, but was defeated by the entrenchments there.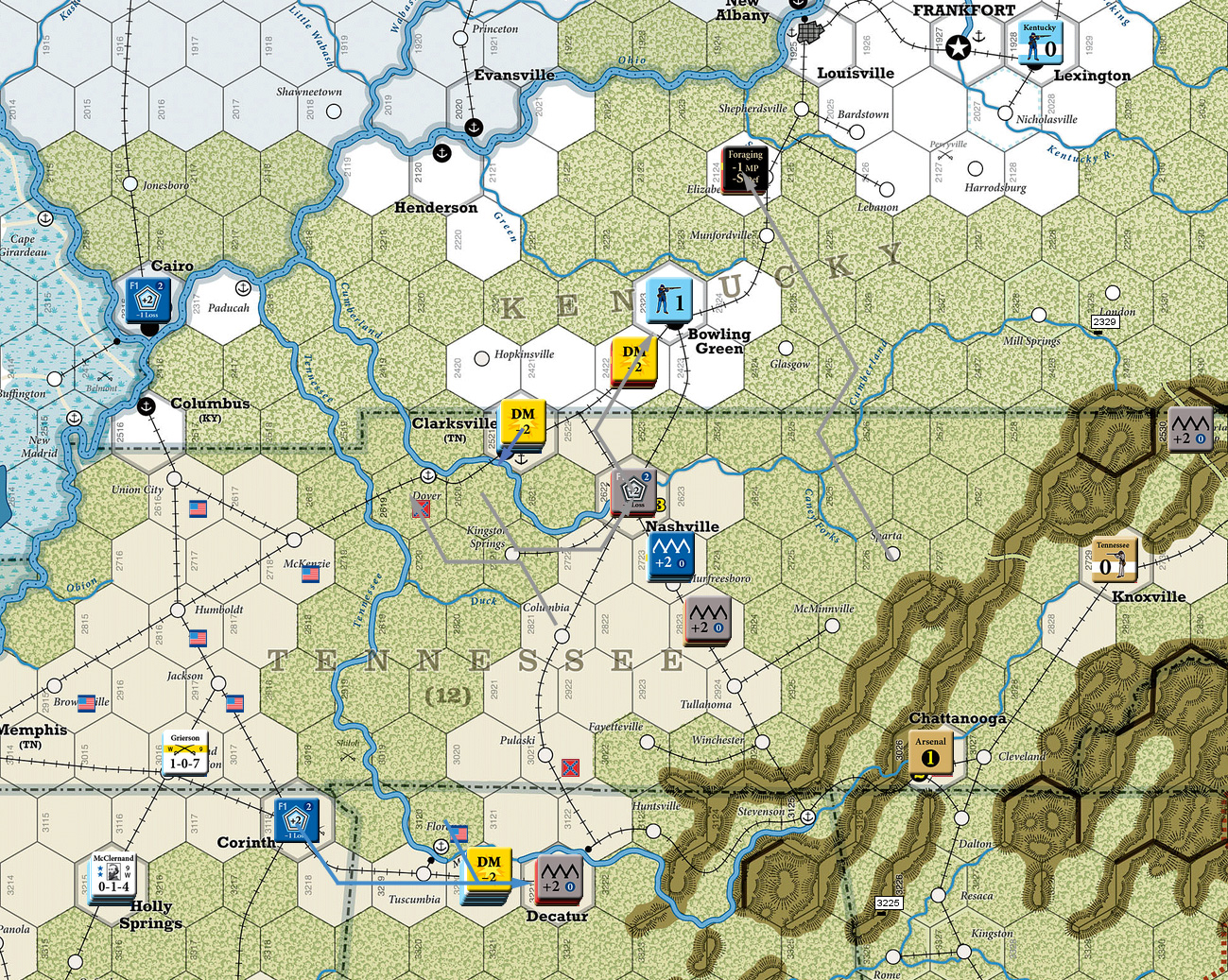 Afterword
Overall, Mark had captured 30 VPs of cities (including two points for Nashville, it starts the scenario burned, so I forgot I only got 1 VP back for it), and 1 arsenal point. The blockade runner ports hadn't changed since the start of the scenario, and they were worth another 7.5 here, adding up to 38.5 VP out of 39 needed for a Union win.
Mark had gotten worried about how far behind the 'benchmark' scores he had dropped, and that led to the expeditions to get every point possible out of the Trans-Mississippi, and that certainly shifted things a bunch, and I couldn't do anything about it. However, that took important pressure off of Vicksburg, and set Pemberton's army loose. It eventually ended up commanded by Kirby Smith, and had 11 SP at the end of the game—only Lee had more.
The new edition of the rules came out as we started, and they allow you to get an auto-victory with 4SPs against a 0 SP force (militia or empty fort). That's how I lost Port Hudson, which nearly undid me. If Grant had pressed on to the Mississippi at that point, he could have gotten across at/near Simmesport (my favorite crossing point), that probably would have been that for Mississippi and Vicksburg. As it was, getting across without naval control proved to be quite a problem. I assume you just have to be willing to line up just out of intercept range and spend a bunch of APs in a round on it.
I read shortly after we started that Simonitch doesn't care for his own advanced naval rules. I can see why, they don't add a whole lot, and as the Confederates all I got was unfinished ironclads that drew Union attention, and never successfully rolled for completion. The idea is attractive, but I think it needs to be made slightly more abstract. Let the Union have an occasional 'naval concentration' (say, once a turn), instead of having strength points that move around, and can't really get hurt bad enough. Just keep the Confederate naval artillery and such to counteract that. Allocating those to try to protect important points would be interesting… if I'd ever gotten more than the three batteries I started with.