on
November 21, 2013
at
12:00 pm
One of the scenarios in Out of the Attic 2 gave me an immediate 'I've got to see this' reaction. OA25 features a defense with a combined French-British-American force in 1942 Tunisia. Patch and I initially slotted it for a FtF day, since it looked somewhat short, but then realized we didn't have all the boards for it.
So, it became our next PBeM game, with Patch taking the defenders with seven French squads and support weapons including a 37mm infantry gun, three and a half British squads, and two American crews manning a .50-cal and a British 25-pounder. They need to protect a bridge for six and a half turns against fifteen elite German squads with the usual toys, a couple 81mm MTR and two flights of Stukas (one of which shows up on turn two, and the other variably, and the both go away after a single turn).
Patch mostly set up in the central board-12 village, with lighter forces holding both flanks. I set up the bulk of my troops to hit the north side, with some cover towards the center, and then a platoon on the south side to make sure he couldn't afford to pull out of that flank. The terrain is a bit open, but the MTRs are good smoke generators (especially good ones, the Germans are defined as Elite, which gives s9). Sadly, while I didn't deplete, I didn't get any ROF, and only one smoke counter went down between the pair.
Movement went fairly well for me, with minimal fire, and while his French 60mm MTR never exhausted ROF, I passed all the morale checks it caused. Patch's MMG malfunctioned, but his Brits got a 1KIA result which Yahtzeed to kill a squad and 8-0 and destroy a DC.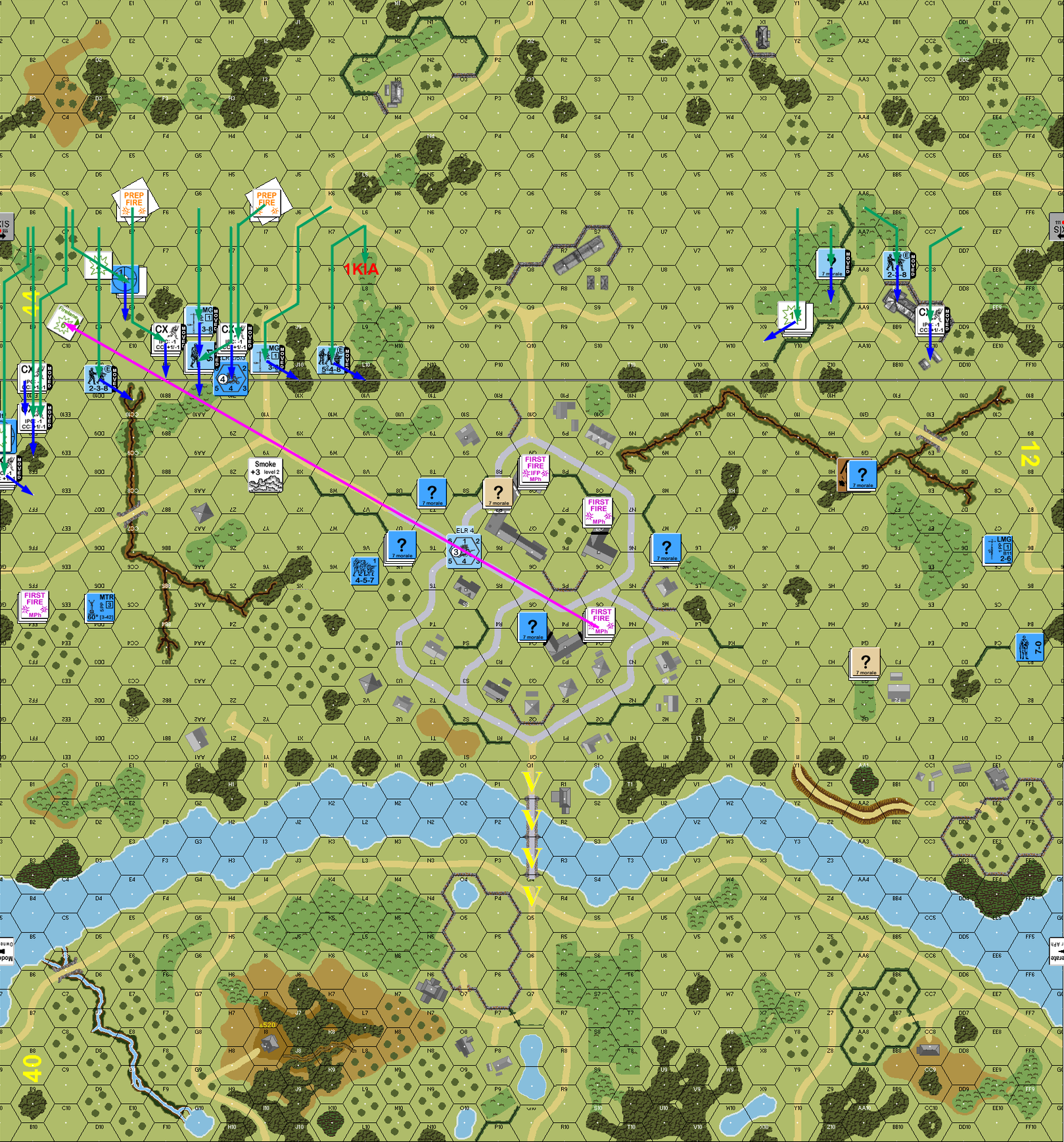 Full map, German Turn 1. North is to the left.
↓ Read the rest of this entry…