on
April 21, 2017
at
12:00 pm
After finishing up Lagus Assault Guns, Tom suggested trying out J32 "Panzer Graveyard" from Journal 2, and we got going at the beginning of March. A January '44 scenario in Italy, it has a worn-out German force with a lot of tanks assaulting a stiff British defense in the board 46 town. The Germans attack with twelve squads (ranging from first line to conscripts), a few MGs and four Pz IV Hs with a 9-1 AL and four Pz III Ns. The British are defending with ten first-line squads, a HMG and a MMG, two PIATs (who are assigned to 1-2-7 crews), a 6 pdr AT gun, a Churchill IV and a Sherman III, and some concealment markers. There's a small cluster of buildings added across the street from the main town that serves as a possible jumping-off point for the Germans.
This ordinarily should be a 1/2 map scenario. But instead, it uses all of board 46 and 18 (including an overlay with another level 2 hill). This is for the use of the Pz IIIs, which set up on the various hills, ready to shell the defenders, or smoke them in. The Germans have six turns and need to control 20 buildings (out of 30) in the British setup area at the end of the game. While they have lots of armor support, they have problems; all German MMC are Lax, and their ELR is only 2. Finally, there is a +1 LV on the final turn.
I took the British defense, and spent some time trying to figure out what I wanted to do. There's three main ways for the Germans to approach this, the main obvious one is the center area, jumping off from the built up area. I figured an approach from the east had a lot of open ground to go through before reaching the first buildings, and then tended to hit the least-dense parts of the town, with the graveyard, woods, and orchards, though all of that was harder to defend. Meanwhile, the west side had some open ground as well, including an extra small hill, but with some cover just on the other side of the road that forms the setup areas. I put some light forces (including a Dummy in 46W7) to slow down an east-side assault slightly, while defending the west more heavily with the HMG in EE4 and a PIAT in the brush in DD2. Another HS was in the brush in EE1, which was as far forward as I dared to go there (and there was no concealment terrain forward of there anyway). LMGs were in Y5 and W5 to provide Fire Lanes against advances in the center area, with the HMG centrally located in BB5. I had a hard time figuring out where to put the tanks and ATG, since anywhere exposed could lead to them getting easily swarmed, with eight German tanks out there (though the Pz IIIs would struggle to kill either of mine even with a rear shot with a Final TK of 3; 5 with HEAT on a 9 or less), and a good number of PFs available. The Churchill anchored the main line of defense in the northeast in Z7, with help from a PIAT in Z9 (with a crucial error that I'll get to later), and a 7-0 Z6 to act as a preliminary rally point. The Sherman was in CC7 to cover the central street, and possibly anchor the defense once the first line of buildings had fallen. The ATG went in GG7 facing SE, in case armor tried to go around the west flank and cut off my defenders (and I had problems finding anyplace that could see terrain I wanted to cover).
Tom's setup surprised me, with the bulk of his forces in the center, but largely a hex back, and out of sight from my line, and three squads (and two HS, with his HMG & MMG) on the eastern flank backed up by two of his Pz IVs. He had figured my ATG was around EE2 (exactly the type of forward position I avoided) and stayed away from the brush. Most of his Pz IIIs were behind them on the board 46 hill, but one was backing up the main force in 18Q2. One Pz III fired, placing Smoke in V5, while the eastern Pz IV first pinned my HS in U7, which then ELRed to fire from his MGs. Most of his center forces fired on my other visible unit in AA2, forcing a 1MC which they passed. The last Pz IV fired on W7, but missed.
Tom then started showing off aggressive armor tactics my moving the second eastern Pz IV into Motion VBM of V8. I attempted CCRF, but pinned instead. Having locked up my primary defense, he advanced two squads and a 9-1 towards the building, but a good roll from W5 managed a 1MC that pinned the leader and broke a squad. This activated his Sniper, who broke the squad that had been the target of all his fire earlier. Past that, there was little left to move, other than some of the Pz IIIs advancing up to the rest of his troops.
My LMG squad Final Fired on his MG stack, and with another low roll, broke both HSes with MGs. Not only that, but my Sniper activated, and hit the same hex, with a three-way tie (out of four units), to fatally wound the 8-1 and then break the squad in the hex. The only CC was with the VBM Pz IV in V8, and my squad only missed because of being pinned.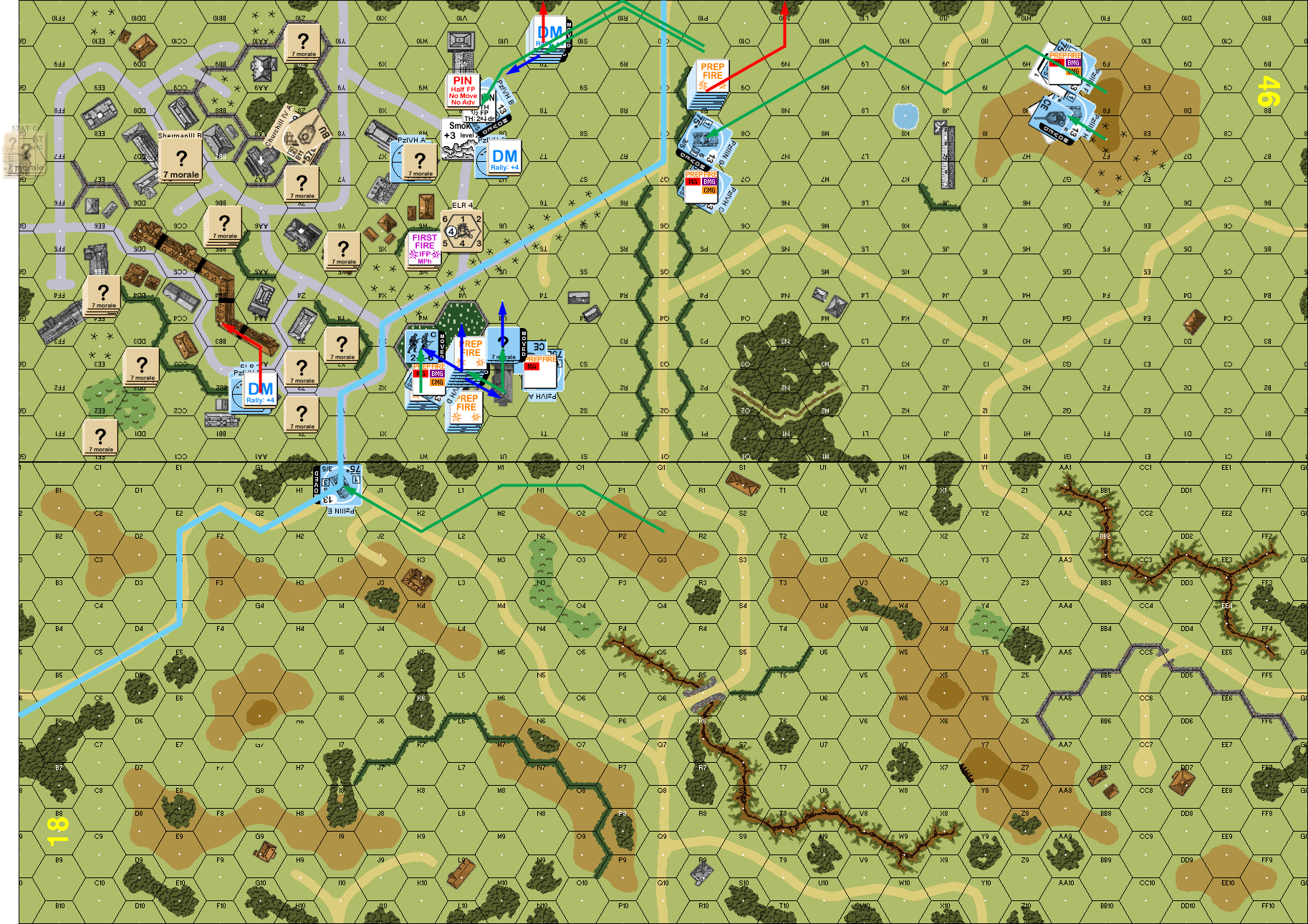 Situation, German Turn 1, showing the full scenario area, and my HIP Gun. The blue ribbon is the dividing line between the British and German setup areas.
↓ Read the rest of this entry…