on
May 7, 2017
at
12:00 pm
While looking through the ASL Journal 11 scenarios back in January, Patch saw that J167 "Hart Attack", featured some Grants, and wanted to have a go at it. We've actually used them before (or at least some Lees), but I got to drive them that time, so I took the Germans defending against Allied forces in Tunisia. This is technically a re-release of the early '90s scenario ASLUG7, but frankly, it's a completely new scenario from the same designer. The German forces are about the same, the British have been cut down, it's two turns shorter, and gone from a three-map area with overlays to just needing board 7a. The VCs and SSRs have also gotten a lot simpler. That said, someone could probably talk me into trying it for comparison's sake.
The Germans have 8 squads and 3 HS of 548 elites, with MGs, a pair of 50mm MTR, an ATR, DC, and a 40mm squeezebore ATG, and then get three Pz IIIs with a 9-1 AL on turn 3. The Allies enter from the west with thirteen British squads (mostly first line, with some elites), good leadership (four leaders with -4 in leadership mods between them), HMG, MMG, a couple 51mm MTR, an ATR, and five American M3 Grants. The Allies have six turns to get 7 VP; getting one VP per building they control (there are seven on the board), one per every other tank they exit off the east side (i.e., 1 for exiting one, 2 for exiting three, 3 for exiting all five), and a VP per German tank they kill. The Tunisian setting means that orchards are olive groves, and hedges are cactus hedges. The Germans are considered Elite for Ammo Depletion (…I think I forgot that), and the British get to use ATMM to represent Gammon bombs.
There's one building at the west edge, and then two widely separated clusters of three buildings on the board. This gives the Allies two general approaches depending on which cluster they want to go for first. One set is tucked way back, and is hard to get at unless it's the primary target, while the other is much more central (and nearer the odd, 'close' building), but is made of stone in fairly dense terrain with walls, olive groves, and a couple hills, and features the only two-hex building in the lot. I set up blocking positions on both western roads, one MMG overlooking the further buildings, the other in the two-hex building, with a MTR adjacent that it could spot for (which was bore-sighted on the hill overlooking the compound). The ATG went on a hill where it could boresight a woods-road that Patch would almost have to use if he went north. I figured if he went south, he'd still come for the final buildings anyway, and I'd push the gun down to where it could trade shots from either side of the walls. The ATR went in the center, where it'd have a chance at an underbelly shot at a tank going over the wall that lines the area; about the only good shot I figured he'd let me have with the thing.
Patch took the northern route. In fact, more northern than I'd figured. I'd kind of mentally shrugged off the most-northern section of the board, which would require going around a fair amount of terrain before getting anywhere. So naturally, half his force went there, and made me wonder if he'd be trying to overrun my ATG before it got a shot at a tank. I didn't have any fire against most of that, but the rest of his forces lined up at the wall, with a large stack headed for the close building just across the wall, and a lucky shot broke his 9-2 as he entered, and the resulting LLTC pinned the two squads with him. Two of his tanks went over the wall, but my ATR shot went wild (Final 12), while one of them stopped long enough to reduce my forward squad with a BFF K/2, and three of his tanks parked around a concealed HS in D5. His AFPh scattered a number of acquisition markers about, with no other effect, despite a NMC against the squad in E4.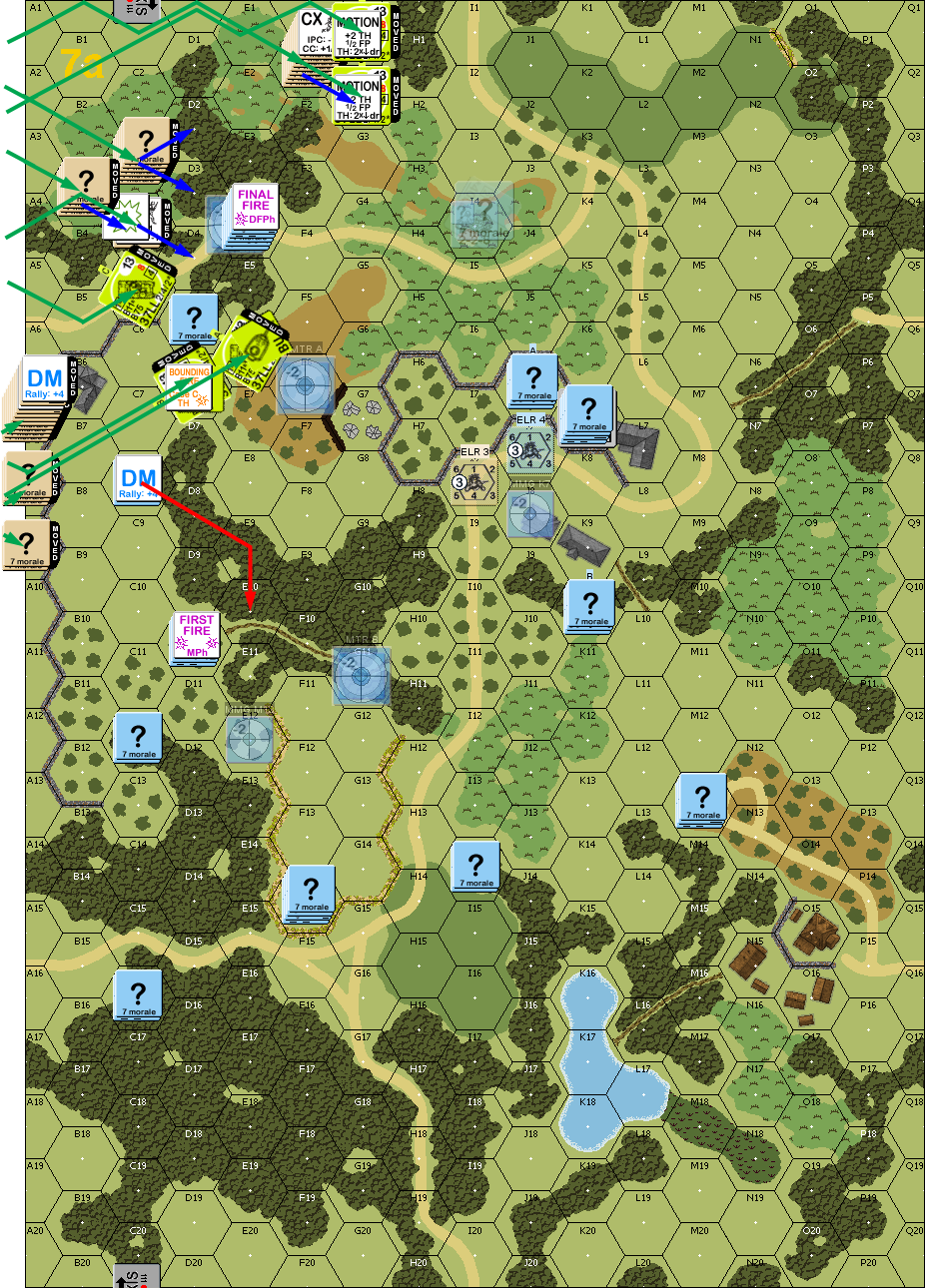 Situation, British Turn 1, showing the full board with my boresighting and ATG.
↓ Read the rest of this entry…