on
April 7, 2019
at
12:00 pm
Patch and I decided to go back to the Finns for our next ASL game, which led to us selecting 162 "Armored Car Savikurki" from Hakkaa Päälle. During the Winter War, a small group of Finnish troops (4 squads), aided by a single armored car, is trying to break out to their own lines, blocked by seven squads of Russians. The Finns have winter camouflage (though ranges are a bit short for it to matter), and the Russians suffer from Early War Doctrine, which only means that conscripts suffer a automatic -1 to CC attacks against them.
The Russians are mixed 1st Line and Conscripts, with a Commissar and a 7-0, LMG and HMG. The Finnish 648s enter on the first turn, with the AC following on turn two with a 9-1 AL. They have seven turns to get across half of board 42 and exit 5 EVP (other than the AC or its crew), which isn't much, and yet is over half their force. I had the defending Russians, and set up a loose line to try and delay the Finns as much as possible. I mostly covered the more open southern route which wouldn't hamper the AC as much. The north is all woods with a clearing and a single road, and got two conscript squads to hold things up until I might redeploy to cover it. Also, the HMG was in the back as a second line, and placed to fire straight down the road deep into woods. I nearly put the boresight in T9, but decided I was more worried about him avoiding that obvious shot, and put it in V4.
Patch came in on the north route, and his third move put him into T9. The HMG fired down the road (Patch: 'Did not even think about that. :P'), for a NMC which he passed. His last move gave me an un-Hindered shot from U8, which revealed to do a 1MC which he failed.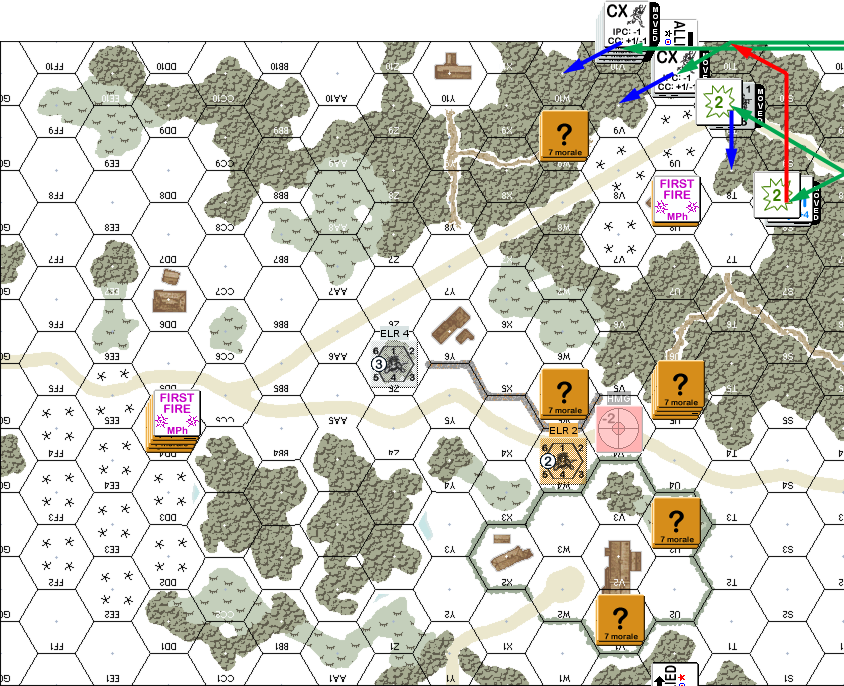 Situation, Finnish Turn 1.
↓ Read the rest of this entry…